Featured Editorials Home Slider Jets Report Card
New York Jets Report Card: Week 8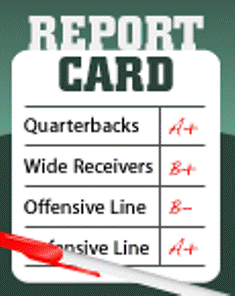 New York Jets Report Card
Week 8: Buffalo Bills @ New York Jets
Quarterback: F
Geno Smith: 2/8, 5 yards, 3 INT, 1 rush for 0 yards
Michael Vick: 18/36, 153 yards, 1 INT, 8 rushes for 69 yards, 2 fumbles
The Jets benched Geno Smith after he threw 3 interceptions in the 1st quarter. Michael Vick was better, but that's not saying much as he committed 3 turnovers of his own. Who would have thought that the Jets QB situation would get even worse after Mark Sanchez left? It's inconceivable. At this point, you might as well start Matt Simms and see what you've got there.
Running Backs: B+
Chris Ivory: 13 rushes for 43 yards, 2 TD
Bilal Powell: 4 rushes for 28 yards, 1 TD
Chris Johnson: 3 rushes for 7 yards, 2 receptions for 13 yards
The running backs were one of the few units that actually functioned for the Jets today, but they with all of the turnovers, they were never able to truly establish the ground game.
Wide Receivers/Tight Ends: C-
Jace Amaro: 5 receptions, 51 yards
Eric Decker: 7 receptions, 40 yards
Jeremy Kerley: 2 receptions, 25 yards
Percy Harvin: 4 receptions, 28 yards, 3 rushes, 22 yards
Chris Owusu: 1 reception, 7 yards
The Jets tried too hard to force Percy Harvin into the gameplan without the proper prep time, and it cost them. Decker and Amaro each had a solid game, but there's not much more to say about it than that.
Offensive Line: D+
The offensive line really struggled in the passing game, allowing consistent pressure on both of the QBs. They are still committing too many penalties, and that doesn't help either.
Defensive Line: B+
This is not the greatest defensive line from a pure pass rushing perspective, but they are damned good at absorbing blocks and allowing the linebackers to make plays.
Linebackers: B
For the most part, the linebackers looked solid both against the run and the pass. By the 4th quarter, they had worn down and like the rest of the team, they simply ran out of gas.
Secondary: D
The Jets secondary continues to allow the big play. There are too many miscommunications, blown coverages and mental lapses.
Special Teams: C
Nick Folk is one of the few bright spots this year, as he continued his perfect streak of nailing non-blocked field goals. Harvin provided a spark in the return game as was to be expected, but he's not the brightest bulb in the bunch. He's gotta stop taking it out of the end zone on every runback.
Coaching: F
This team looked about as ill-prepared as I've ever seen them under Rex. They went into the locker room down just 7 and with all of the momentum, but the Bills came out and grabbed a hold of the game. The Bills simply made the better adjustments at half.
Videos
Aaron Rodgers Injury Fallout & Jets/Bills Recap