Featured Editorials Home Slider
Jets GM Offers Little Hope In Mid-Season Press Conference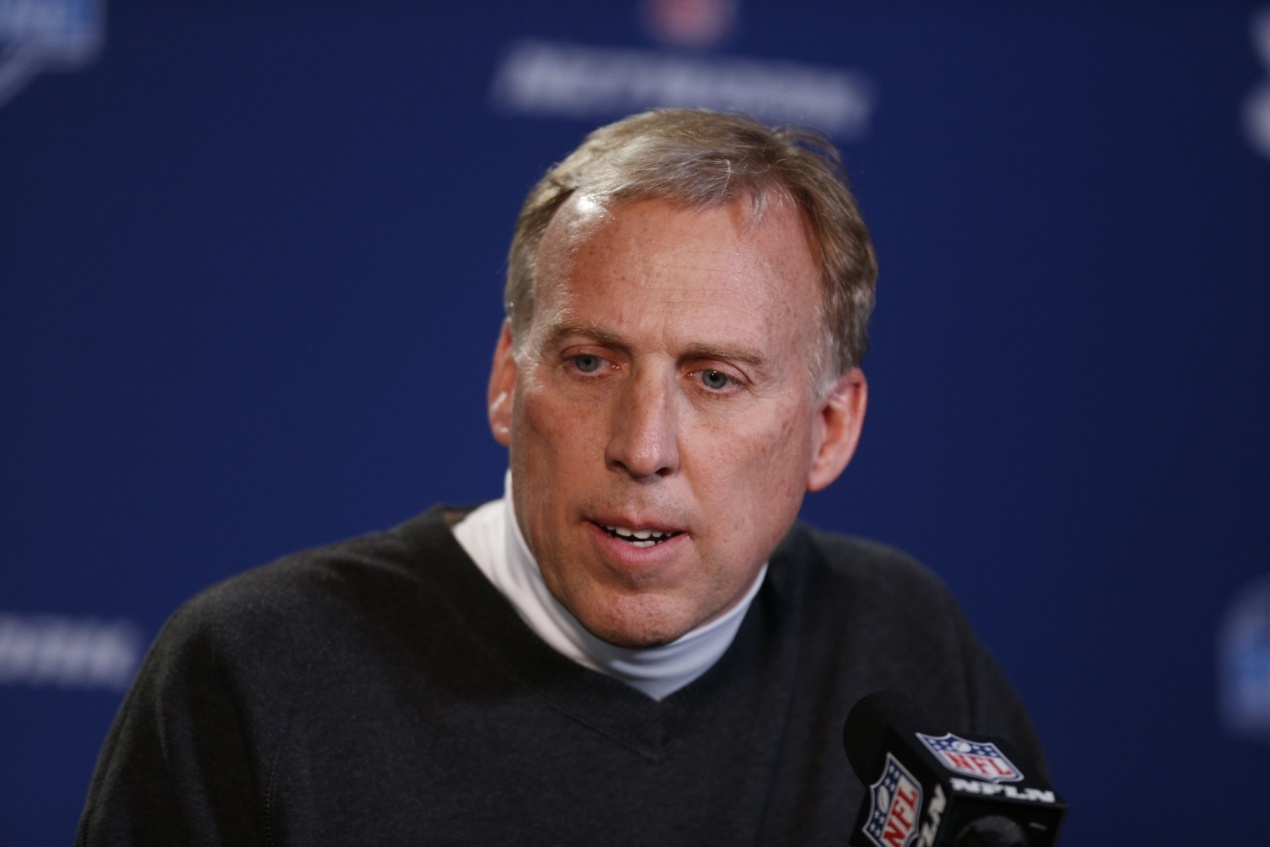 NY Jets General Manager John Idzik addressed the media yesterday at the mid-way point of a lost season.  It's not even Halloween yet, and already the Jets sit helplessly  out of the playoff hunt at 1-7, and largely insignificant.  If Jets fans are expected to believe what Idzik was saying, and even more importantly, to believe that Idzik himself believed what he was saying, then the Jets are in a far worse predicament than their record would indicate.
Despite having just one win this season that came against the hapless Oakland Raiders, Idzik relentlessly defended the talent on his roster, and did so by pointing out times during the season in which the Jets played well for a  short span.  He reminded Jets fans that they had a lead at half-time of the Green Bay game.  A game in which the Jets would fall apart and blow that lead as the secondary that Idzik put together was virtually invisible while Aaron Rodgers and the Packers stormed back for a  31-24 victory.
Idzik then talked about last Thursday.  On a night when nobody in the world gave the Jets a chance, they went in to Foxboro and dominated time of possession, keeping the ball away from Tom Brady and the Patriots for over 40 minutes.  The Jets rushed for over 200 yards, and beat the Patriots up on the line of scrimmage.  Amazingly, Geno Smith managed to play four full quarters without throwing a single interception…and the Jets still lost 27-25.
What Idzik failed to mention however, is that when his team put together their single best effort of the season, it still wasn't enough.  Despite having the ball for under 20 minutes, Tom Brady was able to carve up the Jets' undermanned secondary for 261 yards and three touchdowns.  The Patriots didn't have the ball for long, but when they did, Idzik's defensive backs were unable to do anything about it.
If John Idzik truly believes what he is saying, then it's a damning statement about the job he has done as the GM of this team.  This roster has gaping holes at the most important positions in the NFL today.  The quarterback that he drafted is at best, a player who is not close to being ready to play in this league.  His cornerback situation, although hugely impacted by injuries, is the worst in the NFL, and many of his receivers are only in the NFL because he threw them a lifeline when other teams sent them packing.
With this being the case, John Idzik expects Jets fans to believe that everything is going to be okay, because on some Sundays, the team he built looks good for a quarter or two.  Idzik says the Jets have had some long drives.  He's right, they have had several of them, the problem is that those drives end in field goals far too frequently.  Currently, the Jets are ranked 25th in the NFL with a red zone TD rate of 48%, as Geno Smith continues to stall inside the opposition's 20-yard line.
When you're a fan of a 1-7 team, and the only thing that your general manager has to fall back on is that sometimes the team looks good, that's a very bad sign.  This is the NFL after all.  Every team, no matter how bad, will have its moments.  Even the worst team in the history of this organization (as of now, anyway), the 1996 Jets that finished 1-15 under Rich Kotite, had a memorable day.  In their only win of the season, running back Adrian Murrell set a then-franchise record with 199 yards on the ground.  Did that mean the team didn't lack talent and that a major overhaul wasn't in order?
In 2008, the Detroit Lions were the only team in the history of the NFL to go winless and post an 0-16 record.  Would Lions fans be content if GM Martin Mayhew had come out and pointed to the fact that the Lions almost beat a Minnesota Vikings team that would eventually finish 10-6?  No, he wouldn't, because almost beating a good team en route to a historically bad season, with a historically bad roster, is not something a GM should hang his hat on.
As of today, following this press conference, there are only two things that Jets fans can hope for.  First, is that Idzik is simply providing lip service.  That he knows how bad this roster is, and that this season was about seeing what he had in place before moving forward, and that there is a plan in place to do so.  If he honestly believes that this is a roster capable of competing with the NFL's elite, then he may as well be all by himself, living on Idzik Island.  The other hope of course, is that if Idzik truly believes what he's saying, the cries from fans and media alike will become too much for owner Woody Johnson to ignore, and he sends Idzik packing at season's end.
Videos
Aaron Rodgers Injury Fallout & Jets/Bills Recap