Rex, Jets Stick With Vick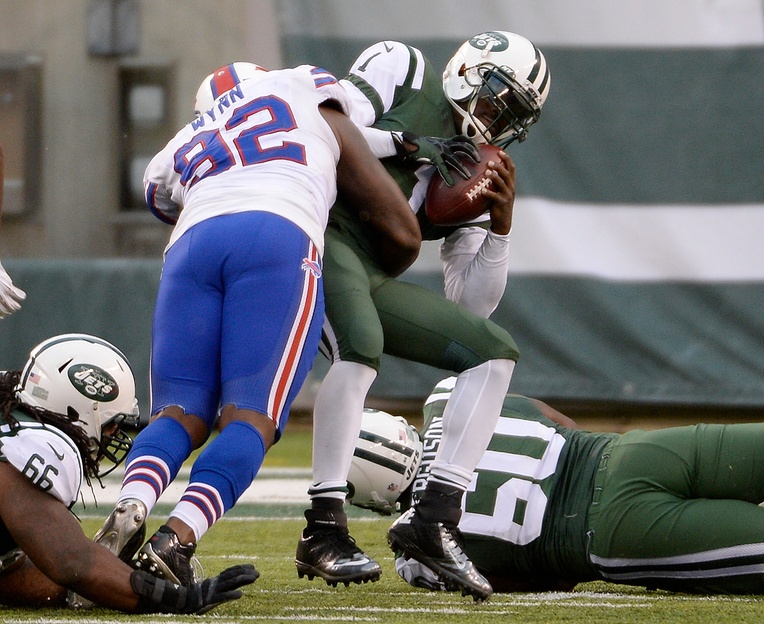 After much speculation as to who the New York Jets would start at Quarterback against the Kansas City Chief at Arrowhead Stadium this Sunday, Head Coach Rex Ryan announced today that the team would give veteran Michael Vick his first start as  a Jet.  While fans seem to be torn between Vick, Geno Smith, Matt Simms, and who cares, this is the right move for Ryan to make.
The Geno Smith experiment should at least be on hold for the time being.  Smith was drafted out of what was essentially a video game style college offense with little feel for the pro game and an inability to even take a snap from under center.  The Jets have done all that could be asked to bring Geno along, and he just hasn't responded.  It appeared from the outset that this season was more about Geno than it was about the Jets. Despite losing week after week to clearly superior teams by a score or less, Ryan continued to trot Smith out there while on pace to finish among the league leaders in turnovers as he steamed toward his second consecutive 20+ interception season.
This Sunday was supposed to be the start of what many felt would be a true evaluation of Smith.  General Manager John Idzik had acquired wide receiver Percy Harvin, a speedy playmaker from the Seattle Seahawks earlier in the week.  With the addition of Harvin, the finally healthy Eric Decker, the emerging Jace Amaro, and the always reliable Jeremy Kerley in the slot, this was going to be the best collection of targets Geno would have to choose from since being drafted by the Jets last year.  Add to that the fact that the Jets were coming off of a 218 yard rushing performance which would have meant increased effectiveness in the play-action game.  In the end, or the beginning even, none of that mattered.  With his full arsenal ready to go, Smith threw a total of eight passes, completing only two for a grand total of five yards, and was pulled after throwing his third interception in under a quarter of play.  It was a historically bad performance for Smith who posted a 0.0 QB rating.  At that point, Rex Ryan had no choice but to turn to Vick.
While Vick has  a history of excessive turnovers himself, he has also shown the ability to move the football and get in the end zone and that's what the Jets got from him.  Vick did end up turning the ball over three times, but he also led the Jets on two touchdown drives and made several big plays with his legs, running for 69 yards on 8 carries.
At this point in the season, it's no longer about wins and losses, but about reps and player evaluation.  The Jets need to see what their offense looks like when their full complement of skill players are on the field, and a capable QB is leading the offense.  This isn't to say that Vick is a long term solution, but that he has shown the ability to play at higher level than Geno Smith has, and to do it for long stretches of time.  With the announcement that Vick will be getting first team reps this week, it's the first look we'll get at Michael Vick with this offense and a full load of preparation.  The outcomes won't mean much from here on out other than draft position, but reps for players who will be here next year to be evaluated is absolutely critical.
Tell us what you think about Michael Vick being named as the NY Jets starting QB.
Videos
Aaron Rodgers Injury Fallout & Jets/Bills Recap