Featured Editorials Home Slider
For Young Jets, The Time Should Be Now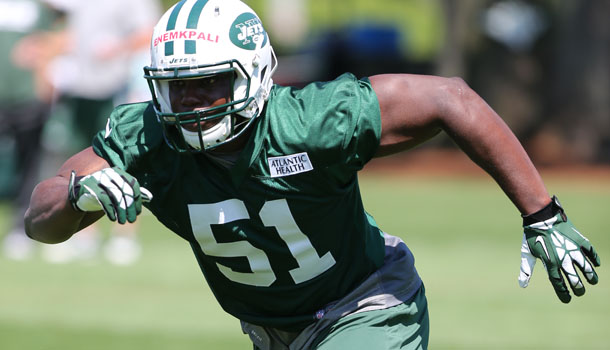 By Glenn Naughton
Well folks, for those of you with even a glimmer of lingering hope leading up to  the game against the Buffalo Bills,  (you know, the "soft" part of the Jets' schedule) welcome back to reality. Following their worst performance of the season, a 43-23 pounding on their home turf at the hands of journeyman Kyle Orton and the Bills, it's time for the Jets to see what their youngsters have to offer.
With mathematical elimination from the playoffs being merely weeks away, the stop-gap veterans should be asked to step aside and take a look at the kids.  It's what's right for the long term health of the franchise, and for the coaching staff that will replace Rex Ryan and his current group as they play out the second half of their final season.
JetNation.com takes a look at some players who should be given an expanded role over the final eight games of the season.  At this point, it's not as if the Jets could play much worse than they are, and even if they did, how much would it matter?
OG Dakota Dozier– Like current OG's Brian Winters and Oday Aboushi, Dozier was an offensive tackle in college who the Jets have opted to move inside. Starting RG Willie Colon has allowed 14 QB hurries and committed 8 penalties at the half way point.  There's no need to go forward with Colon as the starter as he's all but gone after this season. Given the struggles and inconsistent play of RT Breno Giacomini, there probably wouldn't be many complaints if Dozier were given some reps at RT as well.  Despite being a fourth round pick, Dozier's selection by the Jets was one of the few choices that seemed to earn praise from many pundits.  An athletic lineman from Furman who earned the nickname "Bull Dozier" in college, should be given the chance to step in and show what he's got.
OLB Trevor Reilly– Of John Idzik's many late round selections, Reilly has garnered the most playing time this season, as he's been asked to spell Calvin Pace from time to time.  Reilly has played a mere 40 snaps, but in his very limited role he has earned a slightly above average grade from pff.com at 0.2.  This is likely Pace's last season as a Jet and like Colon, there is little to be gained by allowing him to take reps from a player who may be asked to contribute for years to come.
OLB Ik Enemkpali– Enemkpali was selected in the sixth round to be groomed as a pass-rush specialist out of Louisiana Tech.  He's seen only a few snaps this season, but should be allowed to take some of Jason Babin's playing time as he's going to be asked to fill a similar role in the future.  Enemkpali had a strong pre-season that opened some eyes, and was lauded by current Jets LB David Harris who said Enemkpali had flashed in practice and showed he has the potential to be a player in the league for years to come.
TE Jace Amaro– This one is a no-brainer as Amaro has turned out to be the best pick of this class for Idzik.  Jeff Cumberland, despite being a physically gifted player, always seems to be on the cusp of doing something big but it just hasn't materialized.  The Jets should keep Amaro's reps on the upswing while he continues to establish himself as a legitimate receiving option.
S Jaiquawn Jarrett-  Jarrett has been worked in to the safety rotation at points this season and much like Reilly, hasn't made a major impact, negative or positive.  Dawan Landry has been his usual solid yet unspectacular self, but is another possible off-season casualty.  First round selection Calvin Pryor hasn't been the player the Jets hoped he would, but getting him reps is going to be key to his development.
WR Quincy Enunwa– One of Idzik's three perceived failures at the WR position, Enunwa is the only receiver selected who is eligible to play for the Jets.  Fellow WR Jalen Saunders was released, and Shaq Evans was placed on IR during training camp with a shoulder injury.  Of the three, Enunwa was the only one to garner any praise in training camp as he finished strong enough to land on the final 53.  However, a domestic violence accusation was followed by a demotion to the practice squad where he remains today.  With the domestic violence charges being dropped, the Jets should take a look at the 6′ 2" 225lb receiver out of Nebraska.
Getting something out of these players on the field will give die hard Jets fans some reason to tune in and hopefully get a peek at a player or two that offer reason for optimism, or the possible harsh reality of an even bigger re-building project at hand than what's currently anticipated.
Are you excited to watch any young NY Jets players? If so tell us what you think in our NY Jets forum.
Videos
Aaron Rodgers Injury Fallout & Jets/Bills Recap