Featured Editorials Home Slider Player interviews
JetNation.com Interviews Former New York Jet Ray Mickens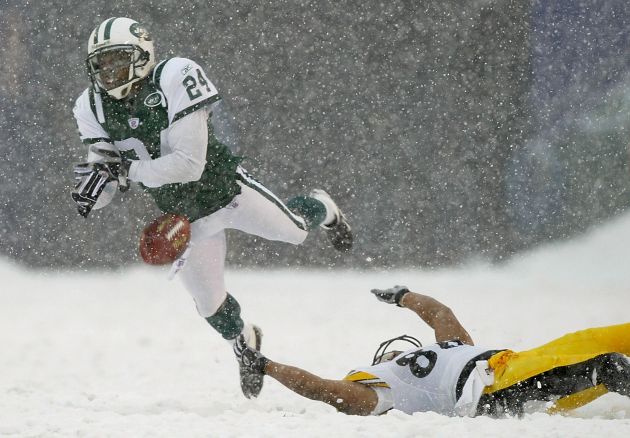 By Glenn Naughton
Glenn Naughton of JetNation.com had the opportunity to speak with former New York Jets cornerback and fan favorite, Ray Mickens.  A standout player from high school, through college and eventually the NFL, Mickens donned the green and white for nine seasons from 1996-2003.  He made a name for himself as one of the top nickel backs in the NFL, and was also called upon to play outside on several occasions and matched up against some of the top receivers in the NFL.  As Jets fans sit back and watch what is currently a 1-8 team struggle to defend the pass, one can't help but wonder what a player like Mickens would be able to do for a team that can't seem to stay healthy, or effective at the cornerback position.  JetNation.com would like to thank Ray Mickens for taking the time to sit down and take part in this one-on-one interview.
Glenn Naughton: Ray, you were a standout running back in High School before exclusively playing cornerback at Texas A&M, when did running back go by the wayside and cornerback become your primary position?
Ray Mickens: My heart and my passion has always been playing defense and I normally played defense in High School.  During my junior year, our top running back went down with an injury and his back up didn't make is academic requirements so they asked me to come over from the defensive side and run the ball.  I ended up running for 2,000 yards as a senior, so a lot of schools started recruiting me as at running back.  I told everybody that I wanted to play defensive back and that's why I ended up going to A&M.
GN: With so many schools wanting you to play a position other than CB, what was the recruiting process like?
RM: Oh man, it was awesome.  Before I started running the ball in high school I wasn't getting many offers, but once I started running it I was getting offers from OU, Texas, UCLA, Arizona, Arizona St. and a lot of southwest conference schools.  At that time there were only two schools wanted me at defensive back and that was Texas and Texas A&M, and since I  didn't want to play running back I didn't really consider the other schools.  I almost committed to Texas actually, I was almost a Longhorn.
GN: Why didn't that happen?  What was it that made you switch to Texas A&M?
RM: David McWilliams was the Head Coach at Texas at the time and he called me after my last high school game and asked me if I was ready to be a longhorn.  I said yeah, but I had two visits set up that I was going to take with some of my friends so I'm just going to make those visits.  His reply to me was "No, you can't do that.  Once you commit to Texas, our policy is that you can't make any additional visits" which I found to be a really conceited answer.  Luckily I had two older brothers who encouraged me to make the other visits and said "If they really want you, they'll take you".  So I took my visits and Texas threatened to go with a guy named Bryant Westbrook who eventually had a good pro career.  They told me that if I didn't go there, they were going to give my scholarship to him.  I told them, go ahead and do that.  I visited some other schools and fell in love with A&M's defense and ended up committing there.  When I told Head Coach RC Slocum that I had other visits planned, he said "go ahead and take them, you're a man of your word and I trust you to stay committed here" and that's what locked me in man.  Hearing him say that meant a lot.
GN: So during your time at A&M, you guys went 43-6, with an undefeated 10-0 season, then of course your individual accomplishments of being All-SEC and All-American both your junior and senior years, what was that time like for you?
RM: It was an awesome ride for me in college.  We didn't lose much and that first year in New York when we lost fifteen games man, that was the most games I'd ever lost in my life and it all happened in one year.  It was a different experience in the NFL, but in college I played with a lot of first round draft picks.  Sam Adams, Aaron Glenn, Patrick Bates, Kevin Smith, Quentin Coryatt, and the list goes on.  They were very passionate about defense there.
GN: After being drafted by the Jets, how hard was it to stay focused when you had so much success in high school and college, and then in your first year as a pro, you go 1-15?
RM: Well, first of all, the draft was tough for me.  I wanted to be a first round draft pick and I did everything in my power to be a first round pick.  I had the stats, I ran a 4.3 40 with a 40-inch vertical.  I did everything I could and I slid to the first pick of the third round so I came in with a chip on my shoulder and wanted to prove that I could be a first round corner.  When I got there, we just really weren't that good.  My focus was on being a great cornerback and I had my old teammate Aaron Glenn on the other side of the field to look at and say "I want to work to be better than him because he's a pro-bowler and that's where I want to be".
GN: How much did it help to come to the Jets and have your former teammate on the other side of the defense?
RM: That was a tremendous help.  It helped me get more comfortable  in my surroundings because I spent so much time with Aaron in college.  So getting to this big jungle and I get to do it with one of my best friends who not only helped me on the field, but off the field too.  He helped me get my study habits, watching film, and taking care of my body.  Aaron Glenn helped me with that so much in my first year.
GN: As a former player who went through the draft and combine process, I see that you're now getting involved with some Nike prep camps.  Can you tell us a little bit about that?
RM: Yeah, I actually do two things with Nike.  There's a thing with the college kids who are turning pro and getting ready, I train with a group of DB's in Dallas at a Nike facility.  I get those kids ready for the combine.  Then I do another thing where I work camps across the country with high school kids who are getting ready for college.  I enjoy getting to coach.  I did turn down some coaching opportunities early on after I retired, but I really want to go in to at some point, so doing this and coaching the 7-on-7's really help with that.
GN: As far as the combine goes, we always hear so much about the physical aspect of it.  Everyone talks about the 40-times, the bench press, vertical and those parts of it.  With the league showing a renewed emphasis on player character, do you assist with preparation for the interview process since it could have such a big impact on where they're selected?
RM: Oh, absolutely, we do the whole thing.  We do the interview set up in the facility.  We set up interviews in the classrooms in the Michael Johnson performance center which is where we do all of this, and go over the types of questions they're going to hear.  It's not just skills and drills, there's a lot more to it than that.
GN: Thinking back to how you prepped for your combine, how does something like this compare with the draft having become the huge event that it has?
RM: I got ready for mine at Texas A&M because I was still in school.  We just worked out in the weight rooms and did stuff like that.  These guys today get fully prepped for it.  All I could do was ask Kevin Smith and Quinton Coryatt since they had just gone through it.  Now guys have everything set up for them with training and nutritionists.  It's a lot different, but at the end of the day I still ran a 4.3 and had a good vertical.  If you're just  yourself in the meetings and don't lie, you'll do fine.
GN: So the work you're doing with these young players, is it a short-term thing to get that coaching fix, or is there a long-term vision for what you want to do with it?
RM: Well for me, I always give them my information to be available to these guys for advice on anything.  Dealing with money, family, contracts, listening to an agent or not.  I can offer suggestions and advice.  I like being able to offer these kids advice as far as how to be successful off the field too.
GN: How does that work when you talk about the agents?  As fans, we always hear about how your agent is your best friend until your skills start to deteriorate and they'll just take what they can.  How do you advise guys on selecting an agent?
RM:  For me, I just needed an agent who was going to do a good job when contract time came.  I didn't need another friend, I had enough friends.  I tell players all the time, if you want your agent to be your friend then look for that, but my agent was what I wanted.  I talked to him two to three times a year, if that.  Contract time though, I'm talking to him every day.  I tell these kids that one way isn't better than another, but get a guy who offers what you want and at the end of the day, he works for you.
GN: Going back to your playing days, there was always one game in particular that stood out to me when you played against the Steelers in a December 2003 game with heavy snow and poor conditions.  Somehow you managed to break up four passes and unfortunately had an interception that was called back for a penalty on the defense, but you were all over the field that day.  What was that like playing in those conditions against some great receivers.
RM: Oh man, that was one of the most fun games I've ever played in.  There was no stress that day and it was kind of like playing in your back yard. Hines Ward was one of the best receivers in the league at the time, and Plaxico was up and coming.  As far as Hines is concerned, he was a guy I liked playing against because y I never really had any problems against him.  So that game, everything he did, I was there and they go to him a lot so I was in position to make a lot of plays.  There was another pick I should have had but I dropped, but playing in that snow storm was a lot of fun.
GN: How closely do  you follow the Jets at the moment and do you have any thoughts on the organization?
RM: Well, if you follow me on twitter @RayMickens24, you'll see that all my stuff is about the Jets and Texas A&M.  I did the "Jets House" during the Super Bowl last year withFreeman McNeil and that was a blast.  One thing I can say about the Jets and you can put me on record, Rex Ryan is a great coach.  We can't lose that guy regardless of what happens right now.  Good coaches are hard to find in the NFL and Rex Ryan is a great coach.  I think once we get the personnel we're gonna' have a winner.  There was the Tebow thing, and Mark Sanchez who I was never a huge fan of.  He's been dealt a tough hand and he's still had success with that.
As mentioned above, you can follow Ray Mickens on Twitter @RayMickens24, and thanks again to Ray for his time.
Videos
Aaron Rodgers Injury Fallout & Jets/Bills Recap