Jets Dolphins In London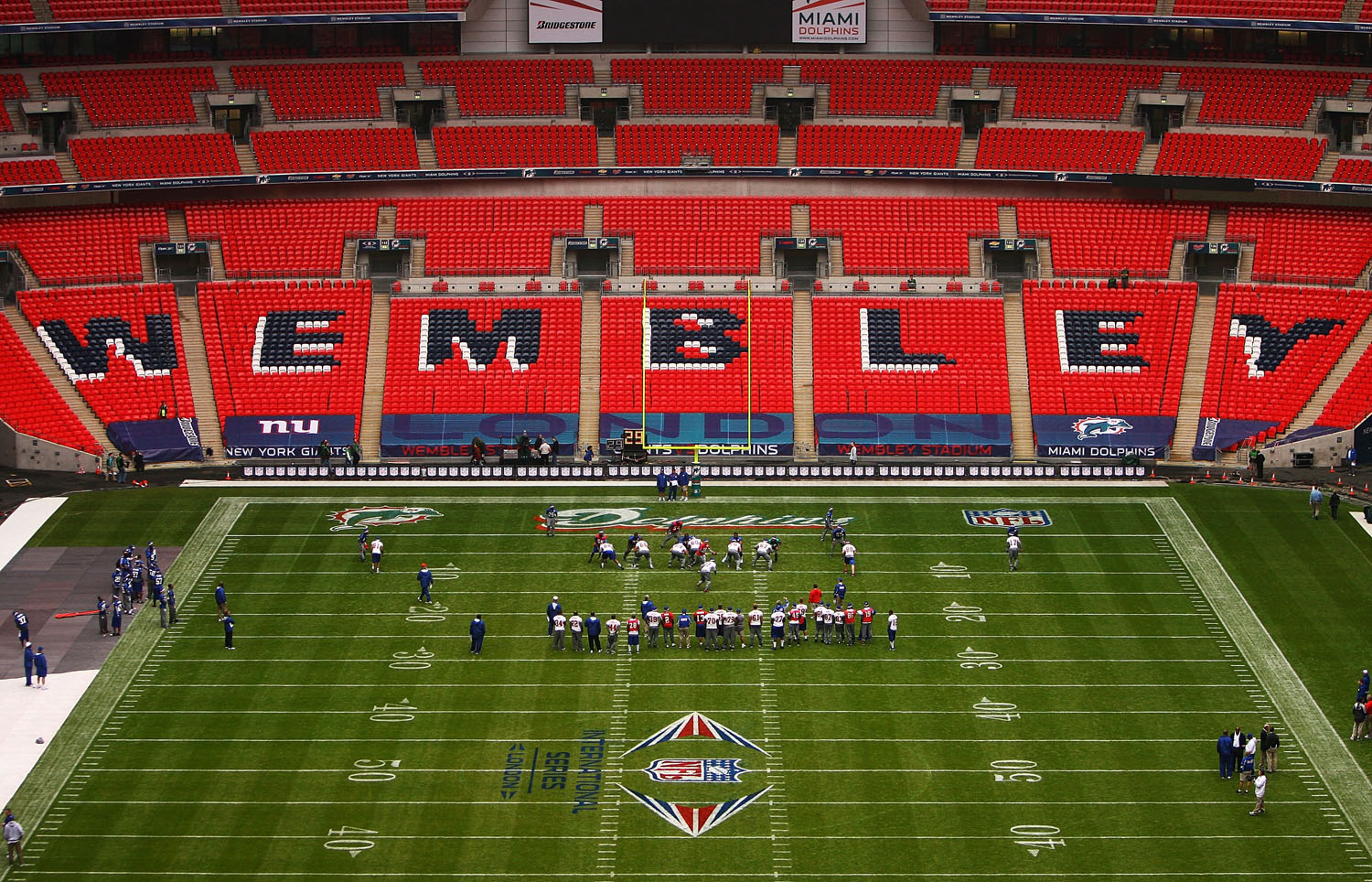 The NFL announced the 2015 International games yesterday and it includes a divisional match up for the first time. The Jets will travel to London and take on the Dolphins. The game will take place on October 4, 2015 and the game time has not yet been announced. This will be considered a home game for Miami, and the Jets will still have 8 home games.
Here is a discussion thread on the New York Jets in London. The full press release appears below.
2015 INTERNATIONAL SERIES GAMES CONFIRMED:

JACKSONVILLE JAGUARS vs. BUFFALO BILLS, MIAMI DOLPHINS vs.

NEW YORK JETS, KANSAS CITY CHIEFS vs. DETROIT LIONS

AT LONDON'S WEMBLEY STADIUM

The 2015 International Series games are set and six teams – including three for the first time – will play regular-season games at Wembley Stadium in London next season.  The 2015 slate features a first-ever division game in the UK as well as games played on consecutive Sundays, also a first for the NFL in London.

The MIAMI DOLPHINS will host the NEW YORK JETS in Week 4 on Sunday, October 4, the JACKSONVILLE JAGUARS will host the BUFFALO BILLS in Week 7 on Sunday, October 25, and the KANSAS CITY CHIEFS will host the DETROIT LIONS in Week 8 on Sunday, November 1, at Wembley next season, the NFL announced today.

The game times will be announced at a later date.

"We are very appreciative of the outstanding support from our fans in the UK, not only for the games at Wembley, but for all of the related NFL events we have hosted throughout the city," said NFL Executive Vice President of International MARK WALLER.  "We believe we have a great 2015 schedule that will continue to attract new fans to our sport and strengthen the bonds with our existing fans. To provide UK fans the opportunity to see games on consecutive weekends, to see new teams, and to attend a division game, which feature some of the most passionate rivalries in our sport, are signs of the growth and depth of our UK fan base."

The Jaguars, who face the Dallas Cowboys in London on Sunday, committed to playing a home game in the UK in 2013, 2014, 2015, and 2016, all at Wembley, and will return to the UK for the third time.  The Bills will make their first-ever appearance in a regular-season game in London.

The first-ever division game in the UK will feature long-time rivals the Dolphins and Jets.  Miami will play its third regular-season game in London and second as the home team, having hosted the New York Giants in 2007 and defeated the Oakland Raiders 38-14 earlier this season.  The Jets will make their first appearance in the UK.

The Chiefs will also make their first trip to London and play in the franchise's first international game since a 1998 preseason contest against the Green Bay Packers in Tokyo, Japan.  They host the Lions, who earned a thrilling 22-21 come-from-behind win against the Atlanta Falcons at Wembley Stadium in Week 8.

The three teams that will play regular-season games in the UK for the first time – Buffalo, Kansas City and the New York Jets – bring to 20 the number of different teams to play in the International Series in London since it began in 2007.

Television ratings have shown substantial growth in the UK since 2006 – with Sunday viewership of NFL games doubling and the Super Bowl audience having increased 75 percent.  The league also has developed new and stronger business partnerships.

Participation in amateur football in the UK has risen since the start of the International Series by approximately 15 percent per year since 2007.

The regular-season games played in the United Kingdom and future International Series schedule:

 

| | | | | | |
| --- | --- | --- | --- | --- | --- |
| Date | Visiting Team | Score | Home Team | Score | Attendance |
| October 28, 2007 | New York Giants | 13 | Miami Dolphins | 10 | 81,176 |
| October 26, 2008 | San Diego Chargers | 32 | New Orleans Saints | 37 | 83,226 |
| October 25, 2009 | New England Patriots | 35 | Tampa Bay Buccaneers | 7 | 84,254 |
| October 31, 2010 | Denver Broncos | 16 | San Francisco 49ers | 24 | 83,941 |
| October 23, 2011 | Chicago Bears | 24 | Tampa Bay Buccaneers | 18 | 76,981 |
| October 28, 2012 | New England Patriots | 45 | St. Louis Rams | 7 | 84,004 |
| September 29, 2013 | Pittsburgh Steelers | 27 | Minnesota Vikings | 34 | 83,518 |
| October 27, 2013 | San Francisco 49ers | 42 | Jacksonville Jaguars | 10 | 83,559 |
| September 28, 2014 | Miami Dolphins | 38 | Oakland Raiders | 14 | 83,436 |
| October 26, 2014 | Detroit Lions | 22 | Atlanta Falcons | 21 | 83,532 |
| November 9, 2014 | Dallas Cowboys | | Jacksonville Jaguars | | |
| October 4, 2015 | New York Jets | | Miami Dolphins | | |
| October 25, 2015 | Buffalo Bills | | Jacksonville Jaguars | | |
| November 1, 2015 | Detroit Lions | | Kansas City Chiefs | | |

 
Videos
Aaron Rodgers Injury Fallout & Jets/Bills Recap