Featured Editorials Home Slider Jets Report Card
New York Jets Report Card: Week 10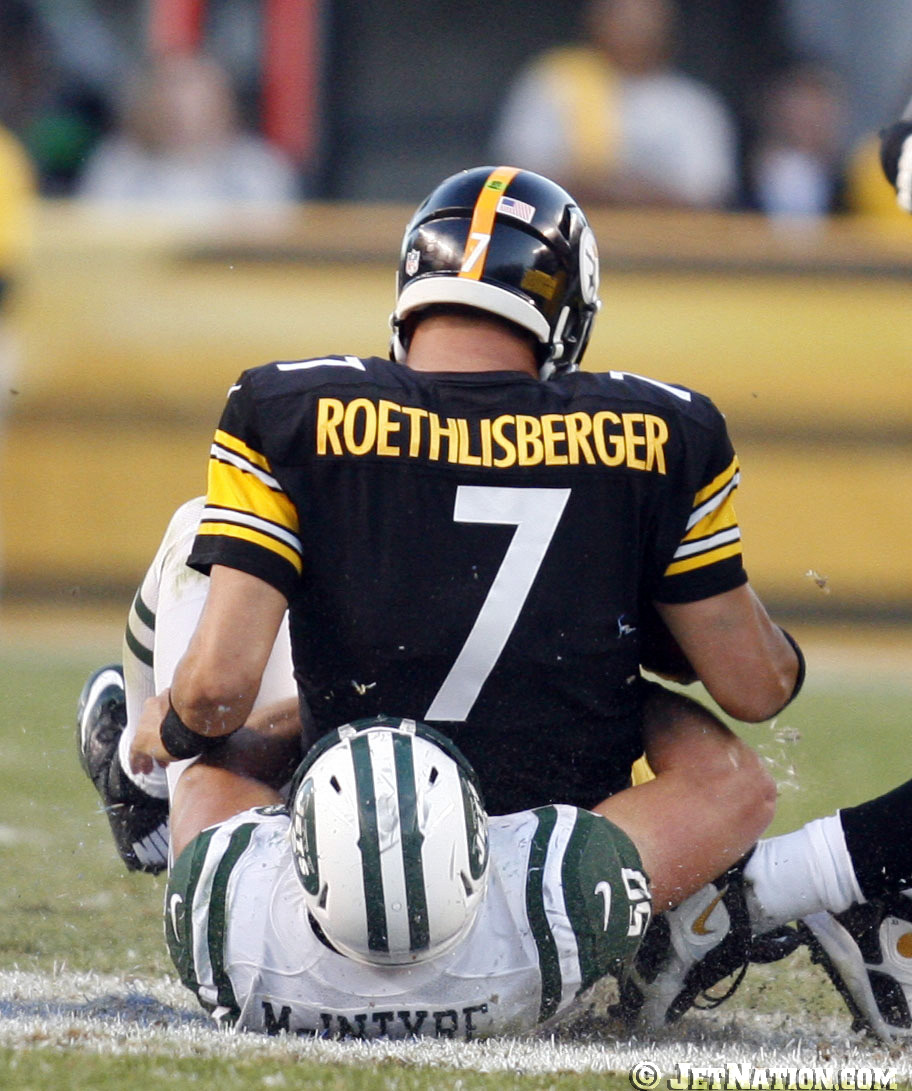 New York Jets Report Card
Week 10: Pittsburgh Steelers @ New York Jets
Quarterback: C+
Vick: 10/18, 132 yards, 2 TD, 8 rushes for 39 yards
For the second straight week, Vick did not turn the ball over. To the rest of the league this may seem like a minor accomplishment, but for a Jets quarterback, that's big. Vick connected with T.J. Graham for a huge 67 yards touchdown bomb that put the Jets up 10-0 early, then later with Jace Amaro to make it 17-0. He made good use of his legs to make up for some of the deficiencies of the passing game. Still, there were a number of times that he could have put the nail in the coffin but instead had to settle for a field goal. It was arguably the best QB play the Jets have gotten all season, but still nothing more than a C+.
Running Backs: C
Ivory: 14/51
Johnson: 7/23, 1 reception for 12 yards
Powell: 1/4
Ivory was instrumental in the Jets opening scoring drive, but the Jets weren't able to establish much on the ground afterwards.
Wide Receivers/Tight Ends: C
Graham: 1/67/1
Decker: 3/24
Harvin: 3/23, 6 rushes for 33 yards
Amaro: 2/6/1
Amaro had a drop, but also a touchdown. Where has Jeremy Kerley gone? Why is he no longer a part of the Jets gameplan? Harvin, though, is beginning to look like a great mid-season pick up for the Jets and hopefully that will eventually open things up more for Decker, Kerley and the tight ends.
Offensive Line: C
The offensive line made its share of mistakes as Willie Colon continues to rack up false starts. He's the league leader in that stat. It would be nice to see this group pave the way for a few more rushing touchdowns near the goal line.
Defensive Line: B
Is this d-line nasty or what? The big men won most of their battles in the trenches, causing disruption in Pittsburgh's backfield and confusing an offense that had looked like a well-oiled machine the previous 2 weeks.
Linebackers: A
The linebackers did a fantastic job for the Jets today, limiting Pittsburgh's running backs to less than 40 yards on the ground.
Secondary: B
Big Ben was the hottest QB in the league coming into this game, and the Jets did surrender 343 yards to him through the air. But safety Jaiquawn Jarrett came up big. He had an all-world day with a sack, 2 picks and a fumble recovery.
Special Teams: B-
Nick Folk went 1/2 on field goals today. Believe it or not, it was Folk's first miss all season, excluding the block in the final seconds in the New England game. T.J. Graham (the same guy that caught that bomb from Vick) recovered a fumble on a punt. Punter Ryan Quigley had a bit of a rough day. He's been just fine for the season, but does struggle with inconsistency.
Coaching: B
Say what you want about Rex's antics (he did draw an unsportsmanlike conduct flag at the end of the game, for example), but let's focus on the results. With the season all but over and turmoil engulfing the franchise, this team managed to find a way to shut down the hottest quarterback in the NFL with Marcus Williams and Phillip Adams starting at cornerback. I'm not sure about you, but I have no idea who either of those 2 guys are, and I spend every Sunday writing this column. This one is for you, Rexy.
Videos
New York Jets OTA Presser Takeaways, Aaron Rodgers' Impact and Summer Delusion