Home Slider Jet News Player interviews
Jace Amaro Interview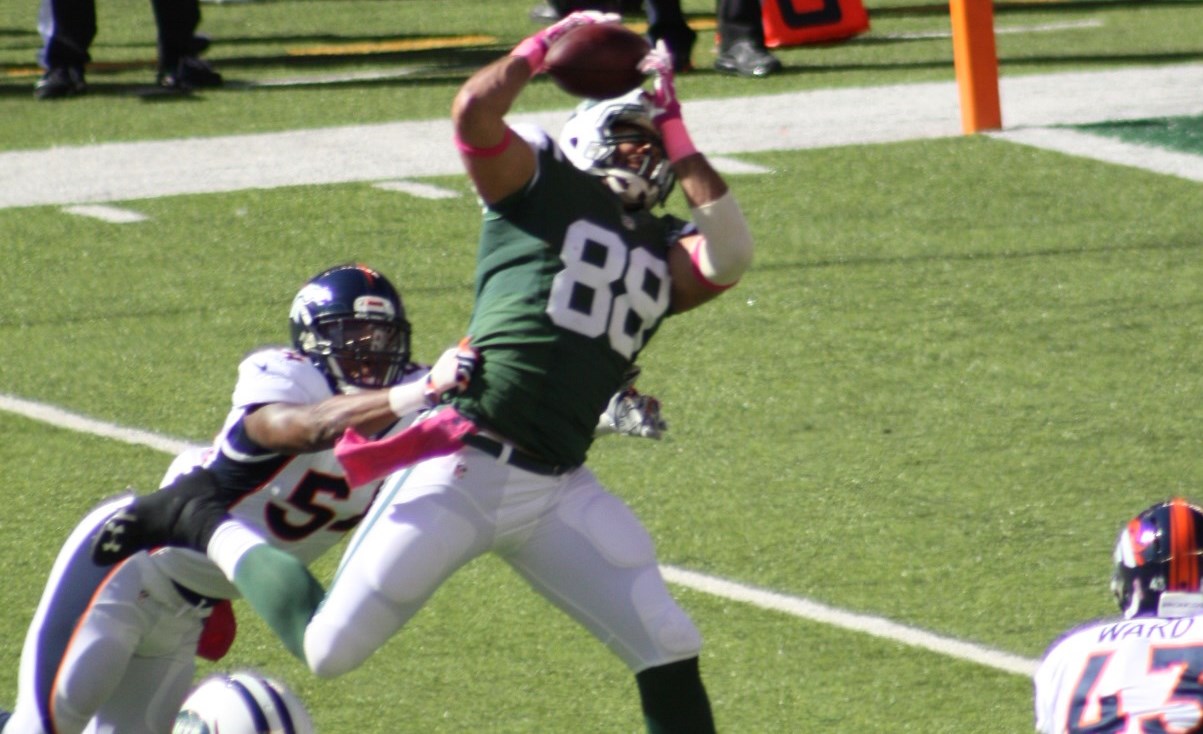 Last Friday, Joe Blewett had an opportunity to interview Jace Amaro.  Here is the audio of the Jace Amaro Interview and the full text appears below.  Be sure to check out Joe and Brandon Dowling each week on JetNation Radio.
Joe Blewett: Hey Jace, Joe Blewett from Jetnation.com. Can you talk about some biggest adjustments you have had to make coming from a spread offense at Texas Tech compared to a West Coast system under Marty Mornhinweg?
Jace Amaro: Yea blocking of course, we didn't really run the ball too much at Texas Tech and that is very obvious for everyone if you have ever watched them, but pretty much everything is very similar from a route running standpoint. I think me being in a spread offense like that and running so many different routes really gives me different advantage then a lot of the other players have especially young tight ends. I have really ran almost every route in the book and I really understand how to get open in zones and how to win on one on one coverages. So I think with all of that, I feel really good about it, I feel like a made a good transition right now and I feel like I'm having a pretty good year.
Joe Blewett: Many believe that you have been the most successful rookie tight end in the league. Have you lived up to your own expectations and what has your rookie year been like so far?
Jace Amaro: Yea, I think that everyone is going to set goals going into a year and catching thirty balls already in eight games is definately exceeding what I thought I was going to do. You know, I honestly I thought I was only going to catch thirty balls all season with just the way OTA's were going and the way training camp started off,  but now I feel really good about it. I think I lived up to what I thought I was going to do personally. You know so I think I am having a really good year and I have seven games left and I think being as productive as I can and just finishing this year as strong as I can. I just want to be able to make as many catches and as many touchdowns as I can for this team and try to come up on the upper end of some victories.
Joe Blewett: Geno Smith has really struggled this season, especially the game against the Bills where he threw three interceptions on only four drives. Has the moral of the locker room changed since Rex announced Vick would be starting and what have you personally seen from Vick, now practicing with the one's and in the game verse the Chiefs?
Jace Amaro: I don't think anybody lost or got discouraged with Geno. I think when we were in pressure situations he was the quarterback, he was getting all of the heat. We felt that he had a really good game against the Patriots the week before. You know he was just out there trying to make as many plays as he can, forcing some balls probably that shouldn't have been thrown instead of just running the offense and just playing the game. With Mike, we feel really good about him. We felt that he had a really good practice these past couple of weeks. We felt like he did a really good job against Kansas City only really getting 2 and half, three practices with full first team reps. I think he is going to be a lot better this week and I think everybody is finally feeling a lot more comfortable with him back there. He is almost a one-eighty spin from what Geno does to what he does. You know you always have get connected with the new guy and I think everybody feels a lot more comfortable then they have  the last couple of weeks with him back there, filling into the game and first team reps. So I think that everyone thinks that he is doing a great job
Joe Blewett: Coming into the NFL draft experts said that you would struggle with run blocking coming from a offense like Texas Tech. How has it been blocking some of these D-Ends and Outside Linebackers and how do you feel you have progressed as a blocker?
Jace Amaro: Well I feel like I have done a really good job so far, I know my coaches have commended me for what I have been able to do and for what I have done. At Texas Tech I didn't have a Tight Ends coach, I didn't have anybody to teach me techniques, so I was going in really blind to the NFL. But I feel like I have done a great job so far. I think that was just a thing where I just  wasn't on film or whatever, I just didn't have any views or anything like that. So I guess it was just a negative because I haven't done it yet. But I feel like I have done a great job and its not like i can't do it. They put in a lot of run blocking set and they have trusted me to get the job done.
Joe Blewett: Even though your team has experienced a rough start going 1-8 through the first nine games, do you enjoy the environment of the Jet organization and do you feel that you would like to be a part of this franchise for years to come?
Jace Amaro: Yea of course, I love all of the guys here, I think all of us have a great relationship, there is no bickering or fighting amongst teammates. I think that everybody is very positive around here and I love the staff, I love the coaching, I love this whole environment. Like I said its tough when your not winning, but I think once we get this turned around and we start winning things will get a lot better. Its going to be much better from a fans perspective. You know everyone wants to win and thats the bottom line. But of course the plan for me is to be here for as long as I can. I don't really have ultimate control of that, but I would love to be a New York Jet for my entire career
Videos
Aaron Rodgers Injury Fallout & Jets/Bills Recap