Featured Editorials Home Slider
Could Jets' Losing Season Rob Trio of Pro-Bowl Recognition?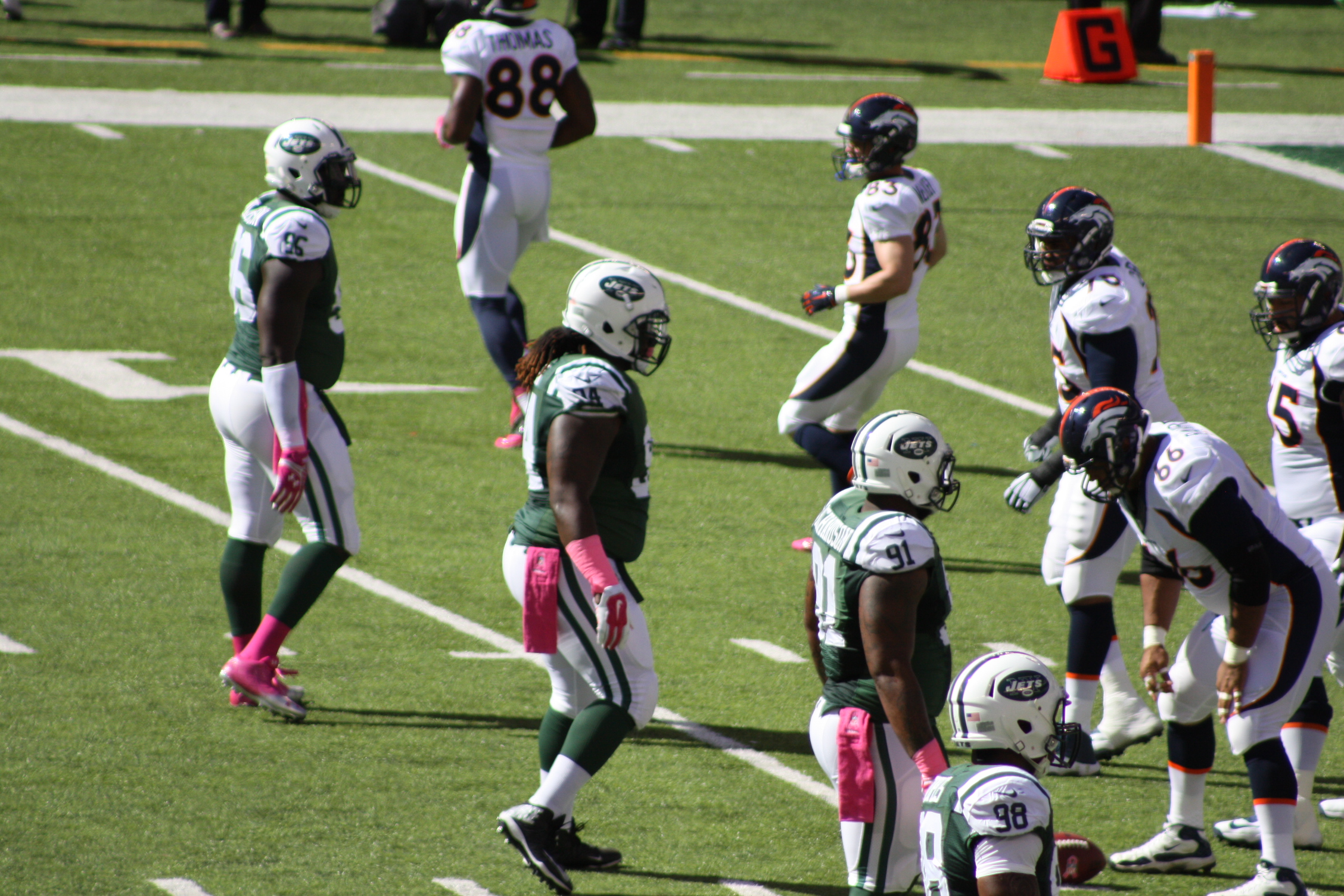 By Glenn Naughton
Mired in a lost season with  a last place 2-8 record, it's hard to imagine that the New York Jets have had any players who have performed well enough to earn any real Pro-Bowl consideration. That's what happens when you're on pace for a three or four win season with an eight game losing streak thrown in the mix.  Despite their struggles as a team however, the Jets currently have three players on their roster who are performing at a high enough level to warrant pro-bowl consideration.  Center Nick Mangold, and defensive ends Mohammad Wilkerson and Sheldon Richardson have been playing lights out at their respective positions.  Using player analysis statistics from PFF.com, we look at who deserves to be recognized on a roster that has too little talent at too many key positions.
In his ninth season out of Ohio State, Mangold has played at a pro-bowl level for the majority of his career and this season has been no different.  Despite being on an offensive line that has struggled as a group, the Jets are still 5th in the NFL in rushing yards and he's a big reason why.  Mangold has been one of the leagues premiere centers this season and is currently rated as the best center in the NFL.  Through ten games he has allowed just one sack and is second only to Seattle's Max Unger as a run blocker.  Mangold has flourished in both phases of the game at his position, and while he hasn't dominated in the screen game, he has been average even on his worst day.  That speaks volumes about the  mobility, and effort of a player in his ninth season with no realistic post-season expectations.
On the defensive side of the ball, there has been little praise for the Jets as they have failed time and again to get off the field on third down despite consistently being able to force their opponents into third and long situations.  All things considered, the Jets secondary has done an admirable job against some of the league's elite offenses, but still not enough to garner the wins to go along with it.  Against Peyton Manning, the defense held Denver so a season-low 237 passing yards, and are one of only three teams to hold Aaron Rodgers below 60% completion percentage.  While these numbers don't mean anything in the win/loss column, they do show that somebody, somewhere is doing their job and doing it well.  That somebody, or those somebodies are Mohammed Wilkerson and Sheldon Richardson.  Wilkerson, the cornerstone of the defense, and Richardson, the reigning defensive rookie of the year have been as good as advertised this season, but strong performances tend to go unnoticed when a team is out of the playoff hunt before Halloween.
Wilkerson and Richardson have been dominant all season long and a big reason why the Jets have been able to stay competitive in situations that they likely would have otherwise been blown out.  While the two have produced a low sack total (9), much of that is a result of the 3-4 defense that the Jets run.  As a matter of fact, despite Wilkerson and Richardson combining for just nine sacks with five and four respectively, it still places them among the top-6 among 3-4 DE's individually.  Houston's JJ Watt is the only 3-4 DE in the NFL with double-digit sacks (10).  In addition to the nine sacks, the pair are tied for fourth in the NFL among 3-4 DE's with 7 quarterback hits apiece, and have added 33 quarterback pressures.  Again, both those statistics place Wilkerson and Richardson in the top nine in the NFL.
Against the run, the two have also played at an elite level for much of the season.  Wilkerson is the #1 overall rated player against the run, with Richardson coming in 3rd. This puts the two players in the top-3 against the run, top-8 against the pass, which is good enough 2nd and 5th overall on the season.  All of this despite the fact that the secondary they're playing in front of is allowing opposing quarterbacks to complete over 64% of their passes with a quarterback rating of 108.8.  As a unit, Rex Ryan's group has been bad, but it's hard to imagine where they'd be without Wilkerson and Richardson up front.  That should make it hard for anyone to ignore the big D-linemen no matter what the team's record, but time will tell.
It's also worth  noting that despite occupying the cellar of the AFC East, the numbers being put up by the two are an improvement over their performances last year.  All of last season Wilkerson had six games in which he graded out as having an "above average" performance.  This season, through ten games he's already  outpaced that with eight such ratings.  Richardson on the other hand had six games in which he earned an "average" individual score last season.  This season, he has had only two, with one of those being right at the threshold of being above average and he is yet to earn a "below average" grade through ten games.
The Jets still have six games remaining on the schedule which is plenty of time for any these players to see a dip in their performance as the games mean less and less each week.  However, if Mangold, Wilkerson, and Richardson continue to churn out performances the way they have over the season's first ten games, there's no reason why they shouldn't expect to be asked to suit up in Arizona on January 25th.
Videos
Aaron Rodgers Injury Fallout & Jets/Bills Recap