Featured Editorials Home Slider Jets Report Card
New York Jets Report Card: Week 12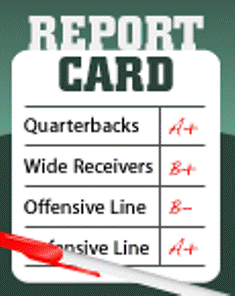 New York Jets Report Card: Week 12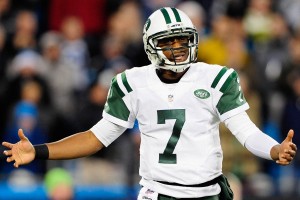 New York Jets @ Buffalo Bills
Quarterback: F
Vick: 7/19, 76 yards, 1 INT, 2 rushes for 4 yards
Smith: 10/12, 89 yards, 2 rushes for 4 yards
I'd say it was the worst QB performance of the season, but I say that just about every week, so that line is getting old. With the exception of a game here and there, the Jets get such an overwhelmingly poor performance from their QBs that it's tough to remember that the last week wasn't any better. Vick was under steady pressure, but there's no excuse for this kind of play. When he wasn't late on a timing pass, he was just forcing it in to his receivers in double coverage. The Bills could have easily had 3 additional interceptions. Vick also showed an incredible lack of awareness, taking sacks at the more inopportune moments when he could have simply sailed the ball out of bounds. Geno put up most of his numbers in garbage time, and that's the only kind of time he should ever see play in again.
Running Backs: C+
Ivory: 7/31, 3 receptions for 7 yards
Johnson: 7/40, 3 receptions for 22 yards
Conner: 1/13
Chris Johnson may have lost a step, but both Johnson and Ivory did come to play today. That might make them the only ones. You gotta love the way Ivory still runs with passion, even though the game and indeed, the season itself is long since over.
Wide Receivers/Tight Ends: D
Kerley: 5/66
Decker: 4/63
Cumberland: 1/5
Harvin: 1/2
They left a few plays on the field. Most notably, Decker came up just short on a catch that would have sent him straight into the endzone.  They're not the biggest problem with this offense by any means, but they are part of it.
Offensive Line: F
The Jets O-Line got absolutely manhandled by the best in the biz. You kinda expected that to happen, but not to this extent. They didn't look prepared to go up against a JV team, let alone a powerhouse front 7 like the one the Bills possess.
Defensive Line: D
Wilkerson left early with an injury and didn't return. The defensive line never asborbed the amount of blockers that they needed to in order to put a pass rush on Kyle Orton.
Linebackers: F
Slow, slow, slow. The Jets will need a major upgrade to their linebacker corps next year, and whoever they are, they better be fast. Harris and Pace are both effective against the run, but far too slow to both be on the field at the same time in passing situations.
Secondary: F
Kyle Wilson? Darrin Walls? Marcus who? Talk about an area that our general manager bombed on. And even his prized 1st round pick, safety Calvin Pyror, is nowhere to be found. This is a group without the necessary talent to succeed in this league and they reminded us of that today.
Special Teams: D-
Apart from a nice punt return from Jeremy Kerley and kicker Nick Folk being quietly solid, there were a lot of problems with the Jets specials teams today. Harvin consistently gets stopped short of the 20 on kickoffs. Punter Ryan Quigley has performed well most of the season, but shanked one today and got another punt blocked and returned for a touchdown.
Coaching: F
The false starts and the 12 men on the field calls are a recurring theme. The Jets even managed to burn a timeout after a delay of game call. Unreal. Talk about a team that looked lost and lifeless. This is some of the most uninspired football that Jets fans have seen in years, and that's saying something. The Jets were supposed to come off their bye and get vengeance for what Buffalo did to them a few weeks prior but instead they fell flat on their face.
Videos
Aaron Rodgers Injury Fallout & Jets/Bills Recap