Featured Editorials Home Slider
Jets Marred by Uncertainty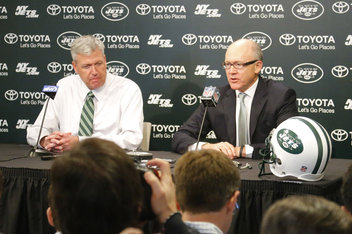 Rex Ryan said it himself after last nights 38-3 embarrassment against the Buffalo Bills in Detroit, "Unless it changes drastically, I will be the head coach here for the next five weeks" were the words spoken by Ryan.  He knows that no matter what, based on the effort, or lack thereof, put forth by his team last night that there is no way owner Woody Johnson can retain him for a seventh season.  Ryan started his tenure with a bang, leading the Jets to consecutive AFC Championship games in his first two seasons, but it's been a downward spiral since then.  Last night in Detroit was the low point for the franchise under Ryan and it's hard to imagine any of the key decision-makers in Florham Park are safe.
Ryan will be let go at season's end (if not sooner) and Woody Johnson will have to evaluate the job John Idzik has done as General Manager over the past two seasons.  Seasons like this don't happen to teams with talent, and providing the talent is Idzik's job.  Unless the GM told Johnson before the season that this was going to be a tank job, there's no way Johnson can't put Idzik under the microscope and determine whether or not he has a competent GM.  Even if Johnson were to do that, would he know what he's looking at? Johnson isn't a football man and he knows it.  He has leaned heavily on outside sources when making critical decisions for the franchise in the past and there's no reason to expect that to change with the next round of housecleaning that awaits.
The Jets have spent a large portion of the past several decades being a bad football team, but  this kind of bad, much like the stock market, is the worst kind of bad.  When you're just bad enough to miss the playoffs, you think there's a shot that only a few changes will be made and  you can focus on the things that are going well and move forward.  When things are going great, there's no need to make drastic changes.  However, when the wheels come off like this, nothing can be ruled out, and the fans are left to speculate and hope, with any real answers possibly being months away.
If Johnson allows Idzik to hang around, it's possible that he has an old Seattle assistant on speed dial or that Johnson has contacted other owners or former coaches (Bill Parcells) to get their opinions.  Several names have already been thrown out by fans and media alike.  Bill Cowher, John Gruden, Nick Saban, Darrell Bevell, etc.  Either way, the fans will now sit and wait out the uncertainty.  Scoreboard watching once again will be for the sole purpose of draft position instead of  playoff position, while Woody Johnson decides how to bring some level of stability to a franchise that has lacked it for so long.
Videos
Aaron Rodgers Injury Fallout & Jets/Bills Recap