Hess & Chrebet Into Ring Of Honor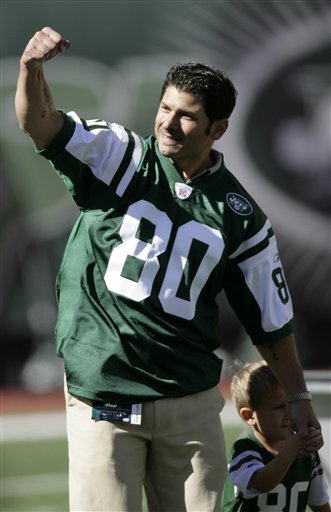 On Monday night against the Dolphins, the New York Jets will induct Leon Hess and Wayne Chrebet into their Ring Of Honor.  Wayne spoke to the media about his induction and here are his thoughts…
Obviously, I'm honored to be put in the Ring of Honor. It's something I'd certainly thought about since I ended playing. (I) didn't know if that was going to happen, but I'm excited about it (and) my family is excited about it. This brings back a lot of memories to when I played and I'm looking forward to the Monday Night game. I know it's a tough year and things haven't gone too well, but hopefully they can have a good game and be the start of a nice winning streak to end the season. So, we'll see. Hopefully I can get through the speech on the field. I'll be emotional. (It is) definitely a big honor to be recognized with some of the players, like Joe Namath and (Don) Maynard and guys I grew up watching, (Joe) Klecko and (Mark) Gastineau, and Freeman (McNeil) and Wesley (Walker) and Al Toon. Obviously, the person closest to me was Curtis (Martin). We went to a lot of battles together. We laughed, we cried, we bled together. To be next to him, in any group, is an honor and I'm extremely humbled to be in that group.
Wayne also spoke about his kids, Bill Parcells, the Jets season and more. You can read the full Wayne Chrebet interview here.
The 2014 Ring of Honor ceremony will occur at Halftime. This is the Jets fifth class of inductees. Several ex-Jets will be in attendance including Joe Namath, Curtis Martin, Chad Pennington and Vinny Testaverde.  They Jets will hold a special Alumni Player Introduction event, prior to the player introductions.
Videos
Aaron Rodgers Injury Fallout & Jets/Bills Recap