Featured Editorials Home Slider Jets Report Card
New York Jets Report Card: Week 13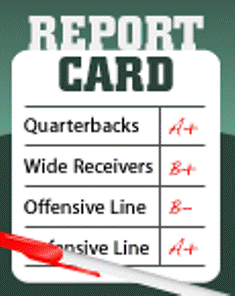 New York Jets Report Card
Week 13: New York Jets vs. Miami Dolphins
Quarterback: F
Geno Smith: 7/13, 65 yards, 1 INT, 4 rushes for 19 yards
In Geno Smith's most recent performance, he threw 3 interceptions in 1 quarter. Today, he actually managed to play worse than that. He had trouble completing hand-offs. He couldn't complete horizontal passes. He couldn't complete vertical passes. There were moments during this game where it would have been fair to ask whether the Jets were even using a quarterback at all. Geno Smith threw 5 less passes than the quarterback who had previously thrown the least passes in a game this season. Mindbogglingly, he still managed to throw an interception. This is rock bottom. I mean, it has to be, right? It has to be. It has to be. It has to be.
Running Backs: A
Chris Ivory: 16/62
John Conner: 1/2
Bilal Powell: 2/4, 2 receptions for 19 yards
Chris Johnson: 17/105, receptions for yards
Ivory and Johnson were absolute beasts, and among the few things that made this game watchable. Ivory is easily this year's MVP.
Wide Receivers/Tight Ends: F
Eric Decker: 2/18
Jeremy Kerley: 1/2, 2 rushes for 38 yards
Percy Harvin: 1/6, 6 rushes for 27 yards
Zach Sudfeld: 1/20
Greg Salas: 1 rush for 20 yards, 1 TD
Greg Salas made a play before injuring his hamstring. Harvin made a couple of plays. Decker dropped a couple of passes. Cumberland bobbled one that led to a pick to seal the game. Other than that, this offense functions as if it doesn't even have wide receivers or tight ends.
Offensive Line: C-
As good as they were in the run game, they were downright miserable in the passing game. When it was time to pass, the Dolphins just teed off.
Defensive Line: B+
The Jets defensive line actually stepped up big time in the absence of Wilkerson, though Coples was still hard to find on the field. They created some pressure and absorbed blockers effectively.
Linebackers: B
Not a bad showing, but Calvin Pace's dropped pick stings! He was wide open and let the ball bounce off of his helmet.
Secondary:  C+
They were shredded at times, though mostly due to their own lack of talent (blame Idzik) rather than disappointing play. Inconsistent is still better than consistently bad. Nice job hanging in there, boys. Hey, has anyone heard from Calvin Pryor? Allegedly he started this game, but not so that you would really notice it or anything.
Special Teams:  F
2 missed field goals, 1 blocked punt and 4 penalties on special teams. Case closed.
Coaching: F
As a Rex Ryan fan, even I was stunned by his post-game press conference. What kind of coach brags about how he refused to adjust his gameplan? Madness.
Videos
Aaron Rodgers Injury Fallout & Jets/Bills Recap