Rex's Metlife Mutiny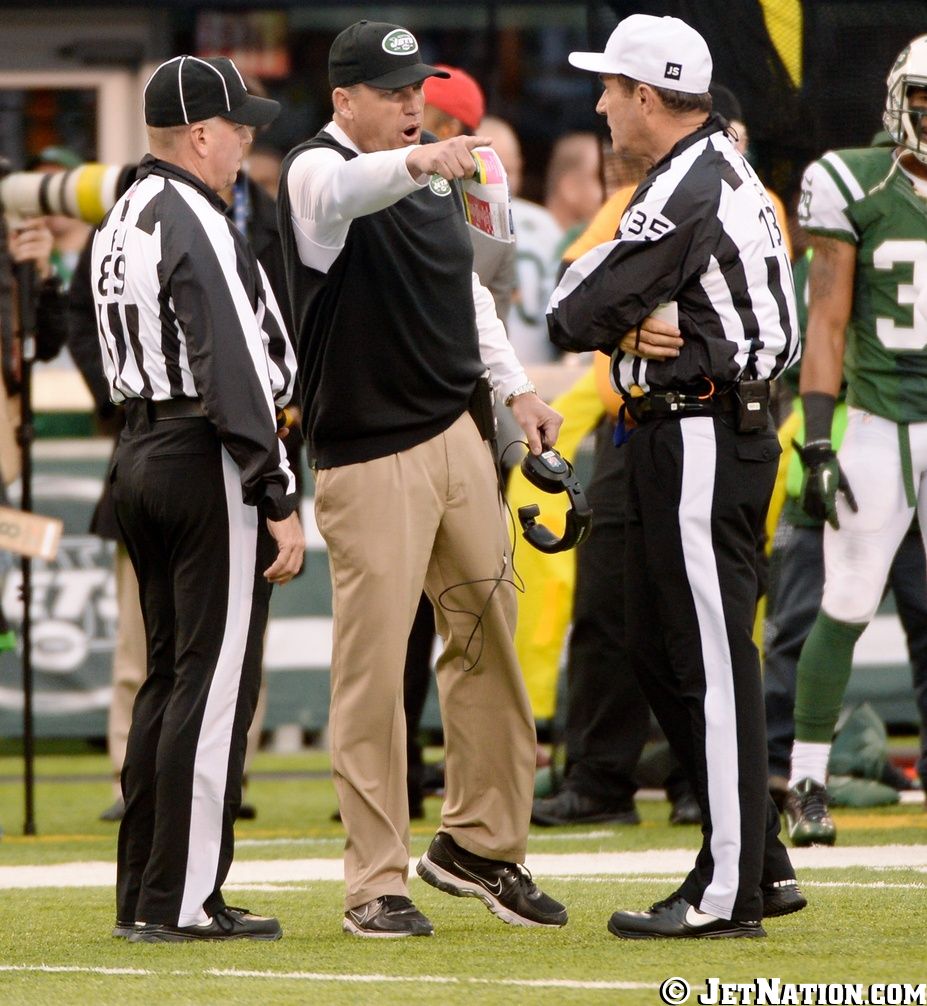 In discussing his team's embarrassing 38-3 loss at the hands of the Buffalo Bills one week ago, New York Jets Head Coach Rex Ryan remarked that unless something drastic happened, he would remain in his position for the final five weeks of the season.  One has to wonder if a mutiny on national television would qualify as the "something drastic" Ryan mentioned.
Last night, Rex Ryan thumbed his nose at his boss, John Idzik  on Monday Night Football with the whole country watching.  Throughout the course of the week, multiple media outlets reported that Idzik chose to overrule Ryan in his desire to start Michael Vick at quarterback over the highly ineffective Geno Smith.  In reality, both players have struggled this season but Vick has been the better of the two, and there appears to be a rift between Ryan and Idzik.  It's easy to get the impression that Rex is still trying to win games, but Idzik wants to conduct player evaluations in the event he's spared by owner Woody Johnson after what has been a disastrous season.  Ryan's response to Idzik was this: 49 runs, 13 passes, five of which came in the final minute of the game.  A game plan that relies heavily on the run and asks as little of Geno Smith as possible is probably the best strategy the Jets can follow on a weekly basis, but this display was unbelievable.  A 6:1 ratio is unheard of in the NFL, unless of course somebody is trying to send a message.
While Idzik may have forced Ryan's hand to start Smith, Rex made it clear that he was still the man in charge on game day.  Allowing Geno Smith to throw the ball just eight times through the game's first 58 minutes is a staggering statistic.  Ryan gave the impression that he was going to try to pull off an upset over Miami, but he was going to do it his way.  In the meantime, he'd only be giving Idzik a handful of plays to evaluate Smith and determine whether or not he'd progressed at all after watching from the sidelines for a few weeks.  When he was asked to throw however, Smith looked a lot like the guy who was benched in favor of  Vick following his three interception performance against Buffalo in week eight.  Smith threw a game ending interception over the middle when he didn't put enough air under his final pass and safety Reshad Jones was able to come away with the underthrown ball when it was batted in the air.  Smith also missed big when he overthrew a wide open Percy Harvin on what would have been a thirty yard touchdown pass earlier in the game.  He didn't have many chances, but when called upon, Smith did little to help his own cause.
Another curious note related to Ryan's in-game decisions revolved around some of Idzik's young draft picks.  During the week, Ryan told the media that the Jets would be taking their first extensive look at some of Idzik's selections with the Jets being mathematically eliminated from playoff contention.  Ik Enemkpali and Trevor Reilly were specifically mentioned as two players who would see increased reps.  It made sense, as there would be plenty of extra reps at the OLB position with starting OLB Quinton Coples being shifted to DE to fill in for the injured Mohammed Wilkerson.  When the final whistle blew, Reilly and Enemkpali played a combined total of eight snaps.  At least Idzik can thank Rex for freeing up any time on his calendar he may have set aside to watch any tape of the youngsters.
For a long time Rex Ryan has talked about how much it means for him to be the coach of the Jets because of his family history with the organization.  After last night however, it would appear that the nostalgia has worn off and Rex is ready to move on right now, or at the very least, to finish out the string however he sees fit.
Videos
Aaron Rodgers Injury Fallout & Jets/Bills Recap