Jets' Rookie Pryor Hopes to Finish Strong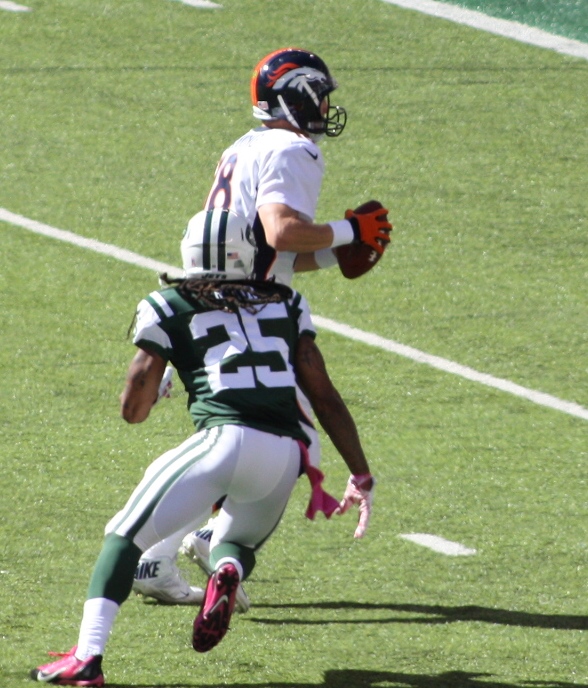 With only four games remaining on their schedule and any playoff hopes a distant memory, the Jets will spend the final four weeks of the season keeping a very close eye on rookie safety Calvin Pryor.  Taking Pryor with the 18th overall selection was a surprise move to say the least.  Many pundits speculated that GM John Idzik would address their need for offensive playmaker or a cornerback, depending on who was available when they were on the clock.  The Jets surprised their fans when they decided to go with Pryor out of Louisville where he had earned the nickname the "Louisville Slugger", due to his physical style of play.
Following Pryor's selection, Jets Head Coach Rex Ryan spoke glowingly of the rookie's ability to be an "enforcer" in the defensive backfield, comparing him to long-time Oakland Raiders safety Jack Tatum.  Pryor was going to be a player who would make teams fear throwing over the middle, and his jarring hits would help the  Jets secondary force more turnovers. So far, things have not gone according to plan.
Pryor has yet to make an impact play for the Jets and his name is often being called when opposing receivers are making big plays.  His game has been scrutinized due to his struggles in  pass coverage, and taking  bad angles in pursuit.  To be fair to Pryor, he was drafted to be an intimidator and the knock on him coming out of college was his ability to defend the pass.  With so many glaring holes in the secondary, the Jets have had to use the rookie in coverage far more than anticipated, and that has been a major factor in his struggles.  Pryor however, will get little sympathy from Jets fans after it was learned that the rookie has been late to several defensive meetings this season which led to his being benched against the Pittsburgh Steelers in week 10.
Pryor has an overall positive grade on the season from PFF.com but that's due largely in part to his strong play against the run.  Expectations have to be higher when talking about a first round selection in a pass oriented league.  Over the past several weeks the Jets have cut back on Pryor's reps, but they were back on the upswing this Monday night against the Miami Dolphins.  In his previous two games, Pryor played in only 25% of the defenses snaps.  Against Miami however, that number jumped to 40% (24-60).  Over the next few weeks it's likely Pryor will continue to see additional playing time and have the opportunity to improve his play, and turn the naysayers into believers.
Videos
NY Jets Phase 3 OTAs, Expectations and a Minor Calf Tweak with Greg Renoff