Johnson Hits Century Mark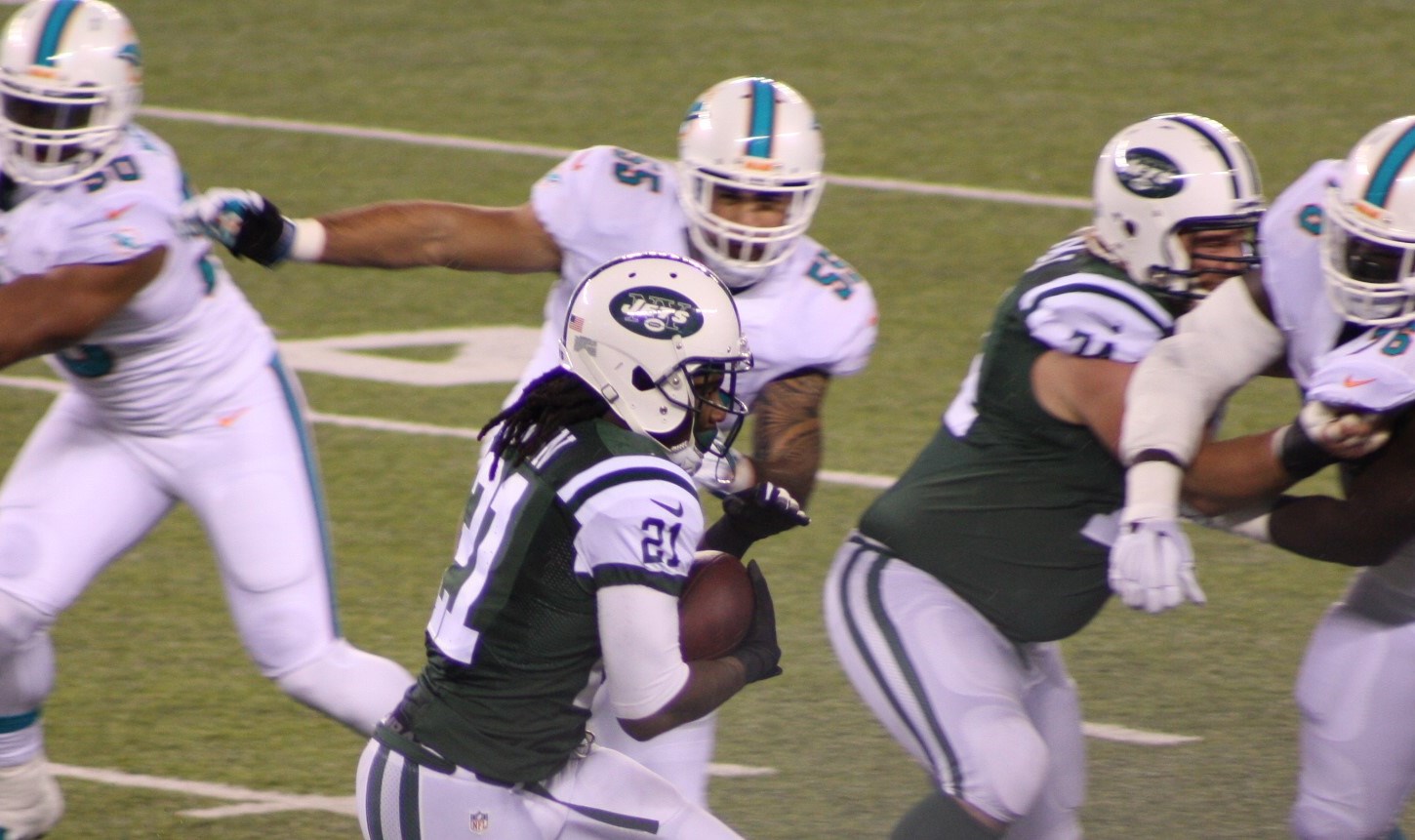 When the New York Jets announced the signing of free agent running back Chris Johnson this past off-season, fans had tempered expectations regarding what he might bring to an offense that has lacked a home run threat for so many years.  The predominant reaction among Jets fans seemed to be one of cautious optimism.  After all, reports of Johnson's eroding skills since rushing for over 2,000 yards in 2009 had been widely reported.  Johnson's failure to come close to that 2,000 yard mark again, topping out at 1,364 yards in 2010, had fans wondering how much Johnson had left in the tank.
The Jets ended up taking a flier on the seventh  year back with the intention of having him split carries with running back Chris Ivory, but that didn't last long.  After a strong outing in week one in which Johnson logged 68 yards on the ground on only 13 attempts, an impressive 5.2 YPC, the former All-Pro struggled in weeks two and three posting just 55 yards on 22 carries.  Those numbers resulted in having his name called only sixteen times over the course of the following three games for a total of only 77 yards.  It wasn't until week seven that the back would see double-digit carries again when the Jets used a ground and pound attack against the Patriots in New England.  Once again Johnson was worked in to the offense on a more regular basis, and it paid off as he averaged 4.7 YPC for a total of 61 yards.
Those thirteen attempts were tops on the year for Johnson until this past week at home against the Dolphins.  With a less than conventional game plan in which the Jets had a run/pass ratio of 6/1 at the two-minute warning in the fourth quarter, Johnson eclipsed the 100 yard mark for the first time this season on 17 carries, highlighted by a 47-yard scamper in which the veteran looked a little bit like the Johnson of old as he cut from one side of the field to the other, evading several Dolphin defenders.
The lack of work Johnson has gotten this year has fallen short of what he'd expected.  After signing with the Jets, Johnson acknowledged the fact that he wouldn't be the featured back on a week to week basis, but he seemed to be under the impression that an occasional 25 carry game wasn't going to be out of the question.  The frustration clearly boiled over as he took a not so subtle shot at the Jets coaching staff in October when the Geno Smith/Michael Vick debate heated up.  When questioned  about the struggling quarterbacks, Johnson quipped "I don't even be in the game, so I don't know".  Since that time Johnson has seen a slight increase in his attempts which has helped him contribute more to what has been a stagnant offense for the majority of the season.
How long he stays with the Jets remains to be seen.  At this point in his career, Johnson is  a fine complimentary back-up/platoon player, but his return is questionable.  The team's poor performance, lack of stability, and what Johnson almost surely sees as a misuse of his talent could wind up leading to his exodus, and the Jets having another hole to fill heading in to the off-season.
Videos
New York Jets OTA Presser Takeaways, Aaron Rodgers' Impact and Summer Delusion