Featured Editorials Home Slider Jets Report Card
New York Jets Report Card: Week 14
New York Jets Report Card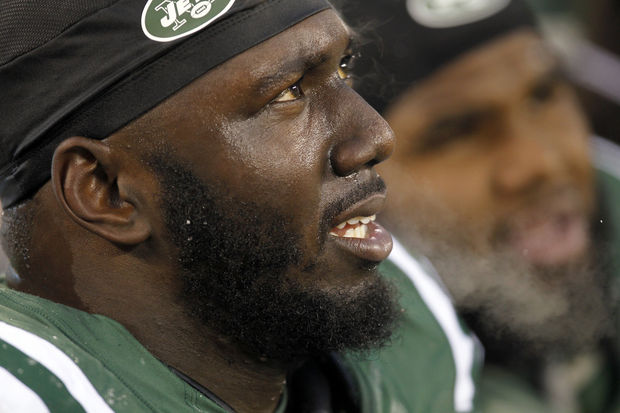 Week 14: New York Jets @ Minnesota Vikings
Quarterback: D
Geno Smith: 18/29, 254 yards, 1 TD, 1 INT, 6 rushes for 33 yards
Yes, he was mostly efficient on the day. No, that does not excuse spotting the other team 7 points just as the game begins. Geno Smith is fool's gold and I don't know about you, but I won't be fooled again.
Running Backs: B-

Chris Johnson: 16/53, 2 receptions for 13 yards
Bilal Powell: 2/6,
Chris Ivory: 16/73, 1 reception for 4 yards, 1 fumble
The Jets had yet another strong game on the ground, but Chris Ivory's fumble within 5 yards of Minnesota's endzone proved to be most costly.
Wide Receivers/Tight Ends: C+

Eric Decker: 6/89
Percy Harvin: 6/124/1, 2 rushes for 3 yards
Chris Owusu: 1/7
Jeremy Kerley: 2/17
Perhaps for the first time, both Percy Harvin and Eric Decker had some success in the same game. The rest of the Jets receivers? Not so much. Geno Smith did not complete a single pass to a tight end.
Offensive Line: B

Geno Smith was sacked 3 times, but at this point that has to be expected. The Jets ran the ball well most of the day. The offensive line deserves some credit here, even as Willie Colon deserves some blame for continuing to be a penalty machine.
Defensive Line: A

Sheldon Richardson made a mistake in the 4th quarter by getting drawn offsides, but besides that he played like a man possessed, earning himself 3 sacks, including a safety. This unit has continued to function quite
Linebackers: C

Jets linebackers did an adequate job of stuffing the run. They still need to add more speed to this unit to help rush the passer and cover up the defects in the secondary.
Secondary: D

With 12 draft picks and plenty of cap space, this is the secondary that John Idzik assembled? OK, fine, there were some injuries (to injury prone players, mind you), but 1st round safety Calvin Pryor looks like a disaster out there, and Idzik's inaction has the Jets playing UDFA's all over the secondary. They got beat badly today, allowing big plays to… Teddy Bridgewater? Oh, come on.
Special Teams: B

Nick Folk had a rebound game, going 5/5 on field goals. The Jets return game is explosive but mistake prone. Ryan Quigley is an effective but inconsistent punter.
Coaching: C-

Rex has made some confusing time management mistakes in the past couple of weeks. Last week, he didn't take a timeout before the half when the Jets were due to receive the ball. This week, he used a timeout before the half when doing so could have harmed the team. At least Marty finally drew up a gameplan that had Geno Smith hitting a few passes.
Videos
Aaron Rodgers Injury Fallout & Jets/Bills Recap