Featured Editorials Home Slider
Time Running out on Idzik's Dirty Dozen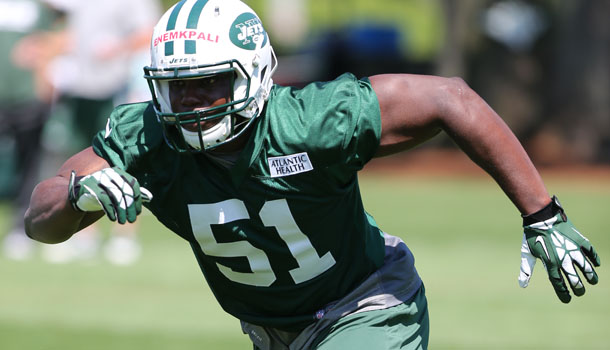 New York Jets General Manager John Idzik has a problem.  As a matter of fact, he has plenty of problems, but for the sake of this discussion we'll just talk about one.  Season two of his tenure as GM has exactly three games left, and of his twelve most recent draft picks, only one (Jace Amaro) has given the Jets reason to be hopeful moving forward.  It's been clear for quite some time that this season was a lost one for the Jets, and the fans wanted to see the rookies.  No matter how prepared they were or not, there was no reason to keep sending out veterans who are unlikely to be around beyond this season.  However, Rex Ryan continued to stick with his regulars, but after mathematical elimination from the playoffs, Ryan said it was time to see some of the kids.
This is what Jets fans wanted, and what John Idzik needed.  Surviving this season would become a lot easier if he could point to some success on the personnel side of things despite an overall horrendous season for the team, but it hasn't worked out that way for Idzik.  First round pick Calvin Pryor has been a huge disappointment thus far.  We continue to hear about Pryor being out of position as an "in-the-box" safety who has been asked to put in overtime in coverage because of a weak secondary.  Even with that being the case, Pryor has yet to force a fumble or  intercept a pass.  His lone "impact" play came in week four, when he registered a half sack agasint the Detroit Lions.  The only stat Pryor leads the team in is missed tackles (12).  He was brought in to deliver bone-jarring hits, and the biggest headline  he made this season was for failing to show up to meetings on time.  Barring a miracle turnaround next season, Pryor will find himself going from the "Louisville Slugger" to the "Louisville Slacker".
Amaro, taken in round two, has been hot and cold, but more the latter than the former.  After a slow start, he appeared to arrive in week six against the Broncos when he hauled in 10 passes for 68 yards, including his first NFL touchdown.  Since then, Amaro managed just 17 catches over the next five contests and is now following league concussion protocol which has kept him out each of the last two weeks.
Those were Idzik's top two selections, neither of which has had a major impact, but unfortunately for Idzik, they've been the most productive of his picks thus far.  Picks 3-12 went as follows:
3: Dexter McDougle, CB, Maryland- McDougle was inured in training camp and is out for the season.  He was impressive in early on, but for a CB with torn ACL, he's nothing more than a question mark at this point.
4: Jalen Saudners, WR, Oklahoma- Arguably the worst of Idizk's picks.  With many fans clamoring for Martavis Bryant here, Idzik went with the 5′ 9" WR who was released a few months and a couple of muffed punts later.  Bryant on the other hand, has 21 catches for 453 yds and 7 TD's for the Steelers.
5: Shaq Evans, WR, UCLA- Placed on Injured Reserve after taking part in training camp.  Nothing positive coming out of camp on the WR prior to the shoulder injury that knocked him out.  Most reports consistently said he looked lost and couldn't hold on to the ball.
6: Dakota Dozier, OG, Furman- Fans are mystified as to why Dozier hasn't seen some reps at OG.  Veteran Willie Colon will likely be on his way out after this season and leads the team in penalties.  Dozier has a reputation for being a strong run-blocker with a nasty streak.  Given the injuries and ineffectiveness of the previous three selections, Dozier is near the top of the list of players who Idzik would benefit from if he were to show something as the season winds down.
7: Jeremiah George, LB, Iowa St- George was another questionable pick given his size (5′ 11"/230) and the Jets' 3-4 scheme.  Like Saunders, George was let go not long after being drafted and has since caught on with the Jacksonville Jaguars.  George saw reps in only one game but made a good impression.  Against the Bengals in week nine, George was in on just 11 snaps but managed to register three solo tackles, which is one more than Reilly and Enemkpali have produced in 65 combined defensive snaps.
8: Brandon Dixon, CB, NW Missouri St- Dixon was another pick that failed to make the 53-man roster.  Since being cut by the Jets, he's played sparingly for the Tampa Bay Buccaneers.  Dixon has appeared in parts of six games and managed four tackles and an interception.
9: Quincy Enunwa, WR, Nebraska- Enunwa managed to make the initial 53-man roster but was dropped to the practice squad following a domestic violence accusation.  Since then, the case has been dropped and we haven't heard his  name since.  Given the Jets offensive struggles and Idzik himself passing Enunwa over to promote Chris Owusu when a roster spot opened up recently does not bode well for Enunwa.  With so few players remaining from this class, Idzik may  have silenced some critics if Enunwa had made some plays.  Instead, he remains on the practice squad while the Jets continue to struggle offensively.
10: Ik Enemkpali, OLB, Louisiana Tech- The aforementioned Enemkpali was probably the most impressive of Idizk's picks in training camp.  He showed enough burst and quickness to get fans excited in hopes of finally adding a legitimate rusher off the edge.  Enemkpali was injured late in the pre-season and proceeded to fall off the radar.  Veterans Calvin Pace and Jason Babin continue to get the overwhelming majority of reps while Ik watches from the sidelines.  Another player who could have done Idzik some favors if given the opportunity to produce.  Who knows what a couple of sacks or forced fumbles may have done to make this draft look like less of a disaster than it does right now?
11: Tajh Boyd, QB, Clemson- Boyd failed to make the final roster and signed on to play in the FXFL.
12: Trevor Reilly, OLB, Utah- Reilly was viewed as a possible legitimate value pick in this spot.  A 6′ 5" OLBer who was productive in college, but fell in the draft partly due to his age.  Reilly was 26 years old on draft day after taking some time to do mission work overseas.  Other than Pryor and Amaro, Reilly has seen more reps than any rookie in this class.  On 53 snaps, he has registered 2 tackles and four assists.
Whether or not John Idzik will be back  next season is anyone's guess.  Most "experts" don't see how the GM isn't on the hot seat with owner Woody Johnson. and most fans seen to agree.  Whatever his status, his team has a mere three games remaining this season.  His top two picks have done little to impress, and if hopes to dispel the belief among Jets fans that he has no business being a talent evaluator, he's got Dakota Dozier, Qunicy Enunwa, Ik Enemkpali, and Trevor Reilly to help do it for him.
Videos
NY Jets Phase 3 OTAs, Expectations and a Minor Calf Tweak with Greg Renoff