Home Slider Injury Report Jet News
Harris, Wilkerson & Harvin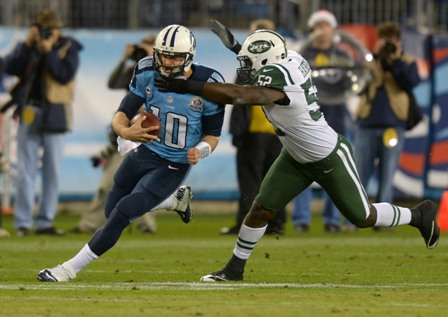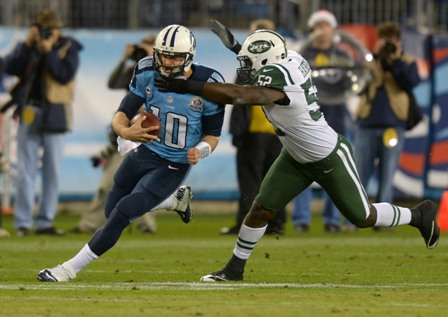 Rex Ryan spoke to the media on Friday and he gave some injury updates. As well as a pretty amazing milestone that David Harris is about to surpass.
New York Jets Head Coach Rex Ryan, 12.12
Opening Statement…
The thing that I thought was interesting, Bruce (Speight) alerted me to this, David Harris is about 14 tackles shy of 1,000 tackles. I'm not bragging but I made 12 in one season once. It was a good season. That is 1,000 tackles. That is like ridiculous. I don't know how many people have done that in their career, but when they said that number it is almost staggering. To think that usually that is from guys that are at the tail end of a career, but I don't see that from Dave. Dave still has a ton of football left. Anyway, I thought it was an interesting little bit of information. Alright, injuries, Antonio Allen is questionable for the game. He did a little bit today. He was limited. I'm not so sure here, you can tell that he is really favoring that hand. He is not really running right, so we will see how that goes. Percy Harvin was limited today. The fact that he is out there is pretty amazing, but he is questionable for the game also. I'm sure you guys saw him. He had a significant ankle injury, albeit it is a low ankle, but for him it is a quick heal. It is unbelievable how fast he is healing from it. Will he be able to go or not? I'm still not sure, but I have been impressed with him. I knew he was doing everything possible so he could try to play, but this is like over the top, even his teammates recognize that. The other guys are all probable, Jace Amaro concussion, Trevor Reilly concussion. Nick Folk is probable. Willie Colon is probable, and Willie is a knee. Mo (Muhammad) Wilkerson is doubtful and I know he was out there today in a limited capacity, but he is doubtful for the game. Dang, I was hoping he would be better than that, but we will see how it goes. I know he is uncomfortable trying to get used to the shoe and all of that. There is some pain there, but he is working at it. Again, he is listed as doubtful for the game.
On if Harvin will be a game-time decision…
I would say so, yes.
On Harvin being adamant he will play Sunday…
I know, that's what he's been telling me the whole week. I'm like, 'He's crazy,' and then he goes back out there today, there he is, and he (says), "I'm feeling good." And, obviously, you're not going to put a player out there that can harm himself, that can't defend himself. But the fact that this guy, he's been adamant about it and he was actually running some, cutting a little, it's been impressive to say the least.
On how hard it is to protect a player from himself…
Yeah, that's the thing, you just lean on the doctors and the trainers. So, we'll see. We're definitely not going to put a guy out there that's at risk. I guess everybody's at risk, but over-the-top risk.
On if Harvin would play without limitations…
I don't see how, but I never thought he'd be able to practice right now.
On if Wilkerson will test his toe pregame…
I don't know, we'll see how he is. If he's definitely not playing then we might not travel him. We'll see, but he's listed as doubtful, but tomorrow we'll go ahead and see what J-Mell (head athletic trainer John Mellody) and the trainers think.
On if Harvin wanting to play goes against his reputation…  
Well, I would say that would. I agree with you. But again, this is the guy that we see. Since he's been here, this is the kind of guy (he has been). The respect that he's already built with his teammates, his current teammates, is really impressive, and here's another reason. You're voting for the Ed Block Courage (Award), he got a ton of votes. He's only been with us for six weeks. So, I think it just shows you what his current team thinks of him.
Videos
Aaron Rodgers Injury Fallout & Jets/Bills Recap