Home Slider Injury Report Jet News
Percy Harvin Will Play and Inactives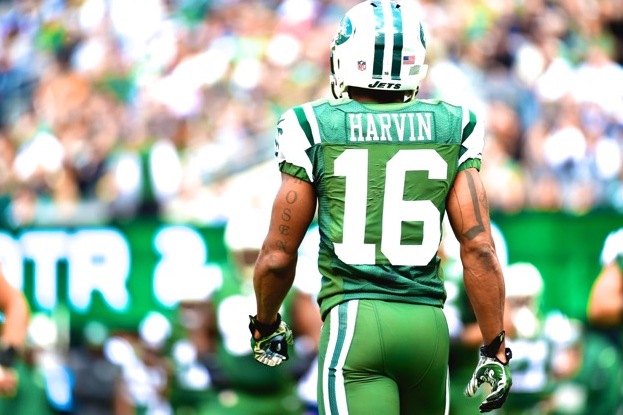 Harvin's active. Here's who's out for #NYJvsTEN today. pic.twitter.com/At1hRjvKwc

— New York Jets (@nyjets) December 14, 2014
After suffering a low-ankle sprain last week, Percy Harvin will be active for today's game against the Titans, most likely in a significantly limited role.
The inactives are: Muhammad Wilkerson, Antonio Allen, Dakota Dozier, Wesley Johnson, Walt Powell, Josh Thomas, and Matt Simms
Muhammad Wilkerson will miss his third game this year with turf toe. Wilkerson practiced in a limited capacity wearing a specialized shoe and only taking a few reps; Rex Ryan called it a 50-50 chance on Wednesday. The Jets will most likely have him back by next week. This injury has to be a blow to Wilkerson who was hoping to make the Pro Bowl after being snubbed last year.
Antonio Allen will be out for today's game with a broken hand according to the injury report. Allen has had a tough year, and some of it can be attributed to the incompetence at the cornerback position between lack of depth and bad coaching decisions. Allen was flip-flopped back and forth from corner to safety which effected his play throughout the year.
Dakota Dozier and Wesley Johnson will be out again this week, and it should stay that way for the rest of the season barring an injury on the offensive line.
If Percy Harvin wasn't able to go today there was a good chance that Walt Powell would have been activated to assume the kick return duties; he did a decent job while he had the spot before the Jets made the move to bring in Harvin. He'll likely be a one and done though after this season.
Josh Thomas had a similar story to Powell. With the high turnout at the cornerback position, Josh Thomas saw some very brief action for the Jets. He did fairly well but has been inactive and will likely remain inactive for the rest of the season with Phillip Adams and Marcus Williams starting at cornerback and Kyle Wilson in the nickel.
You can't help but think that Matt Simms got shorted in an opportunity to come in and make a name for himself with the way the season has gone. When he's had chances Simms hasn't been extraordinary, but he has been a game manager and taken care of the ball pretty well. That's more than Geno Smith can say, and he might have provided a better opportunity to win some games.
The Jets face the Titans in Tennessee at 4:05 PM Eastern in what many are calling the "Mariota Bowl." Two 2-11 teams in a 5-way tie for the #1 overall pick in the upcoming draft. Both teams could be in the quarterback market during the offseason, and Marcus Mariota is the top ranked draft eligible quarterback this year.
Videos
Aaron Rodgers Injury Fallout & Jets/Bills Recap