Featured Editorials Home Slider
Raise Your Hand If You Asked For Assigned Parking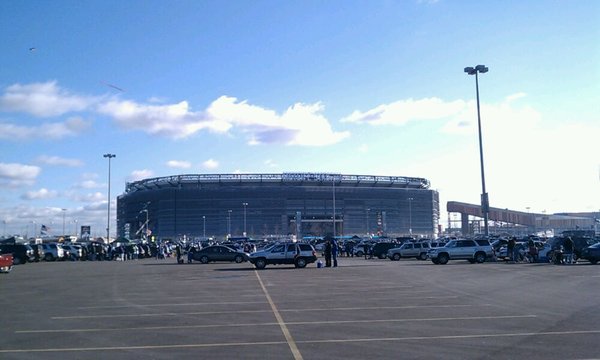 We received this letter via email today, it was sent to season ticket holders.
Dear Jet Nation,

You asked, we listened. As we gear up for our last home game in 2014 against the Patriots on 12/21, we wanted to make you aware of a change in Lot L (yellow parking pass lot). To improve your parking experience, for this game we will be utilizing "directed in parking" where a parking staff member will direct you to park in one spot. Please note the one car per one spot rule will be in full effect, and the parking lot will be filled in the order of your arrival.

Should you be parking in this lot we ask for your full cooperation as we look for ways to continue to make your parking experience better as expressed in the postgame surveys by our Season Ticket Holders.

Sincerely,
The New York Jets
Please raise your hand if you asked the Jets for this. Being serious, we would love to hear from fans that wanted the Jets to get more involved in where we park.
What this is going to do is make it very difficult for people to meet up at games. Friends and family members like to tailgate and that involves parking next to each other. That experience is going to be eliminated now that the Jets are implementing "Directed in Parking".
This will occur in Lot L on Sunday for the Jets last home game against the Patriots. Could this be a trial run before implementing this in every parking lot next year? The biggest problem in regards to parking is that people take up more than one space. It is definitely a tough task for security to deal with after people have set up their tailgate. Telling people to move to one space, when they have already claimed two or more is rarely well received. There has to be a better way to enforce the one space rule though. Couldn't parking lot attendants remind people on the way in and have the golf cart patrol help enforce the one space rule?
My two biggest concerns about this are:
1. Why are the Jets making changes like this during a 3 and 11 season. They should be thankful for the fans that show up each Sunday, and worry less about what they are doing before the game.
2. Why is this being billed as something the fans requested. "You asked, we listened" — seriously? I haven't seen this public outcry over people being allowed to choose their own parking space. Someone please let me know if I am wrong.
Here is a thread on the new parking rules at Metlife Stadium from our forums. Most fans seem to feel the same way, so I am left wondering, who asked for assigned parking?
Videos
Aaron Rodgers Injury Fallout & Jets/Bills Recap