Decker's Drops, Poor QB Play Cloud Receiver Picture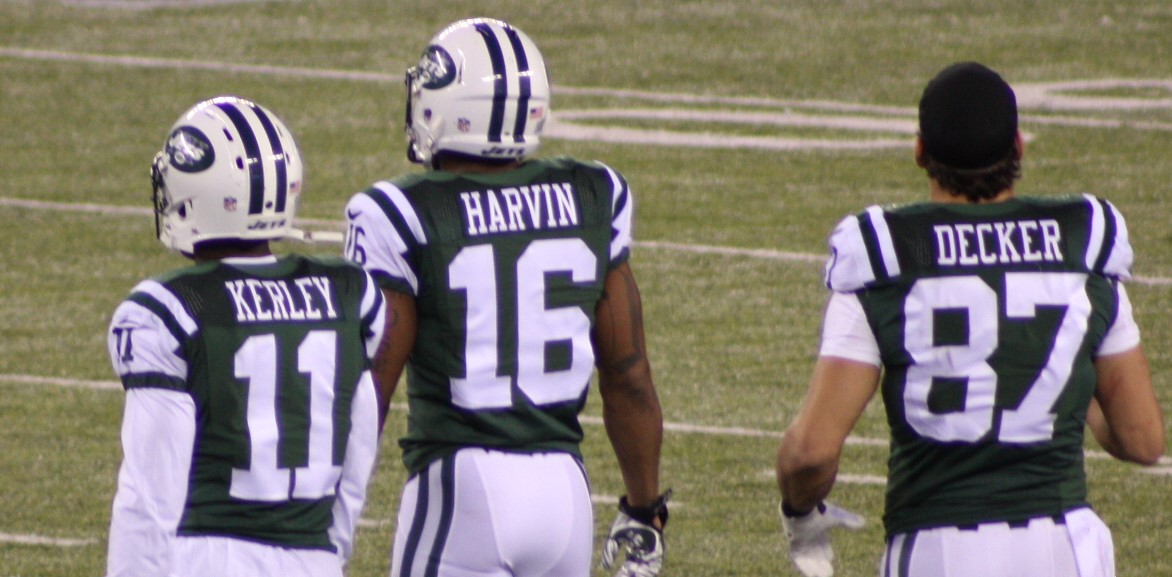 While rumors continue to swirl regarding the future of New York Jets General Manager John Idzik and his job security, Jets fans have no choice but to look forward to the NFL draft while hoping to see a positional group other than the defensive line offer a glimmer of hope for the future.  Despite a lack of quality personnel moves geared toward making the Jets a legitimate contender since his arrival, one spot Idzik has addressed with established veterans is the wide receiver position.
In a relatively quiet off-season, Idzik's one big acquisition that added an established young starter was the signing of free agent WR Eric Decker who was coming off a career year with Peyton Manning and the Denver Broncos (87 rec, 1,288 yds, 11 TD).  In addition to Decker, Idzik later traded for wide receiver Percy Harvin in a  deal with his former employers, the Seattle Seahawks, in exchange for a conditional draft pick.  While the season was all but over for the Jets as they sat at 1-6 when the trade was made, the move would give quarterback Geno Smith another offensive weapon to aid in his development and hopefully go a long way toward fielding a formidable offense.  Three days after the Harvin trade, the Jets announced the re-signing of last season's leader in receptions (43) and yards (523), in Jeremy Kerley.  The trio of Decker, Harvin and Kerley gave fans reason to believe that some pieces were being put in place to set up future success, but so far that hasn't been the case.
Nobody expected Decker to duplicate last season's numbers with the drop-off from Peyton Manning to Geno Smith/Michael Vick, but his play has still been somewhat of a disappointment.  To be fair, Decker has been slowed with a bad hamstring for most of the season, but he hasn't helped his cause in dropping as many passes this season (8) as he did all of last year.  That, despite the fact that he has seen a higher percentage of catchable balls thrown his way this season versus last (72% and 70% respectively) according to PFF.com. The numbers are uncharacteristic for Decker, and should probably be viewed as more of an aberration than the norm.  Decker did have his first 100 yd receiving game as a Jet last week, but again, had a critical drop on a third down play that overshadowed his otherwise strong performance to a degree.
While Smith and Vick have been mostly on target with Decker, that hasn't been the case with Harvin, and Kerley seems to have become the invisible man.  Harvin is the only Jets WR to produce multiple 100 yd receiving games (129 vs KC, 124 vs MIN), but has failed to top the 25 yard mark in any other contest.  He undoubtedly has the skills to be a playmaker, but has been limited by the inaccuracy of both Jets quarterbacks.  In seven games in green and white,  Harvin has been targeted 45 times, but only 25 (55%) of those passes were on target.  With the ability Harvin has to gain yards after the catch, getting him the ball in a struggling offense is essential, but the Jets haven't done  a very good job of doing that thus far.
Since signing his extension, Jeremy Kerley seems to have become an afterthought in the minds of Smith and Vick in Marty Mornhinweg's offense.  The fourth year man out of TCU managed to pull in 15 catches over the first three weeks of the season as  it appeared  he and Smith were going to build on the chemistry they'd built the previous year, but Kerley has since become an afterthought. Following his fifteen catches in those first three games, he has managed just nineteen receptions the rest of the way, five of which came in a 38-3 blowout loss to Buffalo.  Kerley's production  hasn't been so much a result of the quarterbacks failing to hit him, but their refusal to involve him in the offense at all.  After being targeted just over 7 times per game in weeks 1-3, signal callers have looked his way just 3 times per game (33 targets in 11 games).
Uncharacteristic drops from Decker, an inability to get the ball to Harvin, and all but ignoring Jeremy Kerley has taken what many hoped would be a positive development, and turned it in to yet another question mark.  The regression of Smith and Vick's struggles at the QB position leaves fans wondering if this team generate enough points on offense with Decker, Harvin, and Kerley at the WR position or will it be a wasted group of talented players as the Jets continue their decades-long search for a franchise, or at this point capable, NFL quarterback?
Videos
Aaron Rodgers Injury Fallout & Jets/Bills Recap