Featured Editorials Home Slider Jets Report Card
New York Jets Report Card: Week 16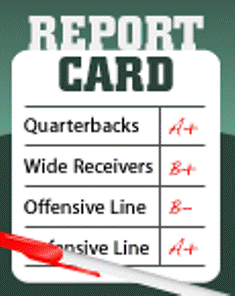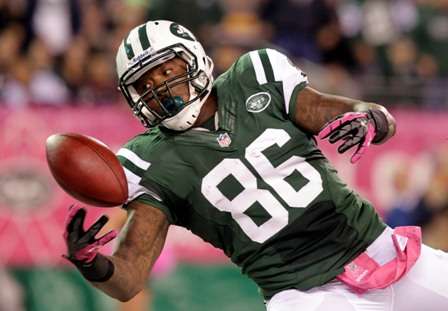 New York Jets Report Card
Week 16: New England Patriots @ New York Jets
Quarterback: C-
Smith: 17/27, 210 yards, 1 TD, 1 INT, 3 rushes for 9 yards
Geno had plenty of time to pass today, and he made good use of it sometimes. But, as usual, it was another day filled with red zone inefficiency and another game where his TD count matched his turnover number. Instead of throwing the ball away, he still has a tendency to take sacks that knock the team out of field goal range.
Backs: C

Johnson: 10/30, 1 reception for 3 yards
Ivory: 11/53
Powell: 5/21, 2 receptions for 13 yards
Conner: 1/2, 1 reception for 26 yards
It wasn't the greatest performance you've seen by the Jets ground game this year, but they sure spread around the ball quite a bit. Despite all the knocks on Chris Johnson this year, he's got a yards per carry average in the mid 4's.
Wide Receivers/Tight Ends: C-
Decker: 2/21
Cumberland: 3/43, 1 TD
Amaro: 1/20
Kerley: 3/54
Harvin: 4/44, 2 rushes for 1 yard
Sudfeld: 1/6
Jeff Cumberland showed up for a change! Now, where was he the past 15 weeks? After his first 100 yard receiving game for the Jets last week, Decker amassed only 21 yards on 2 catches this time around.
Offensive Line: A-

Even though they lost Nick Mangold to injury, the Jets line had one of their best games of the season. Not only did they establish the run, but they also gave Geno all the time he needed. It was the type of offensive line performance we haven't seen too often lately.
Defensive Line: A

With Wilkerson back on the line, this unit looks elite again. Apart from a drive here and there, they had Tom Brady flustered all game long.
Linebackers: B-

The Patriots were held to less than 90 yards on the ground.
Secondary: B+

The Jets secondary capitalized on the pressure their front 7 provided, and turned in a solid game. Brady threw for less than 200 yards, and rookie Marcus Williams had a pick. But the Jets are still vulnerable to getting picked apart through the air on crucial drives, and Tom Brady reminded us of that.
Special Teams: C
It was a ho-hum game for the special teams, who lacked Percy Harvin on kick and punt returns. Still, T.J. Graham did an adequate job there. Nick Folk hit 2 field goals, but missed on a 52 yarder that should never have been attempted.
Coaching: B+

Rex dialed up quite a game plan today. Despite the overall talent level of his team, he's been a consistent thorn in Tom Brady's side. Patriots fans will surely be happy if he's no longer coaching the green and white next year.
Videos
Was Boomer Right to Blast Becton? Former Jets QB Sounds off Against Jets Tackle.