Featured Editorials Home Slider
Charley Casserly…Rex's Savior?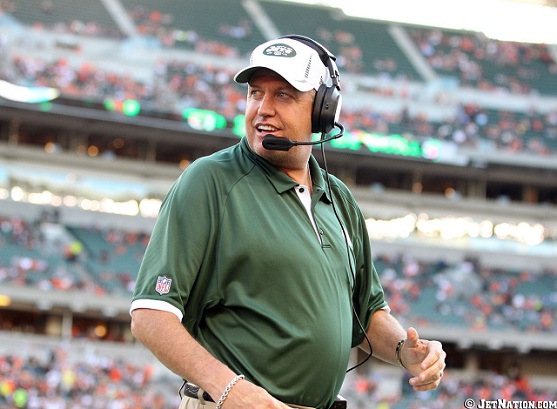 The report by Adam Schefter claiming that New York Jets owner Woody Johnson is looking to hire former Redskins and Texans GM Charley Casserly in an advisory capacity has some Jets fans breathing a sigh of relief.  Johnson, over the past several years has relied upon General Managers with little or no personnel background to run his organization and he has paid the price.  Both Mike Tannenbaum and current GM John Idzik made names for themselves on the financial side of the house and the Jets' talent level has suffered as a result.
Cassserly on the other  hand, has run personnel departments with considerably more success than Idzik has had with the Jets, which isn't all that hard to do up to this point. Despite some quality decisions such as drafting Sheldon Richardson and trading for Chris Ivory and Percy Harvin, Idzik has come up short attempting to build a contender.
If Johnson were to lean on Casserly for advice concerning the future of Head Coach Rex Ryan, things could get interesting.  Jets fans seem to be torn in different directions in terms of what they feel the fate the head coach should be.  Many want to see him let go immediately while  others blame Idzik for the team's failures, and some have said they'll be happy if that decision, whatever it may be, is left in the hands of a credible football person.  Casserly is undeniably credible as a GM.  The interesting part of the scenario is finding out exactly what Casserly thinks about the current state of the team. ESPN.com's Rich Cimini reported that in an interview earlier this season, Casserly offered these comments in regards to the Jets situation.
"I would say, having been in an organization, it's hard to know from the outside-in who's making the final decision on things," he said. "For example, they took two corners in the first round. One is hurt [Dee Milliner], and the other one, [Kyle] Wilson, hasn't panned out. So how much of that was the coaching staff? How much of that was the scouting staff? Who made the final decision? Those are the things you're going to have to figure out — and that's the owner's job to figure that out."

"This year, they did not take a corner [in the first round] — and they were in desperate need of a corner. Cincinnati took Darqueze Dennard from Michigan State [24th overall], who was rated about in the middle of the first round. Now, he's not playing for them because they have a lot of other corners, but they do like him there.

"Not addressing the cornerback position was huge because [of] two things: One, any time you talk to Rex Ryan, he says, 'Give me corners. That's what I need, is corners.' When you watch their defense, they've never had a legitimate outside pass-rusher you have to game-plan against. But by having good corners, Rex is as good as anybody in the league at designing blitzes to get people free.

"So that's an example of the front office not getting what the coach needs. From the outside-in, that's the obvious one we look at there. It's a legitimate question because clearly there's not enough talent around that football team to compete. I thought Rex should have been the coach of the year at 8-8 last year."
JetNation.com recently spoke to a person familiar with the organization's thinking on Rex and they had this to say "Rex is probably gone after the season, but Woody is looking for a reason to keep him".
If this is in fact the case, could it be that Woody is reaching out to Casserly, who had such high praise for Ryan, in an attempt to calm those who will undoubtedly be outraged if Rex is retained?  Keeping Rex is a much easier sell if it's based on the advice of an accomplished GM, instead of head hunting company like Korn-Ferry.
While it seems unlikely that an organization would keep a head coach around despite missing the playoffs four seasons in a row, it now looks like the man being brought in to help shape the franchise for years to come could suggest just that.  If Casserly does come in, it's hard to imagine he recommend terminating a head coach whom he said should have been the NFL coach of the year less than one year ago.
Videos
Aaron Rodgers Injury Fallout & Jets/Bills Recap