As Jets Firings Loom, Dunbar Should be Spared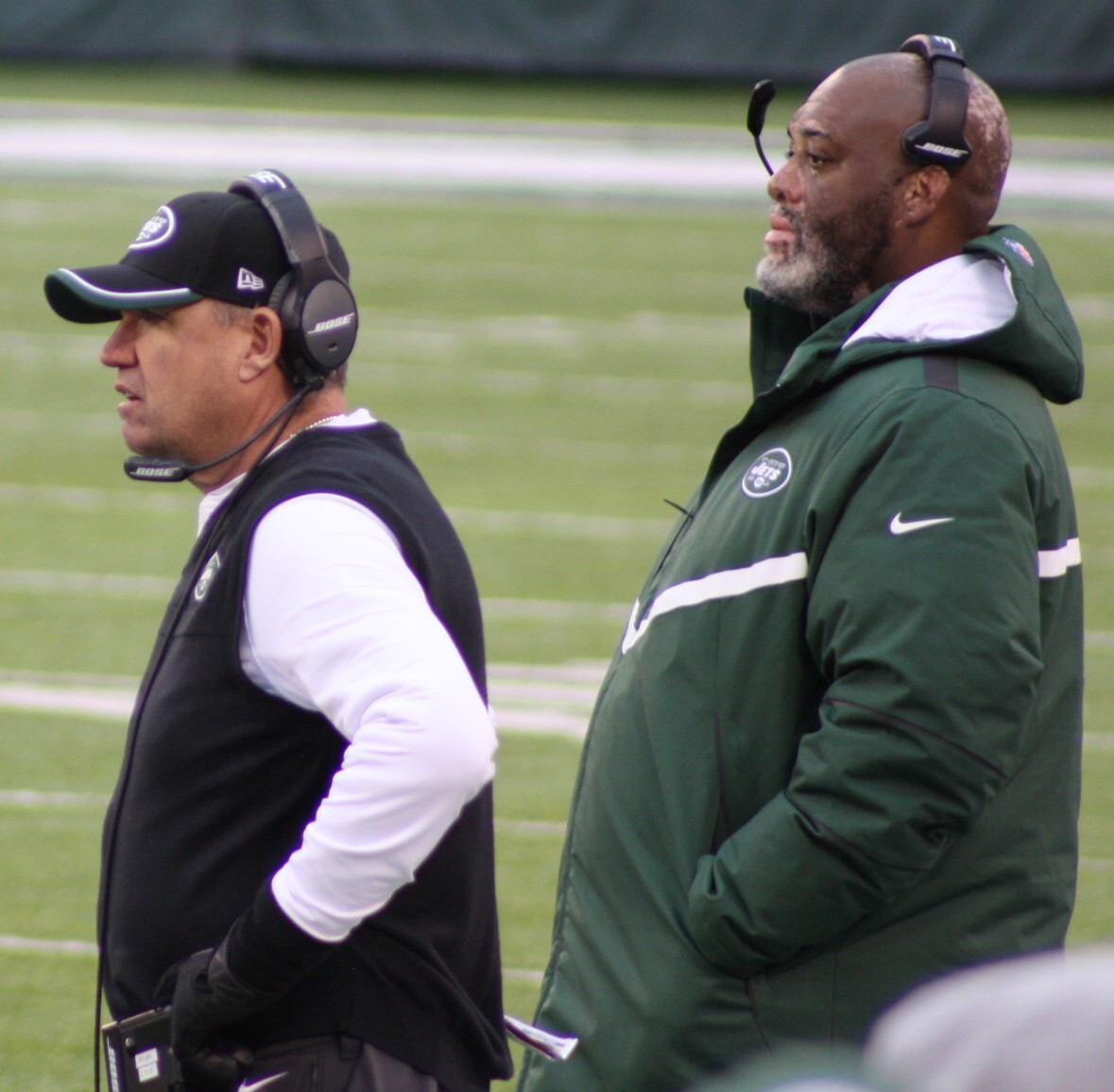 By Glenn Naughton
With the NFL's version of Black Monday less than 72 hours away, all indications coming out of Florham Park indicate sweeping changes on the horizon for the New York Jets.  A fourth consecutive season without a playoff berth appears to have been too much for owner Woody Johnson tolerate and it's being widely reported that heads are going to roll.
Head Coach Rex Ryan has manned the Jets sideline for the duration of that drought, and despite having been in place for just two seasons, General Manager John Idzik is rumored to be on his way out as well.  Once Johnson starts handing out pink-slips in place of late Christmas gifts, there's at least one person the Jets should make every effort to retain.
Defensive Line Coach Karl Dunbar is in his third season with the Jets and continues to guide and mentor the team's most dominant unit.  "I can't play anymore, so I live vicariously through these guys" were Dunbar's words when interviewed earlier this season  by JetNation.com.  As with most coaches in the NFL, it's a passion for Dunbar, but few have a resume quite as impressive as the former 8th round draft pick.
Dunbar has been successful at every one of his stops in the NFL as a position coach.  When hired by Lovie Smith to join his defensive staff in Chicago before 2004 season, the Bears saw their sack totals climb from 18 in the previous year, to 35 under Dunbar.  After coaching for a season at his Alma Mater of LSU, Dunbar returned to the NFL as the defensive line coach for the Minnesota Vikings from 2006-2011.
In Minnesota, Dunbar's Vikings allowed a league low 8,141 yards rushing, and sacked the quarterback 242 times, good enough for sixth in the NFL during that time frame.  Those were the credentials he brought to the Jets when he was  hired by Rex Ryan three years ago.
Since arriving in New York, it's been business as usual for Dunbar's group.  Among the best teams in the NFL against the run this season, and the emergence of Mohammed Wilkerson and Sheldon Richardson are great building blocks for the future.  Of course, for a position coach to make a name for himself, it's not the first rounders, but the lesser known players that emerge as legitimate contributors that stand out on a resume.
Under Dunbar, the Jets have seen undrafted NT Damon "Snacks" develop in to one of the top players in the NFL at his position.  Far from a household name, Leger Douzable has done an excellent job on a rotational basis. 2011 third round pick Kenrick Ellis has flashed tremendous ability when given the chance, and undrafted DT TJ Barnes managed to crack the 53-man roster.  Despite limited reps for Barnes, his growth from practice squad player to a back-up on the active roster in such a short span on one of the best defensive lines in the NFL speaks volumes.
Under Dunbar, the Jets currently rank second in the NFL allowing 3.5 yards per carry, and are tied for 10th in the NFL in sacks with 43.  On a team that's low on talent and a coaching staff high on turmoil, the Jets would be doing themselves and their young defensive starts a favor by ensuring some continuity and asking Dunbar to return for a fourth season.  In 72 hours, we'll learn the fate for Ryan and Idzik, beyond that the Jets will announce their intentions with the remainder of the staff.  If the Jets are serious about winning and turning this thing around, retaining the services of Dunbar would be a big step in the right direction.
Videos
NY Jets Phase 3 OTAs, Expectations and a Minor Calf Tweak with Greg Renoff