NY Jets Clean House; Rex Ryan & John Idzik Fired: JN Radio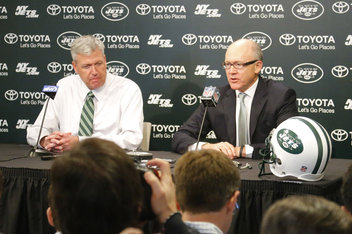 The Jets ended the season on a winning note in Miami to finish 4 and 12 on the season, then Black Monday came in without any delay. Rex Ryan and John Idzik were both fired on Monday morning. Woody Johnson held a press conference on Monday and discussed the direction of the team.
Former GMs Ron Wolf and Charley Casserly were brought in as consultants and they will work with Woody to select the next general manager, and possibly coach. The new general manager will inherit the 6th pick in the NFL Draft and a lot of salary cap room.
Listen in as Brandon Dowling and Joe Blewett discuss the candidates and what direction the Jets are headed in.
Check us out on iTunes to listen to our previous episodes –> NY Jets Podcast
Videos
New York Jets OTA Presser Takeaways, Aaron Rodgers' Impact and Summer Delusion