Rex Ryan Reportedly Heading to Bills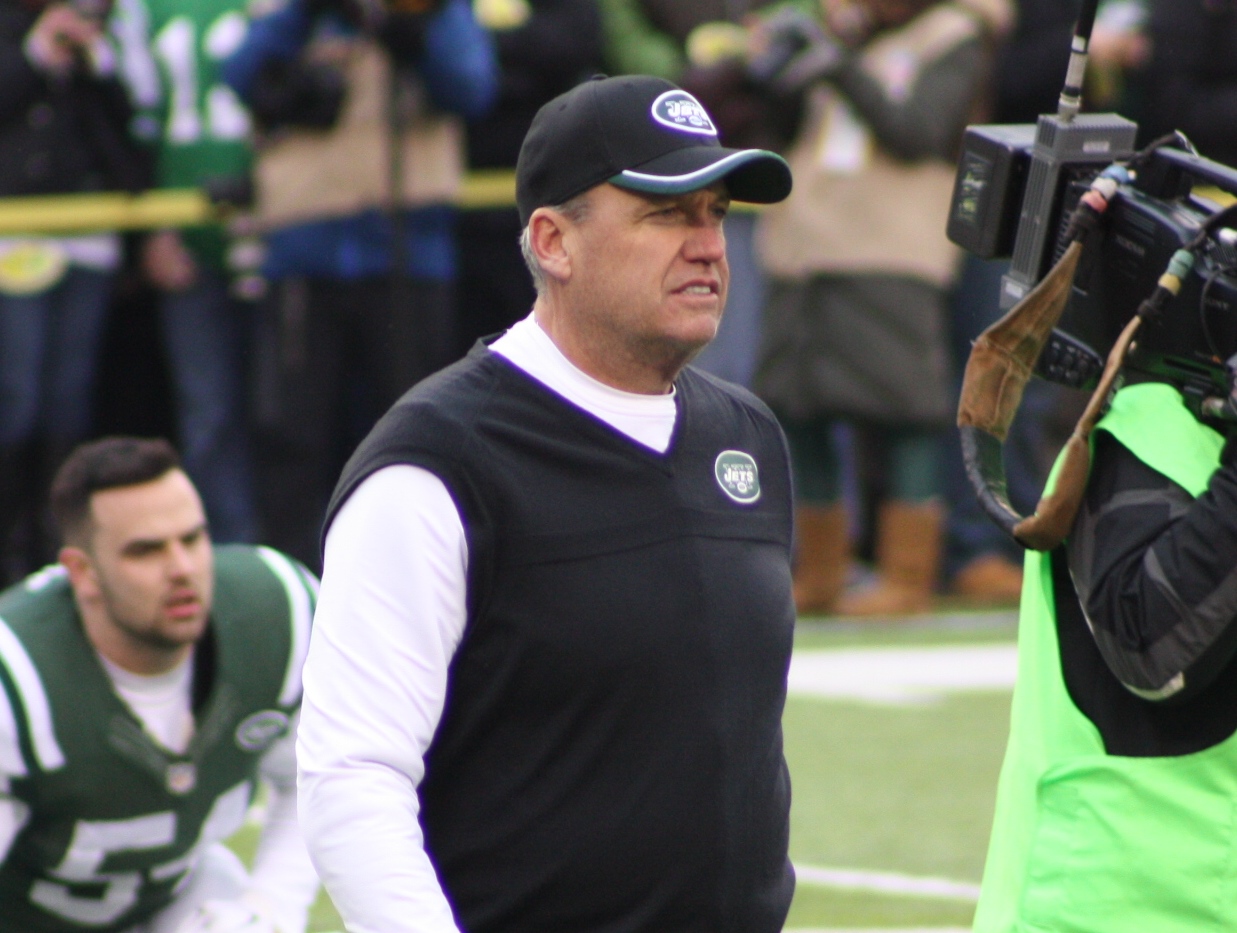 By Glenn Naughton
Well Jets fans, for those among us who thought they'd seen the last of former head coach Rex Ryan, it sounds as if that may have been a short-lived reality.  According to Adam Schefter, Ryan is expected to become the next head coach of the Buffalo Bills.
Despite questions surrounding Ryan's limitations as a head coach, he has interviewed for three positions with the San Francisco 49ers and Atlanta Falcons also showing interest.  The Falcons were rumored to be seeking a second interview with Ryan, and it appears that may have been a catalyst in the Bills moving so quickly to get a deal done.  Kimberly Jones says Schefter is reporting the contract as a five-year deal.
Rex Ryan has agreed to coach Buffalo Bills. @AdamSchefter had 1st. Five-year deal.

— Kimberly Jones (@KimJonesSports) January 11, 2015
Of the three vacancies Ryan had interviewed for, the best fit would have likely been the Falcons in Atlanta as Matt Ryan would be light years better than any QB Ryan has ever had, and San Francisco quarterback Colin Kaepernick appeared to regress over the second half of the season.
Going to Buffalo puts Ryan in an all too familiar position.  He'll continue to try to win a division that has been ruled by Bill Belichick and Tom Brady for over a decade, and he'll likely be doing so without reliable quarterback play.  While EJ Manuel is an upgrade over Geno Smith, he's far from being what the Bills had hoped when they selected him in the first round two seasons ago.
Ryan's hiring is part of what has become a weird turn of events for the Jets and Bills.  Just over a week ago, head coach Doug Marrone opted out of his contract with the Bills and was thought to be the favorite for the Jets job.  As it turned out, several outlets reported Marrone's failure to impress during the interview process with the Jets as both parties moved forward without an agreement.
Outside of being linked to the Jets and an interview with the Falcons, there hasn't been much talk regarding Marrone as a head coach candidate elsewhere.  If Marrone is in fact unable to land a head coaching job, there is some speculation that his friendship with Bill O'Brien in Houston could get him a consultant role with the Texans.
Ryan is also rumored to have heavy interest in departed Bears former head coach Mark Trestman as an offensive coordinator.  A Ryan/Trestman marriage would give Ryan the best coordinator he's had on the sidelines and a great choice in trying to get the most out of Manuel.
Since the rise of Brady and the Patriots, the Jets/Bills rivalry has taken a back seat to other division opponents…until now.
Videos
NY Jets Phase 3 OTAs, Expectations and a Minor Calf Tweak with Greg Renoff