Featured Editorials Home Slider
Pryor to Benefit From Hiring of Danna?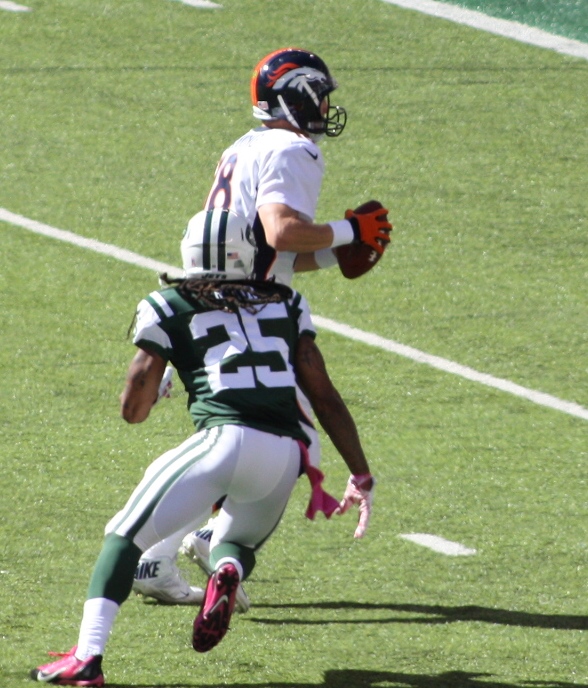 With the 18th overall pick in the first round of last year's NFL draft, the New York Jets were on the clock and everyone watching knew that the team had two major needs to fill.  Their stagnant offense was in dire need of a playmaker at the wide receiver position, and their undermanned secondary needed cornerback help.  With explosive WR Brandon Cooks from Oregon State still on the board along with Michigan State CB Darqueze Dennard, it looked like the Jets were in business.  Two of the top rated players in the draft that would have filled immediate needs.  The Jets however, passed on Cooks and Dennard who were later drafted by the New Orleans Saints and Cincinnati Bengals respectively.  Instead, the Jets went with Calvin Pryor, a hard-hitting safety from Louisville who they expected to, as Rex Ryan put it ,"knock your face in".  As it turned out, Pryor's rookie season failed to produce any of the results the Jets and their fans had hoped for.
In sixteen games, Pryor registered 60 tackles and 0.5 sacks while leading the team in missed tackles with 15.  Often times in coverage, Pryor looked out of place and consistently took poor pursuit angles that led to big plays after the catch for opposing offenses.  Perhaps the most damning part of Pryor's performance on the field was his failure to deliver the bone-jarring hits that were a routine occurrence at Louisville.   While growing pains are often expected from a young player, few things are more alarming than a player who fails to show any of the traits that made them a first round selection to begin with.  Pryor didn't force a single fumble or interception.
Unfortunately for Pryor, the only headlines he grabbed this season were those raising questions about his work ethic.  In a week 10 meeting with the Pittsburgh Steelers, Pryor was active, but only on special teams.  Following the game, it was learned that Pryor's playing time was reduced as a result of missing or being late to a team meeting.  His replacement that week, Jaiquawn Jarrett turned in a strong enough performance to earn AFC defensive player of the week, while Pryor said that the benching would motivate him as he hoped to bounce back down the stretch.  As it turned out, Pryor continued to offer solid run support, but was still suspect in coverage.  Progress was minimal, and as Jets fans look forward to year two, new secondary coach Joe Danna is the  man who will be working directly with Pryor to help him turn things around.
Given Danna's track record, this could be a good thing for Pryor.  As a member of the Falcons coaching staff over the past two seasons, Danna's defensive backs have done well in one particular area that the Jets have been among the worst in the NFL, and that's forcing turnovers.  Last season the Falcons secondary intercepted sixteen passes and forced five fumbles. The five forced fumbles would match the Jets' total over the past two seasons, and the sixteen interceptions are one fewer than the seventeen  interceptions the Jets have had over that same stretch.
In terms of player development under Danna, his bio on the Falcons web-site said the following:
In 2012, Danna's help with the safeties paid off as the tandem of Thomas DeCoud and William Moore, each earned their first Pro Bowl selections. DeCoud finished 2012 with 89 tackles, nine passes defensed, a team-high six interceptions and one fumble recovery. The fifth-year safety out of California accounted for seven of Atlanta's 31 takeaways in 2012. His safety-mate, Moore, posted a career year in Nolan's defense. Moore recorded 105 tackles, eight passes defensed, four interceptions, four tackles for loss, two forced fumbles and one fumble recovery.
The good news for both Pryor and Dana is that the Jets are unlikely to go in to 2015 with no depth at the cornerback position as previous GM John Idzik did.  Relying on the unproven Dee Milliner and journeyman Dmitri Patterson doomed the Jets' secondary before the season ever got started.  Milliner missed all but a few games due to a torn achilles tendon, and Patterson was cut before the season even started.  This of course has been discussed ad nauseam as well as the impact it had on Pryor being asked to play off the line of scrimmage in coverage, away from his strength, far more than anticipated.
With Milliner and  rookie Dexter McDougle due to return from injuries, and the emergence of Marcus Williams there is potential at the position, but the Jets can't, (and likely won't) start the season without importing additional cornerbacks through the draft and free agency.  Much like the previous regime, this staff will call a healthy dose of blitzes and will need quality play form the back-end of the defense to be successful.
Danna clearly has his work cut out for him with an underperforming secondary that will likely be adding new pieces, but getting Pryor to produce as expected in hopes of avoiding yet another first round bust for the Jets, should be high on  his list of priorities.
Videos
Aaron Rodgers Injury Fallout & Jets/Bills Recap