Featured Editorials Home Slider
Will Bowles, Gailey Address QB With Past Pupils?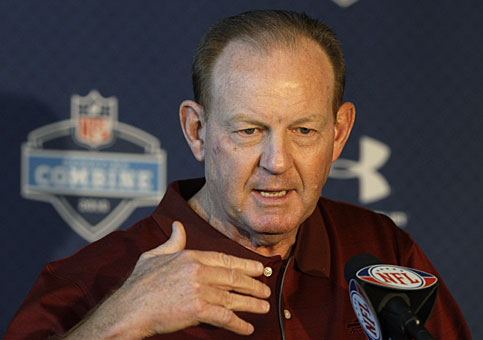 By Glenn Naughton (@acefan23)
When Todd Bowles hired Chan Gailey as his offensive coordinator to  help turn around an offense that has seemingly been stuck in neutral for the better part of a decade, he added a coach with a reputation for getting the most out of what he's had to work with at the quarterback position.  Barring an unforeseen blockbuster trade for an established quarterback, the Jets will likely enter the 2015 season with Geno Smith, a rookie draft pick, and perhaps a veteran or two to compete for playing time.
While some fans are sold on Marcus Mariota as the answer at quarterback if he were to fall to the Jets as some are predicting, expecting him to be able to step in and play well in 2015 might be asking too much.  Despite his prolific college production, some analysts have noted Oregon's up-tempo offense and Mariota's ability to effortlessly outrun defenders, something that won't come so easy in the NFL, as a reason for his success.
Dan Leberfeld of Jets Confidential nails it in discussing Mariota, saying that while he may end up being a franchise quarterback, his situation is nothing like that of Andrew Luck who came from a pro-style offense at Stanford.  Leberfeld notes that Mariota is coming from a system with pre-determined throws being made to often wide 0pen receivers.  Leberfeld has also suggested the possibility of a blockbuster trade with the Philadelphia Eagles at number 20 if Mariota is still on the board when the Jets select.
Which quarterback(s) the Jets may target in the draft, free agency or any potential trade is pure speculation at this point as teams prepare to attend the NFL combine later this month.  However, given the number of years Gailey and Bowles have been roaming NFL sidelines, it's worth taking a look at a few current QB's they've seen up close and personal who could be available once the off-season is under way.
Ryan Fitzpatrick
Gailey's most successful pupil who could be available via trade is Houston Texans quarterback Ryan Fitzpatrick.  The Harvard product played for three seasons under Gailey who was the head coach of the Buffalo Bills from 2010-2012.  During that time, Fitzpatrick went from inexperienced journeyman to three-year starter.  Teamed with Gailey, Fitzpatrick averaged just over 20 touchdown passes per season, twice completed at least 60% of his passes, and threw more interceptions than touchdowns just once.  While none of those numbers will get Fitzpatrick a bust in Canton anytime soon, that type of production would be a significant upgrade over Geno Smith who has completed just 57% of his passes in two NFL seasons while posting 25 touchdowns and 34 interceptions.
Tyler Thigpen
One under-the-radar option for the Jets could be the same quarterback who backed up Fitzpatrick during the 2011-2012 seasons in Tyler Thigpen.  Thigpen, a virtual unknown to many NFL fans, has started just twelve games in his career, eleven of which were with the Kansas City Chiefs in 2008 when Gailey was calling plays for Herman Edwards.
During that season, the former 7th round pick of the Minnesota Vikings far outplayed his draft slot when he managed to throw for over 2,600 yards to go along with 18 touchdowns and just 12 interceptions.  Like Fitzpatrick, the numbers don't jump off the stat sheet, but unlike most quarterbacks the Jets have gone to battle with over the past six seasons, Thigpen protected the football and put it in the end zone more often than he put it in the hands of opposing defenses.  That 2008 Kansas City Chiefs team finished a paltry 2-14 as Thigpen was sacked 26 times in his twelve games of action, but Gailey did like him enough to bring him to Buffalo as a back up. While Thigpen doesn't stand much of a chance to start anywhere in 2015, an invite to Jets camp to compete for a roster spot may  not be out of the question.
As  a defensive coach, Todd Bowles would have spent more time going against the previous quarterbacks on  his roster than developing them, but seeing them perform on a regular basis should not be ignored.
Matt Moore
In his final season with the Dolphins in 2011, Bowles watched an unlikely candidate, Matt Moore, start twelve games for Miami and put together a season that once again, would be a vast improvement for the Jets at quarterback (60.5% comp pct, 16 TD's, 9 INT).  For the purpose of this discussion, none of those starts would have been more important than Moore's final three of the season. At that point, Bowles had relieved the fired Tony Sparano as the team's head coach and would have more say in the offensive game planning.  In those two games, the Dolphins posted a 2-1 record as Moore threw for six touchdowns and three interceptions.
Nick Foles
From Miami, Bowles moved on to coach the Philadelphia Eagles secondary in 2012 where he would get a look at a potential target in any possible Jets/Eagles draft day trade.  Nick Foles was a rookie third round pick that season under Andy Reid and former Jets offensive coordinator Marty Mornhinweg.  In Reid's final season, Foles stepped in as the Eagles starter from weeks 9-15 and the Eagles didn't hesitate to let him throw the ball.  In seven starts, Foles averaged just under 38 pass attempts per game, completing 61% of his throws to go along with  six touchdowns and five interceptions.  Since that time he has gone on to perform at a high level for Chip Kelly's up-tempo offense in Philadelphia but speculation regarding his future with the Eagles continues to mount.  If the Jets were to have any interest in acquiring the  young quarterback, Bowles' familiarity with how he performed in a more traditional offense as a rookie could play a big part in the Jets' evaluation.
So as the Jets join the rest of the NFL in laying out the groundwork toward assembling a roster for 2015, time will tell if any current NFL quarterbacks made a strong enough impression during their time with both Bowles or Gailey to land them in green and white next season.
Videos
Aaron Rodgers Injury Fallout & Jets/Bills Recap