Featured Editorials Home Slider
During Combine, Bowles Hints at O-Line Retooling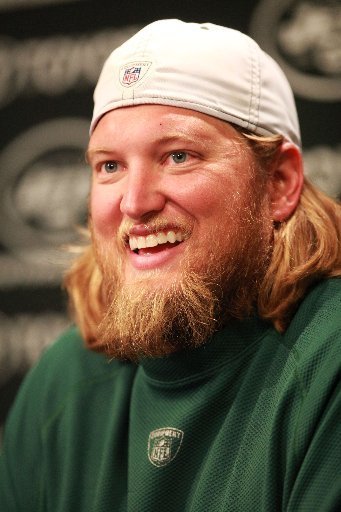 by Glenn Naughton
As the New York Jets offense struggled to put points on the board last season, finishing 28th in the NFL at 17.7 per game, some fans looked beyond the performance of quarterback Geno Smith and pointed the finger at the offensive line.
Nine year veteran center Nick Mangold enjoyed a resurgence in the middle of the Jets offense en route to his sixth pro-bowl appearance.  Meanwhile, the play of D'Brickashaw Ferguson came under fire, but his performance at left tackle was better than most gave him credit for.  According to the NFL statistical website PFF.com, Ferguson earned an "average" or "above average" grade in 13 of 16 games.  While the durable left tackle isn't the player he once was, many teams would have been happy to have him protecting their quarterback's blind side.  Mangold and Ferguson are likely the only two offensive lineman under contract who shouldn't have any concerns about job security to start the 2015 season.
Incumbents starters include LG's Oday Aboushi and Brian Winters, RG Willie Colon, and RT Breno Giacomini, all of whom have lingering questions for reasons of their own.
Aboushi was thrust in to the starting line-up when the struggling Winters suffered a season-ending ACL tear against the Denver Broncos and performed admirably. The converted offensive tackle in his second season of the University of Virginia allowed 2 sacks and 16 hurries in his 11 starts, but provided a clear upgrade over Winters who may not be a lock to make the roster if he doesn't show improvement.
Even though he provided strong pass-protection, Colon was a liability in the run game at times while tying for the NFL lead in penalties with ten.  The eight-year veteran is a local product from the Bronx who was drafted by the Pittsburgh Steelers out of Hofstra in 2006, but his age and inconsistent performance could lead to the Jets looking elsewhere for a RG next season.  Dakota Dozier, a promising fourth round pick last season is one in-house candidate, but can't be heavily relied upon as he didn't manage to get on the filed in 2014.
Giacomini was supposed to be one of former GM John Idzik's big signings.  A member of the Seahawks' Super Bowl winning team of two seasons ago, Giacomini surrendered 3 sacks and 31 QB hurries, tenth worst among all tackles in the NFL.  Much like Aboushi and Colon, Giacomini had his ups and downs but was never as dominant, or consistent as fans had hoped he would be.
Despite some less than glowing individual statistics, this was still a line that performed well enough for the Jets to win more than four games had the quarterback play been better.  According to PFF, Russell Wilson was the only quarterback in the NFL who averaged more time from snap to throw than the Jets' Smith did. Many of Smith's critics have cited his tendency to hold on to the football for too long when the protection is strong and that number lends some legitimacy to that claim.
However, Winters' struggles, Aboushi's lack of experience, Colon's poor run-blocking and penalties, with Giacomini's tendency to get beaten in pass-protection is a likely  reason for head coach Todd Bowles' comments at the NFL combine in which he said the team would like to get "tougher up front".  With free agency and the draft fast-approaching here are a few names worth  mentioning as the Jets will look to reach that goal.
One of the top names in free agency this off-season is San Francisco 49ers left guard Mike Iupati.  Regarded as one of the leagues best run blockers, the Jets interest in Iupati remains to be seen as his pass protection does break down more than you'd expect from a top-tier player who will likely command a top-tier salary.  Although he's viewed as the best free agent guard on the market, Iupati surrendered a league-worst seven sacks last season while blocking for a quarterback armed with more weapons and better mobility than he would likely have with the Jets. In addition to the seven sacks, Iupati was also charged with allowing 2 QB hits and 22 hurries.
If the Jets look to spend a little bit less at the position, Bengals' OG Clint Boling would bring youth, starting experience and versatility.  The former college tackle played LG last season for the Bengals, but also stepped in to play RT when called upon in weeks fourteen and fifteen.
Through the draft, one player with some upside who is expected to be a late round project would be Texas A&M guard Jarvis Harrison.  CBSsports.com's scouting report on Harrison spoke of the high praise he's earned at A&M and the overall potential of the Texas native:
Considering A&M has sent Luke Joeckel, Jake Matthews (and soon Cedric Ogbuehi) to the NFL via the first round, it is easy to understand why the perimeter blockers get most of the attention, but Harrison has been described by Aggies' coaches as their most athletic offensive lineman and he flashes the talent worthy of early round consideration.
Bringing in a player to compete with Giacomini should also be a priority, and free agent Doug Free is one worth looking at.  An eight year veteran, Free suffered a foot injury last season that kept him out for five contests, but when healthy, the Cowoboys RT was a key part of one of the best offensive lines in the game.  Dallas is rumored to be interested in bringing Free back, but they are also said to be considering back-up Jermy Parnell who filled in nicely  during Free's absence.
Currently the Jets have only Geno Smith and  Matt Simms on their roster at the quarterback position.  With a weak free-agent QB class, and the only quarterback likely to be available to the Jets in the draft considered to be two to three seasons away from being NFL ready(Marcus Mariota), the Jets will have to dominate up front like they did in 2009 and 2010 if they have any hopes of  a quick turnaround for the struggling franchise.
Videos
New York Jets OTA Presser Takeaways, Aaron Rodgers' Impact and Summer Delusion