Featured Editorials Home Slider
Major Bidding Wars on the Horizon for Maccagnan, Jets?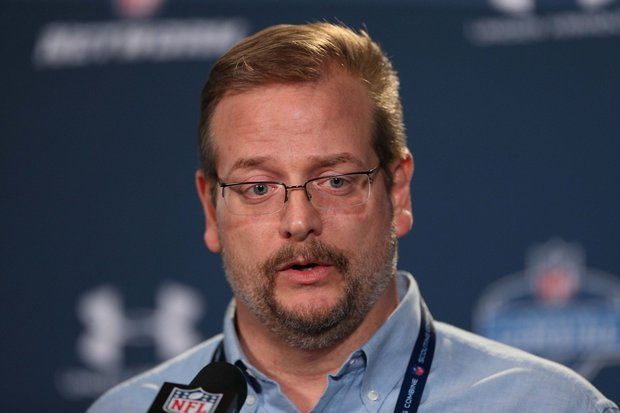 By Glenn Naughton
With the start of the NFL free agency period roughly one week away, Jets fans anxiously awaiting what they expect to be a flurry of star free agent signings should probably proceed with caution.
Currently projected to have over $50 million in cap space with the possibility of increasing that number by over $10 million if wide receiver Percy Harvin is cut loose, the Jets would appear to be in the driver's seat.  Despite having plenty of needs to fill and lots of money to do it with, the biggest problem facing the Jets and GM Mike Maccagnan could be the fact that they're far from alone.
According to overthecap.com, three teams will have more cap room than the Jets (Jaguars $68M, Raiders $55M, Browns $53M) while ten additional teams will be somewhere in the  neighborhood of $30 million in spending room.  Those teams also have a week remaining to free up additional space by restructuring contracts or releasing players before March 10th.
As one might expect, with the exception of the Indianapolis Colts ($44M), the five teams with the most money to spend are in that group for a reason…they're non-playoff teams in need significant upgrades up and down their rosters.  Should the Jets covet any of the top available talent on the market, bidding wars are sure to ensue.
While players will almost always go for the biggest pay-day, other factors could come in to play if multiple offers come in around the same dollar figure.  Of course that can always be overcome by overpaying for a player, but as Jets fans know, that approach often lands you back in "cap hell" with no guarantee of success in the interim.
JetNation.com takes at some of the NFL's top free agents who many expect to be on the Jets' radar when free agency gets underway.
CB Byron Maxwell- Maxwell is prepared to become the top cornerback on the market according to NFL.com.  Given the number of teams lacking at the position, the bidding for the corner could become intense.  Last season, in a market that was flooded with pro-bowl level talent at the position, players such as Aquib Talib and Vontae Davis signed contracts worth roughly $10 million per season,  with approximately 45%-50% of that being guaranteed money.  As the consensus number one corner this time around, Maxwell will likely look to be in that range which currently places him on NFL.com's list of free agents who will be paid too much.
While some sources have named the Philadelphia Eagles as Maxwell's most likely landing spot, there are other destinations that have an advantage in negotiating with the young defender if they opt to pursue him.
Dan Quinn, Maxwell's defensive coordinator in Seattle with the Seahawks is on board as the Falcons new head coach and could woo his former pupil.  By signing with Atlanta, Maxwell would eliminate any learning curve that would come with joining a new franchise and could raise his profile as the most important defensive player on the field  for a team  that ranked dead last in the NFL, allowing 279 per game through the air.  The Falcons currently have over $33 million in cap room to work with.
Another possibility for Maxwell that should be considered for a lot of the same reasons is the Jacksonville Jaguars.  Before Dan Quinn was calling the defensive plays in Seattle, current Jaguars head coach Gus Bradley held that post from 2010-2012, his final two seasons being Maxwell's first in the NFL.  Maxwell is familiar with both teams, each club has a need for and can afford his services, and both offer something that no other team, including the Jets, can offer.
As a native of South Carolina, when deciding where he would play college football, Maxwell chose to stay close to home and attend Clemson University.  Both Atlanta and Jacksonville are roughly four hours from his home town of North Charleston, SC.  If Maxwell is indeed a player who wishes to stay close to friends and family, all other bidders may face an uphill battle in trying to lure him away from his southern roots without facing the possibility of overpaying.
OG Mike Iupati-  During the NFL combine, Jets head coach Todd Bowles talked about the Jets' need to "get tougher up front" and Iupati is about as tough as they come.   Undoubtedly among the top run-blockers in the league, Iupati can also be somewhat of a liability in pass protection.  Over the course of the past three seasons Iupati has surrendered 12 QB sacks, 12 hits and 53 hurries.
Those numbers haven't stopped him from being among the most talked about free agents on the market as seemingly every team in the league has been rumored to be interested in securing the services of the all-pro guard.
While statements from players citing a desire to "stay put" with their current team are often seen as little more than lip service, it makes sense for Iupati who was raised in California and has only played for San Francisco.  It appears that the 49ers salary cap situation (currently $2 million under) is such that retaining Iupati may not be a reality as he is expected to test free agency, but with a supposed renewed commitment to running the ball, will the 49ers find a way to make it work?
Two teams currently said to be interested in obtaining Iupati are the Tampa Bay Bucs and Dan Snyder's Washington Redskins, each team having $55 million and $40 million respectively to spend in free agency.  If either of those two teams make Iupati a top priority, he could make a run at being the league's top paid guard which would move him ahead of Logan Mankins and his $8.5 million salary.
With gaping holes elsewhere, the Jets may look for a more cap friendly option as Kristian Dyer of Metro is reporting that the Jets are rumored to have interest in Bengals free agent guard Clint Boling as well as Seahawks free agent James Carpenter.
WR Randall Cobb- Cobb is an intriguing free agent for several reasons.   He's coming off of a career year in which he posted an impressive stat line of 91/1,287/12 in Green Bay.  Of course those numbers were bolstered by having Aaron Rodgers at quarterback and Jordy Nelson drawing plenty of attention from opposing defenses.  Much like Eric Decker last year, some teams may try to project Cobb's value considering what will likely be a drop in production as a departure from the Packers will almost certainly mean playing with an inferior quarterback.
With over $30 million in cap space, the Packers could let Cobb test the market before trying to bring him back if he's not able to get the type of deal he is seeking, currently rumored to be $12 million per year according to Tom Silverstein of the Milwaukee Sentinel.
If Cobb is in fact looking to cash in as one of the top-ten paid receivers in the NFL, the Oakland Raiders might be a good fit given their history of overpaying for talent and their desire to build around last year's first round pick, quarterback Derek Carr.
While nobody knows who sits atop the Jets list of free agent targets, a talent rich draft at the WR position and the number six overall pick could make a bidding war over Cobb cost prohibitive for the green and white.
FS Devin McCourty- Bill Belichick and the Patriots rarely get caught with their pants down when it comes to managing their personnel, but they may have done just that with the McCourty situation.
Having used their franchise tag on kicker Stephen Gostkowski, McCourty becomes the top safety available in free agency and if the Patriots don't get him signed to a deal before he can start talking to other teams, offers will start pouring in.
For the Jets, adding McCourty would be an ideal scenario as the converted cornerback would give them a true "center fielder" to pair with last year's first round selection Calvin Pryor while dealing a blow the Patriots defense.  Some feel the Patriots overplayed their hand with one of their most important players and will now risk losing him to another contender.
Like Maxwell, McCourty chose a college close to home in attending Rutgers University but being from New York puts him within a few hours of several NFL teams, many of which could pick up the phone and make him a high-dollar offer to pry him away from the Foxboro.
Teams and agents are free to start negotiating contracts on March 7th and players can start signing new deals on the 10th.  In one week, Jets fans will find out just  how much their new regime is willing to spend in an effort to build for the future and rebound from a forgettable 4-12 2014 campaign.  Can't wait!
Videos
Aaron Rodgers Injury Fallout & Jets/Bills Recap