Featured Editorials Home Slider
Gailey Quickly Becoming key to 2015 for Jets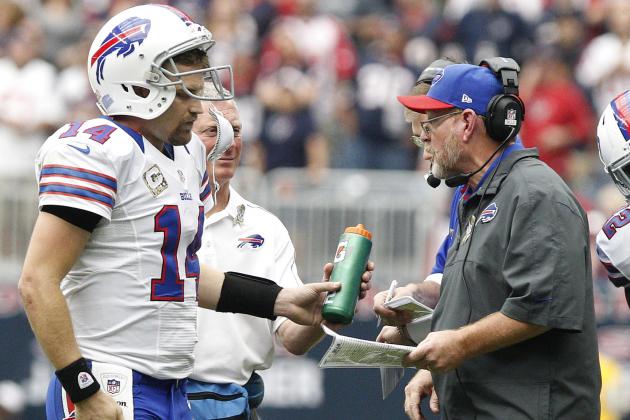 Shortly after New York Jets Owner Woody Johnson selected Todd Bowles  to take over his team's head coaching position at the painful conclusion of a miserable 4-12 season, word of the rookie head coach's top choice to run his offense was learned almost immediately.
Former Dallas Cowboys and Buffalo Bills head coach Chan Gailey was the target, and following a week of media speculation regarding his intentions, Gailey was officially brought on board to help turn around an offense that has struggled to put points on the board for the better part of three decades.
While Gailey has fielded just three top-10 offenses in his last ten seasons as a head coach and coordinator, his most impressive attribute is his ability to  consistently  get the most out of what he has to work with.  Looking for the last three Jets teams to finish with a top-ten scoring offense?  That search will send you back 27 years.  The Jets ranked 6th, 5th and 9th in 1988, 1998 and 2008 respectively.  Should that trend continue, 2018 should give Jets fans something to really look forward to.
Gailey joins a Jets team that is primed to field its most well-rounded offense in over a decade with the NFL draft still on the horizon.  What type of offense he chooses to implement remains to be seen, but many believe it will be a wide open spread attack.  This of course is based on Gailey having run it in the past, and the fact that Geno Smith was a second-round pick as a result of the success he had in a spread offense at West Virginia.  Gailey's reputation is one of a coordinator who builds his scheme around the talent he has to work with, not the other way around.  One of his past pupils, former Miami Dolphins and Jets quarterback Jay Fiedler echoed that sentiment in an interview with JetNation.com not long after Gailey's hiring.
 "Chan was a great teacher of the game and he did a great job of simplifying things for everyone" said Fiedler.  "He allowed guys to just go out and play and molded his offense around what they did well.  Chan was always very receptive and showed a lot of creativity.  He didn't try to get everyone to play to  his system, it was the opposite.  He wanted to know what guys were good at and felt comfortable with and he'd mold the offense around that and listened to their suggestions".
While any conversations that took place between Gailey and the Jets are unknown, they managed to convince him to join a team with several issues on offense. A young struggling quarterback, an offensive line that struggled with consistency, lack of an established number one wide receiver and no veteran quarterback to fall back on should Geno Smith falter.
With those being some of the biggest obstacles facing gang green as they headed toward 2015, first-year general manager Mike Maccagnan has done an outstanding job of addressing the problems that plagued the Jets with multiple moves that are sure to make Gailey's life easier.
A blockbuster trade with the Chicago Bears in exchange for five time pro-bowl receiver Brandon Marshall was the first piece of the puzzle.  New York hasn't had a 1,000 yard receiver since Jerricho Cotchery posted 1,130 yards in 2007.  Marshall on the other hand, has had just one season in which he didn't put up 1,000 yards since becoming a starter in 2007.  That was last season when the 6′ 4" Central Florida product battled ankle injures for much of the year and suffered broken ribs in week fourteen.  Even still, he managed to post an impressive 721 yards to go along with 8 touchdowns.
Even if Marshall has lost a step as some suggest, he still remains a vital asset in the red zone for Gailey.  Of his 65 career touchdowns, 48 have come from inside the 20 (73%), with five of his eight TD's in 2014 falling under that category.  His presence should play a big role in elevating an offense that ranked dead last in the NFL last season, scoring a touchdown just 36% of the time when inside the opponent's 20.
In terms of a quarterback, nobody expected the Jets to enter 2015 without adding at least one veteran to the roster, but who was that going to be?  As it turns out, Ryan Fitzpatrick, Gailey's former starter in Buffalo became available via trade when the Houston Texans signed free agent Brian Hoyer so the Jets sent a conditional 2016 pick to the Texans to obtain his services.
While Fitzpatrick is far from an elite quarterback who can carry a team on his own, his track record, especially under Gailey suggests he'll be a significant upgrade over what the Jets have had under center over the past ten years.  Well, 2008 notwithstanding when the Brett Favre had a layover at the meadowlands en route to his chosen destination of Minnesota.
Minus Favre's 2008 campaign, Jets quarterbacks have collectively thrown 143 touchdowns and 157 interceptions over the past decade.  Making matters (much) worse, is that during that same period, Jets QB's also lost a staggering 74 fumbles, bringing their total number of turnovers to 231, an average of 26 per season. In addition to a lack of ball security, Jets signal callers have completed 58% of their pass or greater just twice when Chad Pennington posted a 64.5% in 2006, and his 68.8% percentage in 2007 over the span of 8 starts helped offset Kellen Clemens' mark of 52% for a collective total of 60.5%.
Meanwhile, when paired with Gailey for three seasons in Buffalo, Fitzpatrick registered 71 touchdowns and 55 interceptions with a 60% completion percentage.  In his two seasons without Gailey in Tennessee and Houston, he tossed 31 touchdowns and 20 interceptions while connecting on 63% of his pass attempts in 23 games.
The additions of Marshall and Fitzpatrick offer much-needed stability and competition, but it's the guys up front doing the dirty work who have garnered the most attention from Maccagnan as of late.  Gailey and offensive line coach Steve Marshall will have plenty of options after the re-signing Willie Colon and importing free agents James Carpenter from Seattle and G/T James Brewer from the Giants.  The Jets are currently carrying 13 offensive linemen but who stays and who goes remains to be seen.
Jets fans should know better than to take anything for granted, but expectations are high on defense as Bowles and defensive coordinator Kacy Rodgers will have plenty of ammunition to run what's expected to be a blitz-heavy scheme.
So  it looks as if Chan Gailey, a man who started coaching offense in the NFL just under thirty seasons ago with the Denver Broncos, is next in line to do what so many others have failed to do in the past.  To take the New York Jets offense and turn them in to a unit that other teams don't look forward to playing.  Should the defense become the dominant unit that so many are expecting, it will be Gailey's work on offense that will determine whether or not 2015  is a story of a great Jets turnaround, or the same old story of unsightly Jets turnovers.
Videos
Aaron Rodgers Injury Fallout & Jets/Bills Recap