Featured Editorials Home Slider
Rex Reacts to Amaro, Dishes on Final Season With Jets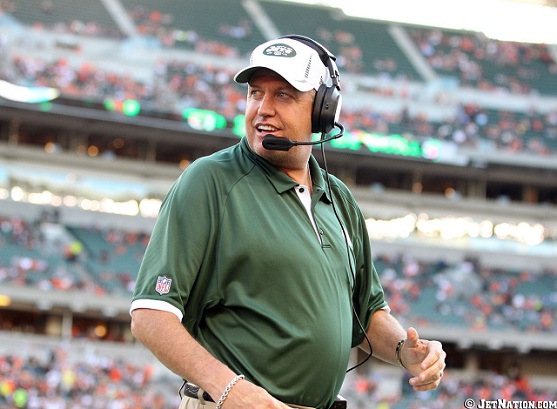 By Glenn Naughton
While it may have taken longer than anticipated, former New York Jets head coach Rex Ryan got around to addressing his final season with gang green, one in which he finished 4-12, during an interview with Sports Illustrated.  As you'd expect, Rex made a few headline-grabbing comments about his newest division rival.
Perhaps motivated by recent remarks from his former tight end Jace Amaro in which the rookie called out Ryan and his staff in a not so subtle manner while discussing Jets rookie head coach Todd Bowles. During an interview with Siruis XM NFL radio, Amaro commented on what he believed to be a notable difference between Bowles and Ryan.
"He's not really playing around with everyone being late," Amaro said of Bowles. "We had an issue with that last year. Guys just weren't accountable last year as much as they could be. I think that's the biggest thing. [Bowles is] making sure everyone's gonna be 100 percent in or he's not going to be on the team."
The harsh words from Amaro in describing Ryan's time with the Jets may have unnerved the former head coach, but given his track record and hesitance to hold players accountable for their transgressions, they're wholly believable and Ryan has only himself to blame, but clearly he took exception.
"He's full of s—, and I'll remind him of that when we play him. Look, we weren't perfect, and I never said we were going to be perfect. But that's a f—— b.s. comment. But, hey, he's happy that he's got a different coach in place. We'll see how happy he is when I play against him."
For all of the good Ryan did with the Jets, his comments regarding Amaro are off base.  He's with the Bills now, and likely steamed at the fact that the Jets are essentially building his dream team after asking him to win with starters who will likely be out of the league or buried at the bottom of the Jets' 2015 depth chart.
Even still, it was only a matter of time before a player commented publicly on the lack of discipline Rex instilled in team meetings that would sometimes carry over on game day.
Despite experiencing early success with the Jets, the brash Ryan who took pride in "telling it like it is", often told it like it wasn't when questioned about the conduct of some of his more divisive locker room personalities.  On multiple occasions Ryan defended former wide receiver Santonio Holmes despite carrying himself in a manner that would have likely led to some form of discipline from most NFL head coaches.
Allowing Holmes' behavior to go unchecked was the first clear sign that Ryan was going to be slow to drop the hammer when needed.  For those who hoped he would grow as a leader and recognize the importance of accountability, there would only be more disappointment.
As recently as last season, Ryan missed the opportunity to deliver a message to his locker room by allowing rookie safety Calvin Pryor to continually show up late for team meetings before finally benching him in a week 10 victory over the Pittsburgh Steelers…too little, too late.
JetNation.com spoke to a source who confirmed that Pryor's failure to get to meetings on time wasn't an uncommon occurrence.  "It happened a lot.  It was never excessive to where he missed a lot of information from the meting…it was five minutes here or ten minutes there, but it was definitely a regular thing".
There was also the infamous San Diego incident in which quarterback Geno Smith missed a team meeting before the game and claimed he'd forgotten to adjust his watch to west coast time and was at the movies, but that wasn't as clear-cut as the Pryor situation.
Smith's status as the starting quarterback changed the dynamic, and Ryan's acknowledgement that playing Smith was not his decision but "a Jet decision" would lead one to believe benching Smith was not necessarily  a decision Ryan was allowed to make.
That was apparently not the only time he was overruled by the Jets hierarchy.  Requests to draft wide receiver Martavis Bryant instead of Jalen Saunders fell on deaf ears, as did his request to pursue pro bowler DeSean Jackson.  The rift between Ryan and former general manager John Idzik that was foreseen by many fans came to fruition and the end result wasn't pretty.
Say what you will about Ryan, but the man knows how to drum up interest .  After years of refusing to back down from the New England Patriots, he says they're still the main focus, but as most would expect, he didn't hide his desire to beat the team that gave him his first head coaching opportunity in saying "I want success for Woody Johnson, I do. But don't kid yourself—we're gonna try to kick the s— out of them when we bring our team in."
And with that…a matchup between two teams that was largely an afterthought for much of the last decade, a rivalry is reborn.
Here is the thread with fan reaction to Rex Ryan commenting on the Jets.
Videos
Aaron Rodgers Injury Fallout & Jets/Bills Recap