Featured Editorials Home Slider Player interviews
Jets Receiver Quincy Enunwa Talks to JetNation.com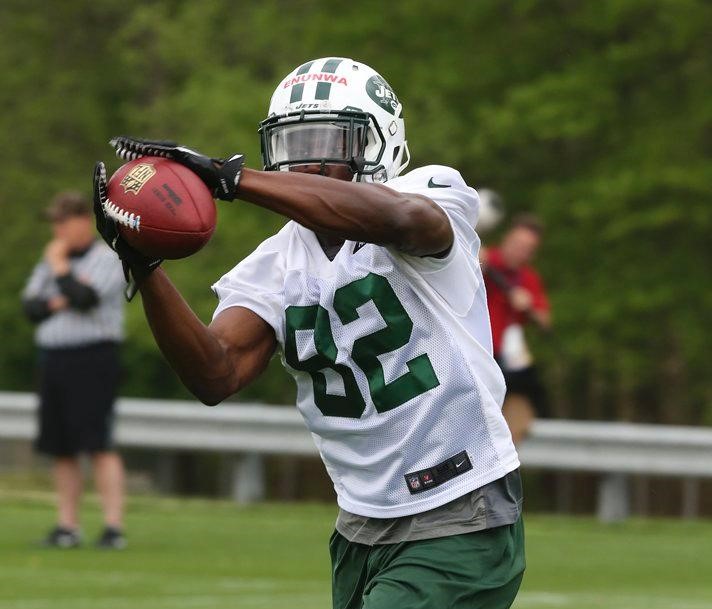 By Glenn Naughton
As Jets fans anxiously await the 2015 NFL draft, one of the many holdovers from last season's rookie class is hoping to get a chance to prove himself for Gang Green once the off-season comes to a close and training camp is under way.
Quincy Enunwa was the last of three receivers chosen by the Jets last season when they took him in the sixth round (209th overall) out of the University of Nebraska where he racked up over 1,500 yards and 15 touchdowns in four seasons.  His 12 receiving touchdowns as a senior placed him first in the Big-10 and 1oth in the nation.
Despite converting from linebacker/running back in high school before moving to wide receiver, Enunwa transitioned smoothly in a run-heavy offense for the 'Huskers.  In four college seasons he showed a steady increase in production as his receptions and yards saw an uptick in successive campaigns before topping out at 51 catches for 753 yards as a senior to go along with his 12 touchdowns.
A strong showing in the Gator Bowl as a senior saw Enunwa haul in a 99-yard touchdown catch en route to being named the game's most valuable player totaling 4 receptions for 129 yards and 2 touchdowns in a 24-19 Nebraska victory.
At 6′ 2", 210 pounds,  Enunwa has a solid frame and his late surge during the 2014 pre-season made enough of an impression on the coaching staff that it enabled him to crack the Jets' 53-man roster as a rookie before being placed on the practice squad while he dealt with off-field legal issues.
Charges filed against Enunwa were eventually dismissed and the NFL found no justification for disciplinary action after reviewing the details of his case.  It was a win for the Jets and Enunwa as the league was scrutinizing legal matters in far more detail than in previous seasons due to multiple high-profile off-field incidents. Cleared of any wrongdoing, Enunwa spent closing weeks of the season on the active roster and saw playing time on special teams.
Scouting reports and game film of Enunwa reveal a blue-collared player who appears to enjoy contact as much as he does any other aspect of the game. Perhaps no play epitomizes Enunwa's physical style of play better than a hit he delivered on UCLA linebacker Datone Jones following an interception after a botched snap.
In an interview with NETNebraska Television, in naming his top plays, Enunwa cited his punishing hit on a Fresno State defensive back following an interception that jarred the ball loose and forced a fumble.
While experts agree that Enunwa is somewhat raw at the position and has to refine his route-running, his speed (4.45 40-time), production, work ethic and fearless demeanor give him many attributes NFL teams are looking for and tools that he hopes will play a role in landing him on the Jets' 53-man roster in 2015.
Given his background, resumé and enthusiasm to work against the likes of Darrelle Revis, Jets fans should be excited about the potential Enunwa offers as a possible late-round steal.
Excited doesn't even define what I am to have for the opportunity to go against the best in practice everyday. #RevisIsland

— Quincy Enunwa (@QuincyEnunwa) March 11, 2015
Enunwa recently took time to speak to JetNation.com about his physical style of play, the lessons he learned as a rookie, and his expectations moving forward.
Glenn Naughton: Quincy, first of all I'd like to thank you on behalf of JetNation.com for taking the time to speak to us.
Quincy Enunwa:  No problem at all, it's my pleasure.
GN:  At this point last year you were coming off of that great performance in the Gator Bowl that included a big 99-yard touchdown catch and the game MVP that gave you some nice momentum heading into the draft.  When you look at the difference between preparing for the draft versus preparing for your second season in the NFL, how different are the two situations?
QE: The training has definitely been a lot different because I had the chance to rest my body after the season, whereas last year it was right into combine training to get my body ready and everything that comes with it.  This year, I feel a lot better and I feel great heading into camp.
GN: What's your mindset at this point now that you have a season behind you?
QE: My outlook is obviously to go out there and compete.  We have new coaches and new everything really.  It's an opportunity for me to show what I can do and I'm really excited.
GN: With the new coaching staff in place you obviously have Todd Bowles taking over as head coach and Chan Gailey who has a great resumé taking over the offense, what have your early impressions been of Chan Gailey and the staff as a whole in the limited time you've had with them?
QE: I'm a big fan of what these coaches are doing.  They've really come in here and taken the team by the horns and I'm ready to try out this new offense we've seen from Coach Gailey.  From what we've seen so far I think it's going to be a lot of fun to play in.
GN: One thing a lot of fans may not know about you is that even with all of your production as a receiver at Nebraska where they were a run-first offense, you not only emerged as their number one target but you come across as a very physical player who likes contact more than some might expect.  You had a big hit on a Fresno State DB that forced a fumble and another big hit on UCLA linebacker Datone Jones. Does that come from your time as a defensive player during your high school years or is that something that just comes naturally to you?
QE: I think it's always just been my mentality as a bigger receiver.  Not necessarily in terms of height but I was bigger than some of these guys and everybody has something they use to their advantage.  For some guys it might be quickness or whatever it may be and I knew that with my size and strength I might as well go ahead and use that on the field.
GN: Now, last season was a tough one with you guys only winning four games and you being on and off the active roster.  What positives were you able to take away from it and what lessons did you learn?
QE: My most valuable lesson was taking care of my body.  Watching a lot of the other guys and seeing how some players were going down and getting injured, I saw how the NFL really works and how important it is to take care of yourself.
GN: It was recently reported that yourself and Shaq Evans spent some time working out with Geno Smith.  Were there any other players present at the workouts and how did you feel it went?
QE: There weren't any other Jets there.  It was basically me and Shaq because we were there last year and we were familiar with Geno.
GN: How did you think Geno looked during the sessions?
QE: I thought he looked really good and Geno has always been a very athletic quarterback who can make a lot of throws and we definitely saw that from him during our sessions and we're all hoping it contributes to a successful season.
JetNation.com would like to thank Quincy Enunwa for taking the time to talk with us and offer some insight to his preparation heading into 2015.
Fans can find Quincy Enunwa on Twitter @QuincyEnunwa.
Videos
Aaron Rodgers Injury Fallout & Jets/Bills Recap