Draft Featured Editorials Home Slider
TE Wes Saxton Tops List of Jets Undrafted Free Agents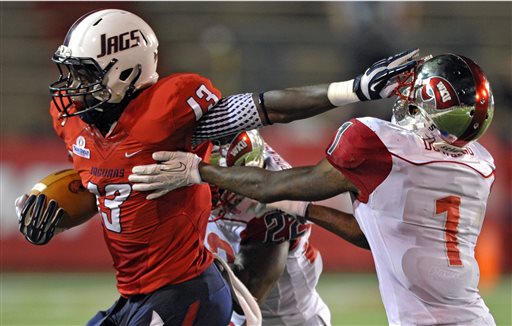 By Glenn Naughton
Just because the NFL draft comes to close, that doesn't mean it's time for teams to stop using their scouting reports to add promising young players.  Since the draft's conclusion, Mike Maccagnan and the Jets have reportedly added a dozen undrafted free agents to bring to camp.  Here is a list of those players with notes from various outlets.
Wes Saxton, TE, South Alabama- Listed as the number two undrafted tight end by NFL.com, Saxton had a strong showing at the NFL combine.  The 6′ 3"/248 lb Saxton clearly has considerable upside according to one AFC East scout according to CBSSports.com.
"That South Alabama program has some players and the tight end is definitely one of them. He's a mismatch nightmare and, yes, I think he needs to mature on the field in some areas, but I could easily make the argument he has the most upside of any senior at his position this year." — AFC East scout
Saxton is a long-shot to make the Jets roster with Jace Amaro and Jeff Cumberland, Zach Sudfeld and Kellen Davis around, but if the new staff doesn't see a bounce back season from the talented but inconsistent Cumberland, or some production from Sudfeld, it may not be out of the question.  He was also named as one of seven UDFA's who could contribute by NFL.com.
Deion Barnes, DE, Penn State- Somewhat of an enigma, the 6′ 4", 255 lb Barnes had a very productive freshman season at Penn State racking up 10 tackles for loss and six sacks, but that production fell off significantly in year two as he managed only 4 TFL and 2 sacks.  The Philadelphia native did improve in his final college season (12.5 TFL/6 sacks) but he never became the player many envisioned after his fast start.  He reportedly has good quickness and is tough to block when his technique is sound.  Projected by some as a 3-4 OLB at the pro level, Barnes says teams approached him about playing both defensive end in a 4-3 as well as 3-4 OLB at his pro day.
Taiwan Jones, LB, Michigan State- Jones is viewed as a big hitter in the middle of the field at 6′ 3", 245 pounds.  While he played his senior year at middle linebacker and has been downgraded in pass coverage, there's one thing worth noting in regards to his college performance.  Prior being moved inside where he played at 259 pounds, Jones spent his first three seasons at Michigan State playing outside linebacker and was often asked to drop in to coverage.  For that reason, Jones views  himself as an every down 'backer at his combine weight of 245.  With excellent durability, Jones played in every game of his four-year career according to NFL.com.
Julian Howsare, OLB, Clarion- A small-school prospect, Howsare showed great versatility at Clarion where he played defensive end, outside linebacker and a little bit of inside linebacker.  Howsare could also be a special teams ace as he was credited with ten blocked kicks at Clarion.  The 6′ 5", 255 lb linebacker has good burst and an excellent spin move when rushing the passer.  Given his versatility, NFL scouts who attended Howsare's pro-day had him go through drills not only on defense, but at the fullback position as well.
Durell Eskridge, S, Syracuse- It seems Eskridge's decision to declare for the draft this season wasn't viewed as a great decision by some talent evaluators.  One AFC scout had this to say about the safety according to NFL.com.
 "No question he should have stayed another year. He thinks he's ready but he needs to define the type of player he is. Right now, he's just a guy to me. I don't know how to define him yet." — AFC scout
Eskridge logged 182 tackles and 5 interceptions in three seasons, but most scouting reports appear to concur with the analysis above in suggesting he would have benefitted from another season in college.  He has good physical attributes at 6′ 3", 208 lbs with good range and was athletic enough to warrant a look as a wide receiver for Syracuse (1 rec, 19 yds) so despite coming out early, he appears to be a player who could be a contributor if brought along by the right coaching staff.
Jordan Williams, DE, Tennessee- Underwhelming college productivity logging just 66 tackles and 6.5 sacks in four seasons but size, versatility and toughness make him worth a look.  Played OLB/DE "JACK" at Tennessee as well as DT as a senior.  The 6′ 4", 287 lb Florida native was fitted with a cast so that he would be able to play despite a broken wrist as a senior.  Another player brought in by the Jets with extensive experience at multiple positions.
Jake Heaps, QB, Everywhere- Heaps is a bit of a head-scratcher.  Even having drafted Bryce Petty, the Jets were sure to take a look at an undrafted free agent at the quarterback position but Heaps saw little playing time at Brigham Young, Kansas and Miami.  After throwing fifteen touchdowns and 9 interceptions as a freshman at BYU, Heaps would go on to throw 17 TD's and 18 INT's over the course of three seasons split between the three schools.  During his lone season at Miami, Heaps completed 6 passes on 12 attempts with no touchdowns or interceptions.  Unlikely to be more than a camp arm.
Antonio Johnson, OT, North Texas- If the Jets were going to add a linemen from a small school, what better choice than the North Texas Mean Green?  Listed at 6′ 5", 302 lbs, Johnson appeared in 35 of 37 games (34 starts) at North Texas where the Mean Green allowed just 17 sacks over the past two seasons.  Johnson will be competing for a spot on an offensive line that's overcrowded in terms of numbers, but should he impress the Jets, there are several back-up offensive tackles who may not be lock to make the final 53.
Davon Walls, DT, Syracuse/Lincoln University- Possibly the most intriguing prospect brought in by Gang Green, Walls is as raw as raw can be.  He bounced
around between five different universities, often at no fault of his own, before landing at Syracuse.  After playing just three games as a junior, he was kicked off the team following a conviction for felony burglary that was later reduced to misdemeanor trespassing after completing his probation.  A 310 pound defensive tackle who went from Syracuse to Lincoln University where he dominated, Walls reportedly runs a 4.8 40 and played only a handful of games as a freshman in High School before giving football another shot in college.  He'll have a tough time sticking with such a stacked Jets defensive line, but if this story is accurate, he may be a good long-term project.
Greg Henderson, CB, Colorado- As with the additions on the defensive line, Henderson won't have an easy time sticking given the amount of depth the Jets have at the cornerback position.  Listed at 5′ 11", 181, Henderson is said to have improved his game each season at Colorado and logged 10 pass break ups a season ago.  His 4.53 40 time may have played a part in his going undrafted.  Best case scenario for Henderson is likely a spot on the practice squad.
Bill Belton, RB, Penn State- Productive runner at Penn State when his number was called.  At 5′ 10", 204, Belton carried the ball 355 times for 1,657 yards and 14 touchdowns.  He did most of his damage during  his last two seasons at Penn State after garnering just 73 carries in  his first two seasons.  A good change-of-direction runner according to CBSsports.com.  Posted a career-high 201 yards vs. Illinois in 2013 match-up.  With the addition of Rams RB Zac Stacy, Belton will have his work cut out.
David Helton, LB, Duke- Productive, high character player who led the ACC in tackles in 2013 & 2014.  Recipient of National Football Foundation (NFF) William V. Campbell Trophy, awarded to the nations top collegiate football student-athlete in the nation.  Had career-high 19 tackles in upset victory over no. 16 Virginia Tech in 2013.  The Jets have several veterans competing for back up spots at the inside linebacker position but Helton could push for a roster spot with no reserves etched in stone.
Videos
NY Jets Phase 3 OTAs, Expectations and a Minor Calf Tweak with Greg Renoff