Featured Editorials Home Slider
Stacy Addition Gives Jets Impressive RB Depth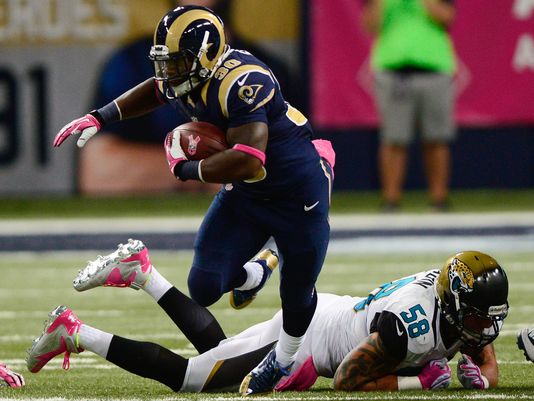 By Glenn Naughton
Even after addressing the running back position by re-signing Bilal Powell and adding Stevan Ridley via free agency earlier this offseason, Jets General Manager Mike Maccagnan didn't hesitate when the opportunity to add another talented runner presented itself.
Instead of using his final draft choice (no. 224), Maccagnan dealt the 7th round pick to the St. Louis Rams in exchange for disgruntled running back Zac Stacy.  An impressive bit of wheeling and dealing for Maccagnan as that was the pick he acquired from the Chicago Bears along with Brandon Marshall in exchange for a fifth rounder, essentially making it Marshall and Stacy for a fifth.  Not too bad for a rookie GM.
After being selected in the fifth round of the 2013 draft out of Vanderbilt, Stacy would appear in fourteen games as a rookie, twelve of them starts, while rushing for 973 yds on 250 carries to go along with 8 touchdowns.  On the surface, his 3.9 YPC average isn't much to get excited about, but his production was undoubtedly impacted by poor QB play over the course of the second half of his rookie campaign.
Through the season's first seven weeks, Rams QB Sam Bradford was playing his best football as a pro.  He'd thrown for 14 touchdowns to go along with just 4 interceptions while completing 60.7% of his passes.  In those seven games, with defenses having to respect the passing game, Stacy carried the ball 103 times for 475 yards, posting an impressive 4.6 YPC.  Following a season-ending injury to Bradford however, former Jets quarterback Kellen Clemens stepped in and the Rams offense struggled.
With the former Oregon product tossing 8 touchdowns to 7 interceptions while completing just over 58% of his throws, Stacy sputtered.  His 147 carries during that span netted him just 498 yards (3.38 YPC), over a full yard below his season average before the injury to Bradford.
Through the four weeks of the 2014 season, the 5′ 9"/215 lb Stacy split carries with rookie Tre Mason and accounted for 206 yards on 45 carries (4.57 YPC) before the speedy Mason took on the starting role.  From that point on, Stacy was relegated to mop-up duty and was called on to carry the ball just 23 times over the season's final twelve games.
Coming to the Jets will mean a fresh start for Stacy, and Maccagnan clearly likes the youngster as he already has Chris Ivory, Powell, Ridley and Stacy's former Rams teammate Darly Richardson on the roster.  While it could end up being a case of "be careful what you wish for" as it was Stacy who requested a deal to begin with, the Jets can now add running back to the ever-growing list of positions boasting established veterans who will have to fight it out for playing time on Sundays.
Videos
Aaron Rodgers Injury Fallout & Jets/Bills Recap