Featured Editorials Home Slider
Jets Looking at Former First-Round Receiver A.J. Jenkins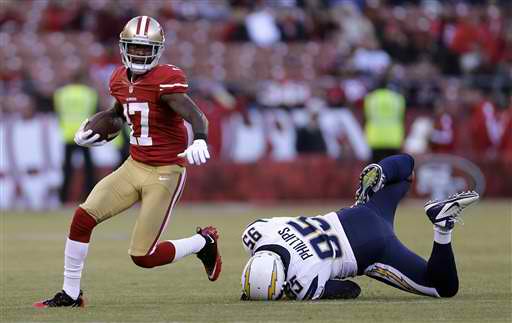 By Glenn Naughton
As Jets head coach Todd Bowles gets his first ever rookie mini-camp underway, all eyes, or those watching the wide receivers anyway, are on second-round draft pick Devin Smith out of Ohio State University.
Smith's incredible stat line over the course of his college career (121 rec/2,503 yds/30 td's) was good enough to warrant the Jets spending their second-round pick, the 37th overall, on the electric Ohio native.
While Smith was the top receiver selected by the Jets in this year's draft, he isn't the only wideout at rookie camp who can lay claim to being an early-round selection in a sea of undrafted free agents and non-roster camp invites this weekend.
Former San Francisco 49er and Kansas City Chief A.J. Jenkins may be looking at his last chance to make it in the NFL after being brought in for a tryout by the Jets.
Chosen by the 49ers with the 30th overall selection out of Illinois in the 2012 draft, the 6'/192 lb speedster who ran a 4.39 40 in a pre-draft workout, had a very productive college career himself.  As a senior at Illinois, Jenkins hauled in 90 passes for 1,276 yards and 8 touchdowns which elevated him to first-round status.
Jenkins' selection was largely viewed as a good choice by many at no. 30.  A breakdown from Fox Sports had this to say about the pick:
Sure, the 49ers signed Randy Moss, Mario Manningham and re-signed Ted Ginn Jr. — all of whom are deep-threat, outside-the-numbers wide receivers.

But the 49ers believed they needed another one and they shocked some drafting Illinois receiver A.J. Jenkins over Georgia Tech's Stephen Hill.

In two seasons, Jenkins caught 167 passes for 2,432 yards and 19 touchdowns. Jenkins has 4.4 speed and definitely has sticky hands. He's not a blocker, but he could develop into a solid No. 2 or No. 3 receiver in the San Francisco offensive. He needs to work on his strength, but he does have a lot of athletic ability.
After failing to catch a single pass as a rookie, Jenkins was shipped off to the Chiefs in exchange for WR Jon Baldwin where he caught just 17 passes for 223 yards without a touchdown in two seasons.
Such poor production for a top pick could mean time is short for Jenkins, and Todd Bowles was blunt in addressing the receivers presence at camp.
You want to see the hunger first of all. Is it still there that he wants to play and has something to prove? And then you want to see him make progress and he should be a little more experienced than the other guys, but you want to see if the hunger is there and then he has to pick up the system like the rest of them.
Now Jenkins gets a chance to show that he's still hungry, and that he still belongs.  By all accounts, he has the physical tools to play in the NFL.  While the Jets' depth-chart at receiver is all but set for the top four slots with Brandon Marshall, Eric Decker, Jeremy Kerley and Smith, there are plenty of hopefuls beyond that, but none with a cemented spot on the roster.
So while the Jets welcome one potential young playmaker in Smith to the NFL, they hope Jenkins is just hungry enough to put his potential exit from the NFL on hold, in an effort to find another young speedster to add to their stable of wide receivers as they head toward 2015.
Videos
Aaron Rodgers Injury Fallout & Jets/Bills Recap