Featured Editorials Home Slider
Marcus Gilchrist vs. AFC East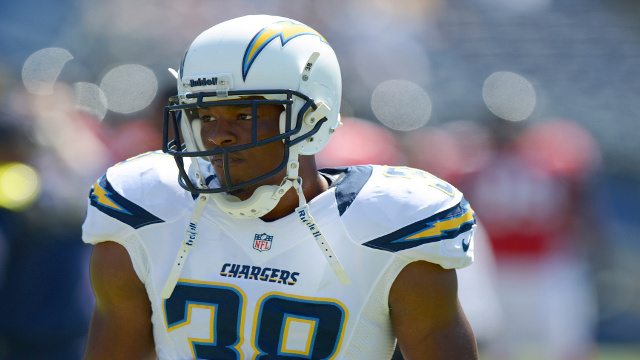 By Glenn Naughton
With much of the New York Jets' off-season defensive overhaul being focused on the addition of cornerbacks Darrelle Revis, Antonio Cromartie and Buster Skrine, JetNation.com takes a look at former San Diego Charger's safety Marcus Gilchrist and his 2014 performance in match-ups against his new division rivals…the New England Patriots, Buffalo Bills and Miami Dolphins.
For each  game we'll offer our thoughts, as well as a cross-check with Pro Football Focus (PFF.com) to see what they're saying about that very same performance.
Gilchrist vs. Buffalo Bills
In a week 3 meeting between the Bills and Chargers, Gilchrist found himself playing plenty of center field but was also tasked with covering Bills tight end Scott Chandler on numerous occasions.  With Gilchrist in his hip pocket, Buffalo quarterback EJ Manuel didn't attempt a single pass in Chandler's direction when matched up against the former Charger.
One instance in which Gilchrist's play at safety stood out was a trick run by Buffalo in the third quarter on 1st & 10 from San Diego's 31 yard line.  Here, the Bills go with what looks like a screen pass that's actually a haflback option pass.
In all, Gilchrist did a nice job in coverage against the Bills.  If there was one area that surprised, it was his lack of aggressiveness in the run game. He seems to be a willing tackler, but in this game he doesn't have the type of demeanor one would expect from a safety who is said to have been lined up as a linebacker from time to time.
PFF Crosscheck:
Per PFF, Gilchrist had an average performance in both run and pass games in this contest with a slightly strong rating against the pass. That evaluation seems fair as Gilchrist did his job and spent lots of time playing center field seeing little action come his way.  He also provided excellent man-to-man coverage on Chandler when called upon to do so.
Gilchrist vs. Miami Dolphins
This was a week-nine blowout that saw Miami stomp the error-prone Chargers 37-0.  Gilchrist spent a fair amount of time as a deep safety (20 plays) and his primary match-up in man coverage was former Dolphin and current Buffalo Bills TE Charles Clay.  Clay managed to get open against Gilchrist more frequently than Buffalo TE Scott Chandler.  On at least five occasions Clay broke free from Gilchrist but wasn't the primary receiver on the majority of those routes.  Clay managed just one reception when matched up against Gilchrist on a quick-out for six yards.
Gilchrist did make a costly mistake that led to a Miami score in the loss.
Gilchrist's performance against Bufflo was a much better showing as he was also in zone coverage on a 38 yard completion to Mike Wallace. In fairness to Gilchrist, he was in position but Ryan Tannehill threw a dart that perfectly split the safeties and Wallace was able to sneak behind Gilchrist for the catch and turn it upfield for the big gain.
PFF Crosscheck:  Gilchrist was credited with just four negative grades in pass coverage in 2014 and as one would expect, this one one of those games.  His -1.9 grade tied for his second-worst showing of the season with a -2.5 versus Denver being his floor.  As he did in the Buffalo game, Gilchrist graded out as "average" against the run.
Gilchrist vs. New England Patriots
In facing Tom Brady and the New England Patriots, Gilchrist did a good job matching up multiple times in man-to-man coverage against Patriots receiver Danny Amendola.  He kept Amendola in check all day and limited any damage when he did allow a completion.  For Jets fans who have grown tired of watching Brady eat up chunks of yards in the screen game, Gilchrist's best play of the game should offer some hope moving forward.
PFF Crosscheck: As mentioned above, Gilchrist did a nice job of preventing Amendola from gaining any yards after the catch and PFF had the receiver down for three yards on three catches when matched up against Gilchrist.  All told, Gilchrist earned an "average" overall rating vs. both the run and the pass in the Chargers' match-up against the Patriots.  Once again, the PFF rating seems fair based on what was on film.
Coming away, the impression was that Gilchrist, a former college cornerback, can do enough things on defense well enough to allow head coach Todd Bowles to use him in a variety of roles.  By and large, the film matched the hype that came with the the Gilchrist signing and Jets fans should be excited for what the future holds for the young, versatile safety.
Videos
Aaron Rodgers Injury Fallout & Jets/Bills Recap