Featured Editorials Home Slider
Seventh-Rounder Simon has Long Road Ahead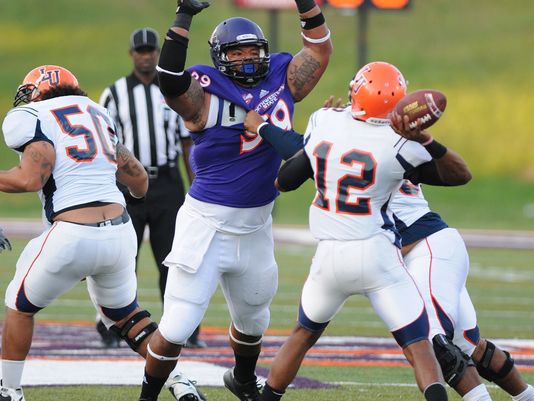 By Glenn Naughton
With their first pick in the 2015 NFL draft (no. 6 overall) the New York Jets earned plenty of praise for their selection of USC defensive lineman Leonard Williams who was viewed by some analysts as the best overall  prospect in the 2015 class.
The addition of Williams to a defensive line that already boasts starters Muhammad Wilkerson, Damon Harrison and Sheldon Richardson gives the Jets the potential to field one of the top defensive lines in the NFL, but that didn't stop general manager Mike Maccagnan from using Gang Green's final selection on another D-lineman.
Checking in at 6′ 4", 321 lbs from Northwestern St. (La) was nose tackle Deon Simon,  a powerful player who topped all defensive linemen at the combine with 35 reps of 225 lbs, the stout run defender clearly  impressed the Jets brass.
Gang Green overlooked Simon's advanced rookie age (24) and their glut of young talent along the defensive line to snap up a player who often dominated double teams in college, albeit against lower-level competition.
Given the off-season defection of Kenrick Ellis to the Giants and the untested but promising T.J. Barnes penciled in to back up Harrison, Simon may have a shot to avoid the practice squad if he's able to shine in the pre-season and become a rare late-round contributor for the Jets.
His selection didn't just catch fans who expected Mike Maccagnan to go in a different direction off guard, but Simon himself was said to be surprised when the Jets chose him.  This, even after spending time with fellow Louisiana native and current Jets linebacker Ik Enemkpali in getting prepared for the combine.
Simon said as he worked out with Enemkpali, they talked more about what Simon could expect in the NFL than the Demons' 30-27 win last fall over Enemkpali's old college team, when Simon had six tackles.

"Basically, when we talked about what was ahead, he told me I'll have rookie duties. He said for me to come in, have fun and do everything 100 percent," said Simon. "That's good advice."
Getting drafted out of a program as small as Northwest State couldn't have been an easy chore for Simon, and soon he'll begin his long journey to show he not only belongs, but that he belongs on one of the best defensive lines in the NFL.
Videos
New York Jets OTA Presser Takeaways, Aaron Rodgers' Impact and Summer Delusion