Featured Editorials Home Slider
Rex Ryan, Todd Bowles – Mike Mac: All On The Same Team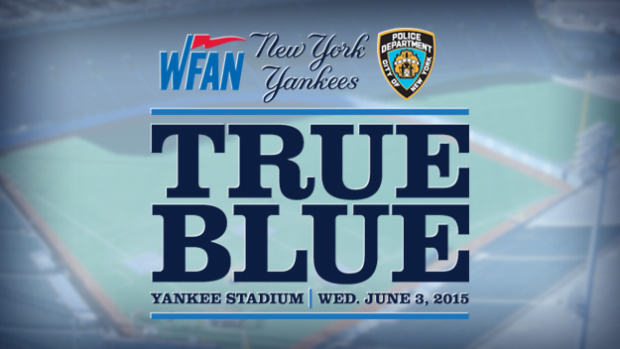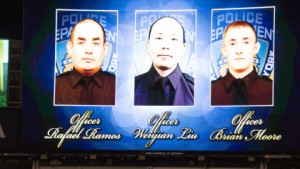 It is a rare event to see the old head coach on the same team as the new head coach. That is exactly what happened last night as Rex Ryan, Todd Bowles and GM Mike Maccagnan all played in Boomer and Carton's charity softball game – True Blue. The game took place in Yankee Stadium and it was a great night to honor the NYPD and the memories of Officers Brian Moore, Rafael Ramos and Wenjian Liu. The families of those three brave policeman, who gave their lives in the line of duty, were in attendance.
Proceeds from the game — "hundreds of thousands of dollars," Carton said Thursday morning — will benefit the Silver Shield Foundation, the NYC PBA Widows' and Children's Fund, and the families of Moore, Ramos and Liu. Use of the Stadium came free of charge, courtesy of the Yankees, and half the concession revenue was donated toward the cause.
It was nice to see the NYPD receive the recognition that it deserves.
Now, some notes from the softball game:
Rex Ryan Scouting Report: Rex played 2nd base and his arm strength is below average. He can field whatever is hit directly at him but he is not able to turn a double play. He has a weak bat and is a hold the fort guy at best. If he is willing to accept a minor league contract you can keep him around, but he does not deserve a spot on the 40 man roster.
Todd Bowles Scouting Report: Plays centerfield like a young Mickey Rivers. Physically he compares to Bo Jackson and is as explosive as a young Bo. Bowles knows softball.
Mike Maccagnan Scouting Report: Mike's best ability is his ability to watch film and judge others. Keep up the excellent work drafting football players Mike and we will just leave it there.
Some other notes from the game:
We always avoid politics here, but this needs to be said…Chris Christie is way better at softball than you think. He played 3rd base and range is a big issue but he can play and has a good arm. He was very surprising, especially when he threw a guy out at the plate.
Speaking of range, Craig Carton's performance at shortstop makes you long for the days of Alvaro Espinoza. Someone needs to explain to Craig why you don't run backwards on a baseball field. Or just show him the video of when he fell, then he will know that he needs to improve when it comes to tracking fly balls. 🙂
What an amazing night with over 17,000 fans in attendance supporting these foundations. Great job by WFAN and Boomer and Carton putting this together.
Videos
Aaron Rodgers Injury Fallout & Jets/Bills Recap