Featured Editorials Home Slider
Will Bowles Stretch Jets run of Success With Rookie Head Coaches?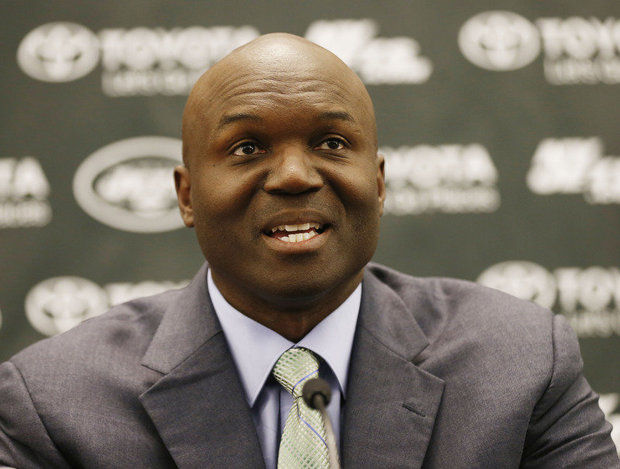 By Glenn Naughton
Believe it or not, the New York Jets, fresh off of a disastrous 4-12 season, have a bit of history on their side that suggests a 2015 playoff appearance isn't at all out of the question.
On paper, rookie head coach Todd Bowles will be taking over a team with significantly more talent than that of the three men who preceded him in Rex Ryan, Eric Mangini and Herm Edwards.  Each of those rookie head coaches took over a struggling franchise, and all managed to guide the Jets to a playoff appearance in their first season.
First up was Edwards who was hired by owner Woody Johnson following the rapid and unexpected departure of Al Groh who was hand-picked by Hall-of-Famer Bill Parcells.
In Groh's lone season with New York, the Jets finished with a respectable but somewhat misleading 9-7 record.  On the surface, not a bad start to his head coaching career, but a late-season collapse overshadowed what was a once-promising season.
Sitting at 9-4 after the season's first thirteen games, the Jets had a legitimate shot to make the playoffs if they could pull out just one win over the season's final three games, but it wasn't to be.  The Jets would drop their final three contests to the Oakland Radiers, Detroit Lions and Baltimore Ravens before Groh bolted for a job with his alma mater, the University of Virginia.
Edwards was up next and inherited pro-bowl quarterback Vinny Testeverde who would guide the Jets to a 10-6 record despite being miscast in offensive coordinator Paul Hackett's conservative scheme.
Following a solid 7-4 start, Edwards' Jets were far different than Groh's team during the previous season.  Needing a strong finish to make the post-season, the Jets won three of their final four games to earn an unlikely playoff berth on the road where they would play the Oakaland Raiders.
The Jets would travel to Oakland where they were eviscerated by the Raiders in a 38-24 loss that saw Oakland gain over 500 yards of offense, 215 of which came on the ground.
Despite Edwards being another head coach with a defensive background, the loss to the Raiders marked the fourth time on the season in which Jets surrendered at least 190 rushing yards.
The Jets would go on to make the post-season twice over the next three seasons, both of which ended with divisional round losses before Edwards was let go following a 4-12 record in 2005.
Hired away from Bill Belichick and the Patriots, Eric Mangini came on board following Edwards' dismissal and once again a first-year head coach paid immediate dividends.
Another defense-oriented hire, Mangini took over the much maligned 2005 team with the biggest difference being a healthy Chad Pennington, something Edwards didn't have one year before.
Far from an elite quarterback, Pennington still represented a vast improvement over what the Jets had to work with for much of the previous season that featured Brooks Bollinger under center for nine games as Pennington and Testeverde were injured and ineffective.
With some stability at the quarterback position and a pair of wide receivers in Laveranues Coles and Jerricho Cotchery who would combine for just over 2,000 yards receiving and 12 touchdowns through the air, the Jets would finish up the season at 10-6 with a first-round playoff game in New England.
The pre-game story-line revolved heavily around Mangini having an opportunity, as a rookie head coach, to knock his mentor, Bill Belichick out of playoff contention.
However, like so many others before him, Mangini saw his Jets get lambasted by Tom Brady and the Patriots.  With no answer for New England's offensive attack, Gang Green would suffer a three-touchdown loss, 37-16 as the Pats ran the ball 38 times for 158 yards and Brady threw a pair of touchdowns with no interceptions in what would be Mangini's only playoff appearance.
Much like the aforementioned Groh, Mangini was given his walking papers following an epic collapse in 2008.
After convincing hall of fame quarterback Brett Favre to agree to a trade to New York, Mangini's Jets came out of the gate strong, starting the season 8-3 sitting atop the AFC East.  The division was there for the taking, but the wheels would eventually fall off.
The strong start was washed away as the Jets dropped four of their last five games and missed out on a chance to get Mangini to the post-season for what would have been his second appearance.
Following the season, it was revealed that Mangini stuck with Favre despite a torn tendon in his biceps, and even with a strong rushing attack, continued to tax Favre with a heavy workload who averaged over 30 pass attempts per game down the stretch.  The future hall of famer topped out at staggering 40 passes in a season-ending loss to the Dolphins in Miami.
Mangini eventually gave way to the larger than life personality of Rex Ryan who had previously served as the Defensive coordinator for the Baltimore Ravens.
Upon arriving in New York, Ryan and Jets GM Mike Tannenbaum made a call to Favre in an attempt to convince him to return to New York for a second season.  Favre declined, and Ryan went to battle with rookie quarterback Mark Sanchez.
Easily the worst of the three previous quarterbacks in Testeverde, Penningon and Favre, expectations around the league were low as Sanchez was widely considered a project who had thrown fewer than 500 passes in his three seasons at USC.
Even Still, Jets fans saw Ryan propel the Jets defense from 18th to 1st in the NFL with the addition of two key players from his time with the Ravens in linebacker Bart Scott and safety Jim Leonhard.
As many predicted, Sanchez struggled and the Jets did everything they could to protect the youngster as they ran the ball 607 times for over 2,700 yards and limited the rookie to 364 pass attempts.  He would complete just 53% of those passes while throwing 12 touchdowns and 20 interceptions.
Luckily for Sanchez, the league's best defense and rushing attack carried him and Ryan to the post-season where they would win road playoff games against the Cincinatti Bengals and San Diego Chargers before being ousted by Peyton Manning and the Indianapolis Colts.  Darrelle Revis, Dwight Lowery, Donald Strickland and Lito Sheppard weren't able to contain the Colts.
Under Ryan, the Jets would duplicate  their early success as they became just the second team to win a playoff game against the Patriots in Foxboro during the Tom Brady/Bill Belichick era, joining Ryan's former team, the Baltimore Ravens before being knocked out in the AFC championship game by the Pittsburgh Steelers.
However, that would be the last time Ryan's Jets would sniff a playoff game as his team finished 8-8, 6-10, 8-8 and 4-12 over his final four seasons before owner Woody Johnson showed him the door.
So as pundits and analysts almost unanimously count the Jets out as a 2015 playoff contender, we sit and wait to see if under another rookie head coach, they can pick themselves up off the mat, and make another unlikely run at the post season berth.
Videos
New York Jets OTA Presser Takeaways, Aaron Rodgers' Impact and Summer Delusion