Featured Editorials Home Slider Player Profiles
Calvin Pryor Player Profile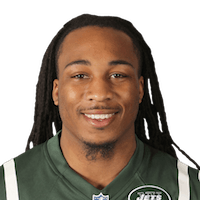 Name: Calvin Pryor
Position: SS/FS
HT: 5′ 11″ WT: 208
College: Louisville
Acquired: 2014 Draft/1st Round (18th overall)
Twitter: @star_island25
Calvin Pryor grew up and attended high school in Port St. Joe, Florida, a small town with less than 3,500 residents. Being a natural athlete he tried his hand at multiple sports including basketball, baseball, and football. Pryor captained all three of the teams he played on and received numerous recruiting offers as a three star prospect. With all of the offers he received, he decided he would commit to football.
Pryor played college football at Louisville and excelled as an in the box strong safety. During his tenure at Louisville, he earned the nickname "Louisville Slugger" for his bone-crunching hits. Pryor amassed 218 total tackles, 11 tackles for a loss, two sacks, seven interceptions, and nine forced fumbles in his three seasons with Louisville. After setting the team record for forced fumbles his junior year with nine, he was awarded with an All-ACC first team selection.
In the 2014 draft Pryor was selected 18th overall and was drafted higher than any other defensive back out of Louisville. To say that Pryor struggled during his rookie season would be putting it lightly, he led the team in missed tackles with 15. It wasn't an easy transition from college to the NFL for Pryor; he was forced to play out of position at free safety due to a depleted secondary. Pryor finished his rookie season with 60 total tackles, half of a sack, and two passes defended.
This season will be crucial for Pryor as he will try to shake off a disappointing rookie campaign. It has already been established that he will be moving back to his collegiate position of strong safety. This will provide an opportunity for him to prove his rookie struggles were due to playing out of position, and with a lack of talent in the secondary.
Videos
JetNation
4.6K
Subscribe
Broken Brains; Critics of Jets Quarterback Aaron Rodgers Begin Stirring up Conspiracy Theories