Featured Editorials Home Slider
Skrine's "Dream Team" Comments may not sit Well With Bowles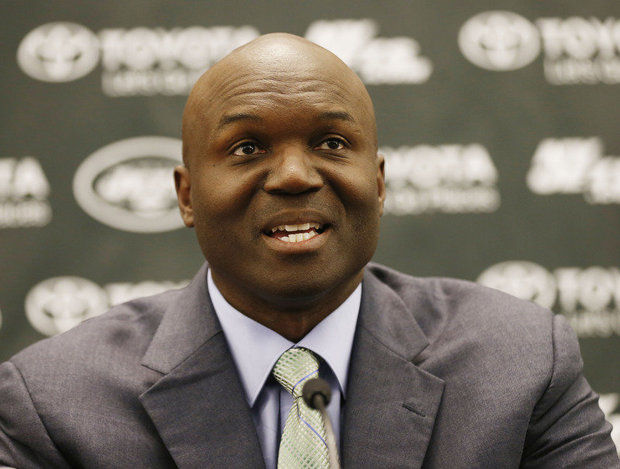 By Glenn Naughton
In a recent interview with Don Banks of SI.com, newly acquired Jets cornerback Buster Skrine had an interesting take in regards to the Jets defense as the team readies for the 2015 season, and it's one that may rub head coach Todd Bowles the wrong way.
"I've never played on a defense with this much talent. Our front seven has all-stars and then in the back end, we have all-stars. I've never seen anything like this. Everybody said the Philadelphia Eagles were going to be like the dream team, but we have chemistry on this defense already, and you can see it out in practice. I mean, we can match up however you want to match up. We can match up with any offense."
Skrine isn't saying anything here that many fans and insiders aren't already thinking, but Bowles, who recently told his team to dial down the rhetoric, is clearly downplaying an offseason spending spree that led to significant upgrades on both offense and defense to temper expectations as he prepares for his first season as a head coach.
Bowles' approach is the complete opposite of  the boastful Rex Ryan who failed deliver on may of his promises, and there is a segment of the fan base that would rather see Gang Green show what they can do on the field come September, rather than talking about it in June.
Given the additions of Darrelle Revis, Antonio Cromartie, Skrine, Brandon Marshall, James Carpenter, Marcus Gilchrist and Leonard Williams just to name a few, the Jets have every reason anticipate a much improved team in 2015, but the old Philadelphia Eagles "dream team" that Skrine referenced was in a similar situation while handling the expectations that come along with high-profile additions back in 2011 only to see the team go from 10-6 in 2010, to 8-8 in 2011, before stumbling to 4-12 in 2012.
During his introductory press conference to the Philadelphia media during that 2011 offseason, quarterback Vince Young proclaimed that the Eagles' re-built secondary with cornerbacks Nnamdi Asomugha and Dominique Rodgers-Cromartie along with pass-rusher Jason Babin meant that Philly had essentially assembled a dream team.
With the major focus being on Asomugha and Rodgers-Cromartie, nobody had a closer look at Philadelphia's collapse than their 2012 defensive backs coach and interim defensive coordinator, Todd Bowles.  Bowles' lone season in the City of Brotherly Love was just one year removed from Young's then-brash statement that is now largely viewed as a punch line.
Having allowed 31 touchdown passes in 2010, and 27 in 2011, Bowles got to witness a catastrophic defense in 2012 when the Eagles surrendered an NFL-worst, 33 touchdowns through the air while intercepting only eight passes.  All of this with Asomugha and Rodgers-Cromartie, previously viewed as the defensive saviors, starting all sixteen games on defense for the Eagles.
So while Skrine is justified in expecting big things from the Jets defense in 2015, would anyone be surprised to find out Bowles wasn't thrilled with Skrine's assessment based on past experience?  With Rex Ryan and his coaching staff now operating out of western New York, it's likely that Jets fans and Bowles would much prefer his players live by the old saying and simply "walk softly and carry a big stick".
Videos
New York Jets OTA Presser Takeaways, Aaron Rodgers' Impact and Summer Delusion