Featured Editorials Home Slider
Five Reasons to be Worried About Geno Smith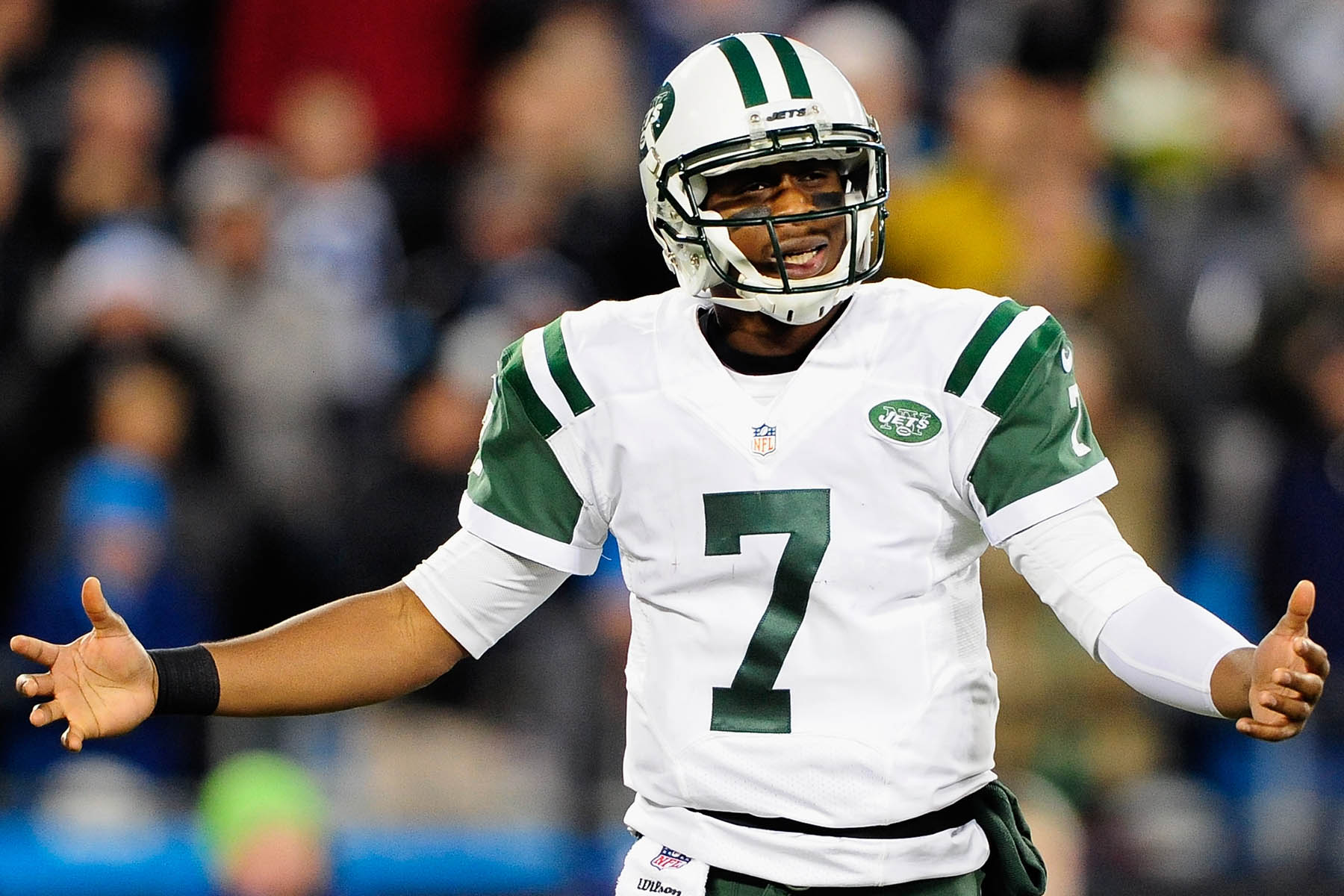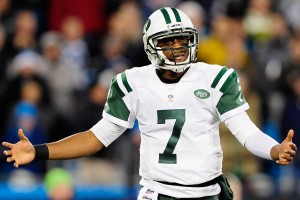 By Glenn Naughton
A few weeks ago we pointed out five reasons for Jets fans to remain optimistic regarding the future of third-year quarterback Geno Smith despite his well-documented struggles as a pro thus far.
This week, we look at the other side of the coin and cover some of the lingering concerns pertaining to the West Virginia product who has been named the Jets starting quarterback by head coach Todd Bowles who also said Smith could lose the job to veteran Ryan Fitzpatrick if his play were to sputter.
1) History is not on  Smith's side
Entering  his third season, Smith's production is far from anything NFL fans have seen from any super bowl winning quarterback with the lone exception of course being Trent Dilfer with the Baltimore Ravens as one of the top defenses in the history of the league delivered a super bowl ring without the benefit of a superstar quarterback.
Since Dilfer's championship season, only eight different quarterbacks have hoisted the Lombardi Tropy:
Tom Brady (x4), Eli Manning (x2), Ben Roethlisberger (x2), Brad Johnson, Peyton Manning, Drew Brees, Aaron Rodgers, Joe Flacco and Russell Wilson.
Of the above mentioned QB's, none posted numbers as poor as Smith's over their first two seasons without showing signs of being a franchise quarterback on a somewhat regular basis.
Fans often reference both Manning brothers as franchise quarterbacks who struggled early on, but in all reality both players were better than what Geno has been for the Jets by a wide margin.
In the case of Peyton Manning, fans love to remind us that he struggled through a poor rookie season in which he threw 28 touchdowns but coupled that with 28 interceptions.
While those numbers would indicate some significant ups and downs, the fact of the matter is that Manning didn't struggle for the duration of his rookie year, but four horrific performances early on would skew his numbers by season's end.
Through his first four outings as a rookie, Manning would throw 4 touchdowns and 11 interceptions, meaning of course that over the final 12 weeks of the season he logged 24 touchdowns and 17 interceptions.  Impressive numbers for a first-year player at a time when the passing game was far more difficult to execute than it is in today's quarterback-friendly game.
Eli, on the other hand, didn't take over as a starter until week 10 of his rookie year.  Through is first 29 NFL starts, the same number Smith has now, the younger Manning threw 44 touchdowns 34 interceptions.  Over that same time frame, Smith has thrown nineteen fewer touchdowns (25) and the same number of interceptions.
Of course Manning was a more seasoned player and better prospect coming out of Ole' Miss who wasn't rushed in to action, but the fact remains that even when Eli looked lost at times, he also showed the flashes that teams look for in a young quarterback more frequently than Smith as with the Jets.
2)  Increased Production in Schedule "Garbage Time"
If the final quarter of a blowout game in the NFL is viewed as "garbage time", it's hard to argue that the final quarter of a lost season is a whole lot different.  Of course a player can learn and grow every time he straps the pads on, but in each of his first two years in the league, the Jets have been out of the playoff hunt late in the season.  While it would be unfair to ignore Smith's production in those games, it might also be foolish to treat them the same as you would a game that impacted more than just draft position.
As mentioned above, Smith has tossed 25 touchdowns and 34 interceptions through is first two seasons with Gang Green.  However, his 10 touchdowns and 4 interceptions over the final quarter of each of those seasons means Smith has thrown 15 touchdowns and 30 interceptions in weeks 1-12 over the course of his short career.  Tough production to judge based on the cirucmstances surrounding those games.
In his best-ever performance as a pro in week 17 this season against the Miami Dolphins, some of his biggest plays came not only against a team with nothing to play for, but against a cornerback, Cortland Finnegan, who was on his last legs and announced his retirement not long after he surrendered over 100 yards and a touchdown to Eric Decker in that season finale.
3) Proving People Wrong Isn't Always a Good Thing
The age-old adage in the NFL is that if you give any quarterback enough time to throw the ball, he'll pick you apart.  That has been far from true in Smith's case.
According to PFF.com, Smith had more time from snap to throw (3.10 seconds) than any QB in the NFL other than Russell Wilson (3.20).  Even with that being the case, he was better than just two other quarterbacks (Josh McCown and Blake Bortles) when given 2.5 seconds or more to get the pass off, and completed only 50.2% of his passes in those situations.
Some fans point to Smith's lack of weapons and in fairness, it's not one to be discounted.  However, it appeared time and again that regardless of the name on the Jersey, Smith often missed his target when the opportunity to make  a play presented itself.
In the infamous "moviegate" game against the San Diego Chargers, Smith turned in one of his worst performances as a pro going 4-12 for 27 yds and one interception before being pulled.  This, despite the fact that he had multiple opportunities to make plays and move the ball.
Consistently failing to hit open receivers doomed the offense against the Chargers but it wasn't because they weren't open, it was because Smith wasn't hitting them when they were, regardless of whether he had a clean pocket or was under pressure.
4) Deep Ball Struggles
Utilizing PFF data once again for this category, Smith threw only 45 passes that traveled 20 yards or more through the air, tying him for last in the NFL with Kyle Orton of the Bills, so you can't ignore the fact that Smith still led the NFL in interceptions on deep passes with eight.
Completing just 31% of those passes puts Smith ahead of only Blake Bortles and Derek Carr in terms of deep ball accuracy, whereas Fitzpatrick, his projected back-up, ranked second in the NFL behind only Matt Ryan with a 52.6% completion percentage while throwing 6 TD's and 3 INT's to Smith's 5 TD's and 8 INT's.
Smith's struggles in throwing the ball down field was a key this season as the Jets lost several games by a touchdown or less.
In a pair of home losses to the division rival Dolphins and Patriots by 3 and 1 point respectively, poorly thrown would-be touchdowns cost the Jets valuable points.
Against New England, the speedy Percy Harvin was matched up against current Jets cornerback Darrelle Revis and on one particular play, Harvin won the battle. After a double move enabled Harvin to get behind Revis with a clear path to the end zone, Smith had a sizable window in which to put the ball.  Instead, his overthrown pass gave Harvin no chance to make a play.
Faced with a similar situation against the Dolphins, Harvin headed for the end zone and blew past his man giving Smith plenty of room to work with.  A good throw would have been a score, but Harvin's efforts were wasted as once again as Smith's pass landed out of bounds.
These are only a couple of examples, but they're glaring due to the fact that both games were decided by less than a field goal, and in both cases Smith had plenty of room for error as his receiver was in the clear, but misfired both times, highlighting PFF's findings in regards to Smith's lack of accuracy with the deep ball.
If Smith is going to be a successful NFL quarterback, he's going to have to become a more accurate passer when his receivers beat coverage down the field.
5) Prematurely hitting the panic button
As we saw from Smith several times last season, he often took sacks for big losses when protection broke down.  Rather than hitting the deck or rolling out to throw the ball out-of-bounds, he would often scramble toward the opposite goal line before getting hit for a loss which knocked the Jets out of field goal range on several occasions.
While the pass protection was far better than many realize in 2014, left tackle D'Brickashaw Ferguson wasn't the same dominant player he has been in the past, and RT Breno Giacomini was inconsistent on the opposite side.  If opposing pass-rushers are able to generate pressure against the Jets, Smith can't afford to continue costing the offense chunks of negative yards, or taking points off the board by forcing the Jets to go with the punt team instead of the field goal unit.
With the good and the bad laid out for Smith, now all we can do is wait for training camp to see which version shows up to training camp, and whether Jets fans have more reason to remain optimistic, or to hit the panic button themselves.
Videos
New York Jets OTA Presser Takeaways, Aaron Rodgers' Impact and Summer Delusion