Featured Editorials Home Slider
Jets Owner Woody Johnson Honors Wounded Veteran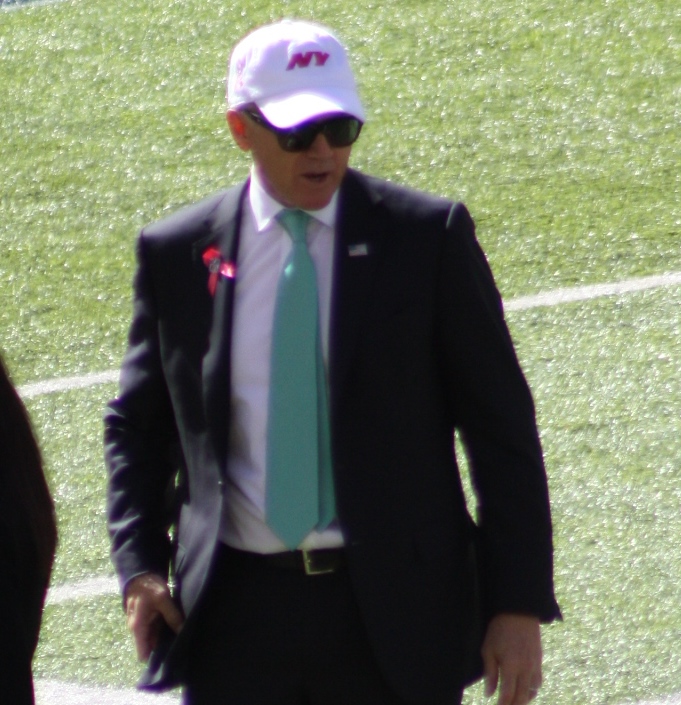 By Glenn Naughton
Just days after the New York Jets 2014 season came to a close, owner Woody Johnson and company wasted no time grabbing back-page headlines at every turn.
From replacing his head coach/GM tandem of Rex Ryan and John Idzik withTodd Bowles and Mike Maccagnan, to re-acquiring former Jets Darrelle Revis and Antonio Cromartie along with shipping a fifth-round draft pick to the Bears in exchange for a true number one receiver in Brandon Marshall.  
All franchise-shaping moves that garnered plenty of praise from the NFL community.
However, one less than flattering story surfaced several weeks ago when it was reported that the Jets were among 14 NFL teams who had come to an agreement with the US Department of Defense to allow their home games to be used as a recruiting platform for the New Jersey National Guard at MetLife Stadium.
More than happy to portray the Jets and Johnson in a negative light, multiple outlets plastered headlines across their front pages blasting the organization, accusing them of lacking respect for the military and its veterans.  One tabloid even referred to the Jets as "Gang Greed".
The Jets responded to the accusations but their comments were largely ignored by the very same outlets who reported the initial story so widely.
With that being the case, it should come as no surprise that far less ink was dedicated a report earlier this week that a $1 million donation made by Jonson went toward building a smart-house for wounded veteran Sgt. Adam Keys, a service member  who will now be able to regain the independence he lost when a roadside bomb detonated next to an armored vehicle he was riding in during a tour in Afghanistan five years ago.  An excerpt from Mcall.com report:
For the first time since he was injured, Keys won't be living at the Walter Reed National Military Medical Center. He'll be on his own in a house where everything down to the window blinds and cabinet shelves are automated and controlled by computers.

He'll be able to cook on a stove top that lowers to a height where he can stir pasta while seated, and he won't have to worry about balancing on his prosthetic legs on icy days: The concrete outside is heated.
Also from Mcall.com, it didn't end there for the veteran:
Keys got an additional surprise from another prominent figure in attendance. Keys, who is a New York Jets fan, got to chat with team owner Woody Johnson, who has donated $1 million to aid in building smart houses for veterans.

By the end of the conversation, Johnson had invited him to the Jets' opening game this season.
Undoubtedly, there will be the cynics who see Johnson's generosity as an attempt at damage control given the negative press that was received following the recruiting story, but that's far from accurate.
According to reports, Johnson's pledge of $1 million, roughly ten-times the amount the Jets were paid by the DoD, was made one year ago back in July.
Having previously attacked Johnson and the Jets and their handling of military veterans, a retraction, correction or apology is unlikely to be aimed at Florham Park as we celebrate the fourth of July, but what really matters is that on the anniversary of our independence, Sgt. Adam Keys, a fellow Jets fan, won't be spending it in a military hospital, but in his brand new state-of-the-art home if he so desires.
Videos
NY Jets Phase 3 OTAs, Expectations and a Minor Calf Tweak with Greg Renoff