Featured Editorials Home Slider
Jace Amaro – The Sophomore Leap?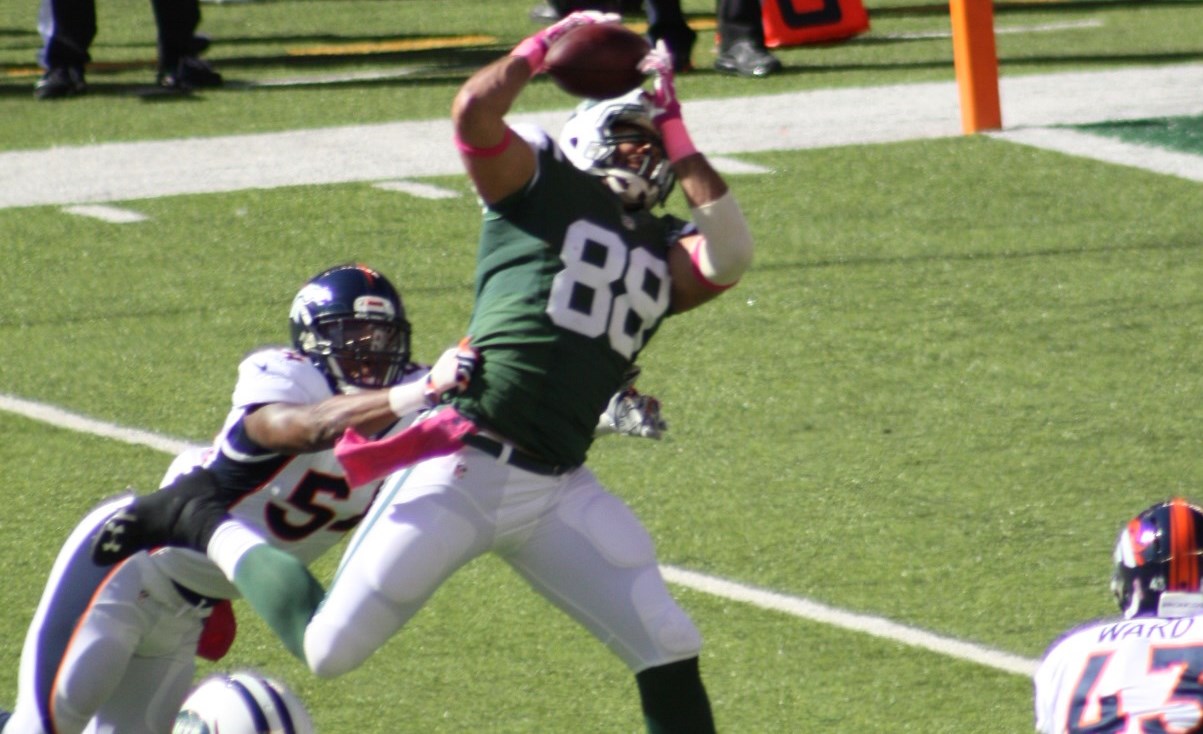 Adam Levitan of Rotoworld ran some fantasy based production numbers with tight ends from 2004 to 2013 and found that in general, they took a leap in their second year 81% of the time, and those who improved did so at a rate of 60%.  One of the players he has tagged for a leap is Jace Amaro, who played in only 39% of the offensive snaps for the Jets last year.
Numbers From Last Year:  Amaro tallied 38 catches, 345 yards, 2 TDs.   Of all tight ends, he was 22nd overall in receptions, 26th overall in yards, 23rd overall on targets, and 30th for TDs.  He was 50th among TEs with 374 offensive snaps on the year.   Last year, the Jets threw the ball 498 times overall, alas the 52 targets which Amaro saw would account for about 10.4% of the throws.
Why Did He Play Low Snap Counts?  One of the biggest issues that plagued Amaro last year was his propensity for drops, especially when he was wide open.  The rookie tight end dropped 6 passes among his 52 targets, amassing the second highest drop percentage per target in the league, behind Lamar Miller.  The tendency to drop open passes could be one of the reasons why he did not play more snaps down the stretch, even though by talent he was the best tight end on the roster.   An alternative reason could be the West Coast system itself run by Marty Mornhinweg, which heavily relies on precision and timing in the passing game.  Amaro, drafted out of Texas Tech, and the  Air-Raid system was facing a major adjustment in learning a new system, similar to the challenge faced by quarterback Geno Smith.  The complicated nature of the West Coast system could have been a reason why the Jets coaching staff kept him more on the sideline.  However, for the last three weeks of the season, Amaro saw his offensive snap counts decline consecutively, which seems to indicate the coaching staff was holding him back further than before.   As we have found out in the offseason, former coach Rex Ryan doesn't think that highly of Amaro, and a strained relationship could also have played a reason as to why the tight end was limited in snaps.
Chan Gailey Effect?  The Jets are going to run more of a spread offense this year, which should allow for Amaro to see a more familiar system from college.  Amaro's size and speed present a one on one mismatch, and the spread offense should afford him the opportunities to see more of these matchups.   In 2012, the Buffalo Bills threw the ball 511 times, and TE Scott Chandler saw 74 targets, accounting for about 14.4% of the targets among passes.  Chandler saw 746 offensive snaps that year, which is almost double the snaps that Amaro saw last year.   Chandler only started 13 games in 2012, and played in 15 games total. He only started 9 games the year before, so the stats for that year may not tell a full story, thus it is not used here.  The 2012 stats do indicate that Gailey likes to use the TE a fair amount, so Amaro should see a spike in his snaps this year.  It should also help that Amaro is a better prospect than Chandler ever was, alas helping him take more of an advantage with those opportunities.  One indication of better ability might be catches per offensive snaps.  Chandler had 43 catches in his 746 offensive snaps, which is a catch every 17.3 snaps.  Amaro had 38 catches in 374 offensive snaps, which works out to a catch in every 9.8 offensive snaps.  Therefore Amaro has shown more of an ability to take advantage of his snaps than Chandler in 2012, however the small sample size in which these numbers are being analyzed can lead to erroneous results.
Roster Fit?  The Jets have overhauled their WR group this offseason, adding a bona fide No. 1 WR in Brandon Marshall, along with speedster Devin Smith.  With more weapons on the outside, defenses should be backing away from the line of scrimmage, allowing Amaro to work the middle of the field with more ease this year.   However, this also comes with one caveat to a statistical improvement because both Marshall and Decker are high target count players likely to be in the 250 to 280 range, which may eat into the targets left over for Amaro.  The addition of Devin Smith could really help out because he could cause nightmares for defensive coordinators with his speed, forcing the safety to shade over to his side and play deeper.  One of the advantages of having a spread offense is forcing the defense to go into more dime packages, thus Amaro could provide a major size advantage for the Jets, since there are likely to be more defensive backs on the field than in previous years.
Predictions:  With the implementation of the spread offense, the likelihood of more snaps, and better surrounding players, Jace Amaro should take a sophomore leap this year.   If the historic data from Rotoworld is factored in, a 60% hike in stats would work out to about 60 catches and 552 yards with 3 TDs.  However, accounting for the other weapons on offense, there is a good chance Amaro comes up short on the number of catches, due to a cap on targets available, but exceeds the yardage and TD numbers because he should be able to make better results from his catches with more spacing available.
Videos
Aaron Rodgers Injury Fallout & Jets/Bills Recap