Featured Editorials Home Slider
Chan's in Charge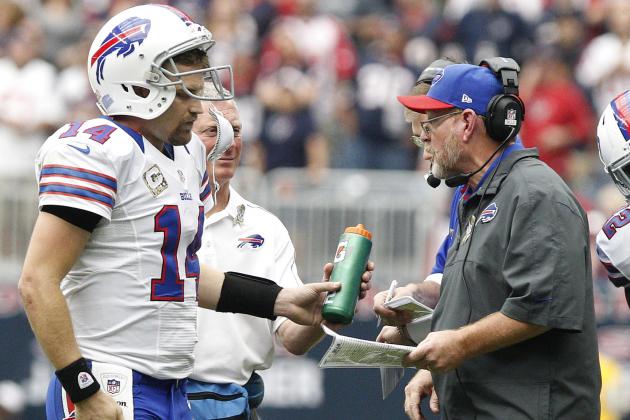 As the old proverb says, "there's no substitute for experience", and when it comes to new Jets offensive coordinator Chan Gailey, his resumé he has plenty of it.  2015 Will be Gailey's 19th season as an NFL coach.  His eighth as an offensive coordinator, with five years of head coaching experience to boot.
Gailey represents the Jets most recent attempt at fielding a competent offense after decades of failure to do so with any degree of consistency.  The head coaches, quarterbacks and coordinators change, but the results largely stay the same.
In Gailey however, the Jets have a coordinator who has not only managed to get the best out of his quarterbacks at every step along the way, but one that doesn't come with the question-marks of the coordinators the Jets have employed over the past ten-plus seasons.
In his final season with the Jets in 2004, Paul Hackett managed to pull off an almost impossible task as the Jets became one of the only teams in NFL history to have the league's leading rusher while posting a positive double digit +/- turnover ratio (+18) yet still fail to finish in the top-ten in scoring as we found in a piece that we published last season:
JetNation.com looked back over the past twenty years of scoring production from teams that boasted the leagues top rusher.  Of those twenty teams, twelve ranked in the top-10 in points scored.  Of the eight teams who failed to rank in the top ten, only two had a positive +/- turnover ratio.  The 2011 Jacksonville Jaguars who were a meager +5 in comparison to the Jets +18.  So with a formula that has routinely produced top-ten offenses for the past 20 years, the Jets didn't just fail to make the top-10, they failed to make the top-15 coming in at 17th in the NFL in scoring that season.  Thank you Paul Hackett.
Since Hackett's departure, the Jets have had just one season  under a coordinator without any questions regarding his qualifications or level of involvement in the offense in the years leading up to being hired by the Jets when Mike Heimerdinger stepped in and took the reigns for what turned out to be a disastrous 2005 season.
Under Heimerdinger, New York would finish dead last in the NFL in scoring as a rash of injuries led the team putting former sixth-round draft pick Brooks Bollinger under center before Herm Edwards was replaced with Patriots assistant Eric Mangini.
With the offensive coordinator position unfilled, Mangini went out and hired Brian Schottenheimer.  The son of former head coach Marty Schottenheimer who was credited with playing a part in the development of Philip Rivers in San Diego where he had previously served as the Chargers' quarterbacks coach, though he was unproven as a play caller.
Minus the 2008 season in which Schottenheimer had hall of fame quarterback Brett Favre under center, propelling the Jets to a top-ten scoring offense (9th overall), the team finished no higher than 13th (2010 & 2011) and as low as 25th (2007) in  his first stint as a play caller.
Being given full autonomy by head coach Rex Ryan may not have been the ideal situation for Schottenheimer who may have benefitted from a more well-rounded mentor.  In the end however, Schottenheimer was let go after failing to grow as a coordinator or develop a young quarterback as his prized pupil, Mark Sanchez, stalled out at the position.
Schottenheimer's successor was a bit of a head-scratcher as Tony Sparano came on board having just one season of play-calling duties under his belt in Dallas, and the degree of control he had isn't truly knows as he was working under Hall-of-Famer Bill Parcells.
Parcells clearly thought highly of Sparano as he brought  him on board not just in Dallas, but again later when he recommended him to the Dolphins for their vacant coaching position.
Jets fans let their hopes hang on the results produced by the Cowboys under Sparano, but the reality of the situation was that he was likely overruled by Parcells whenever "Tuna" deemed it necessary.  It was another hire of a coordinator without an established record of running an offense.
When all was said and done, Sporano's offense finished 28th in the NFL before a rapid exit that led to the hiring of his eventual successor, Marty Mornhinweg.  Unlike Sparano, Mornhinweg had several years of success as a play caller with Philadelphia Eagles and Andy Reid.
During a  seven-year stretch from 2006-2012, the Eagles finished in the top-ten in total points  five times, but the similarity to Sparano was in the fact that  his head coach, Andy Reid, would often handle the play-calling duties on game day despite Mornhinweg having the coordinator title.  This isn't to say Mornhinweg wasn't calling plays, but his level of influence would not have been the same as that of a coordinator with full control of the offense.
In hiring Chan Gailey, the Jets put any of those concerns to rest.  He has spent five full seasons as a head coach in the NFL, and often worked as a coordinator under defensive-oriented bosses such as Herm Edwards in Kansas City, Dave Wannstedt in Miami and Bill Cowher in Pittsburgh.  Then of course his influence on the offense would have been heavy during his stints in Dallas and Buffalo as a head coach.
With this being the case, it's fair to say that Todd Bowles made a wise move in choosing a coordinator who has had success as a play caller despite working largely with late-round longshot quarterbacks, and putting his offense in the hands of a coach who has been his own man and  has nearly a decade of experience in designing and implementing game plans.
So this time around, whether the Jets offense fails or succeeds, there's no question as to who gets the praise or the blame, because Gailey has been and should continue to be the guy calling the shots.
Videos
New York Jets OTA Presser Takeaways, Aaron Rodgers' Impact and Summer Delusion