KRL Camp Notes (7/31/15)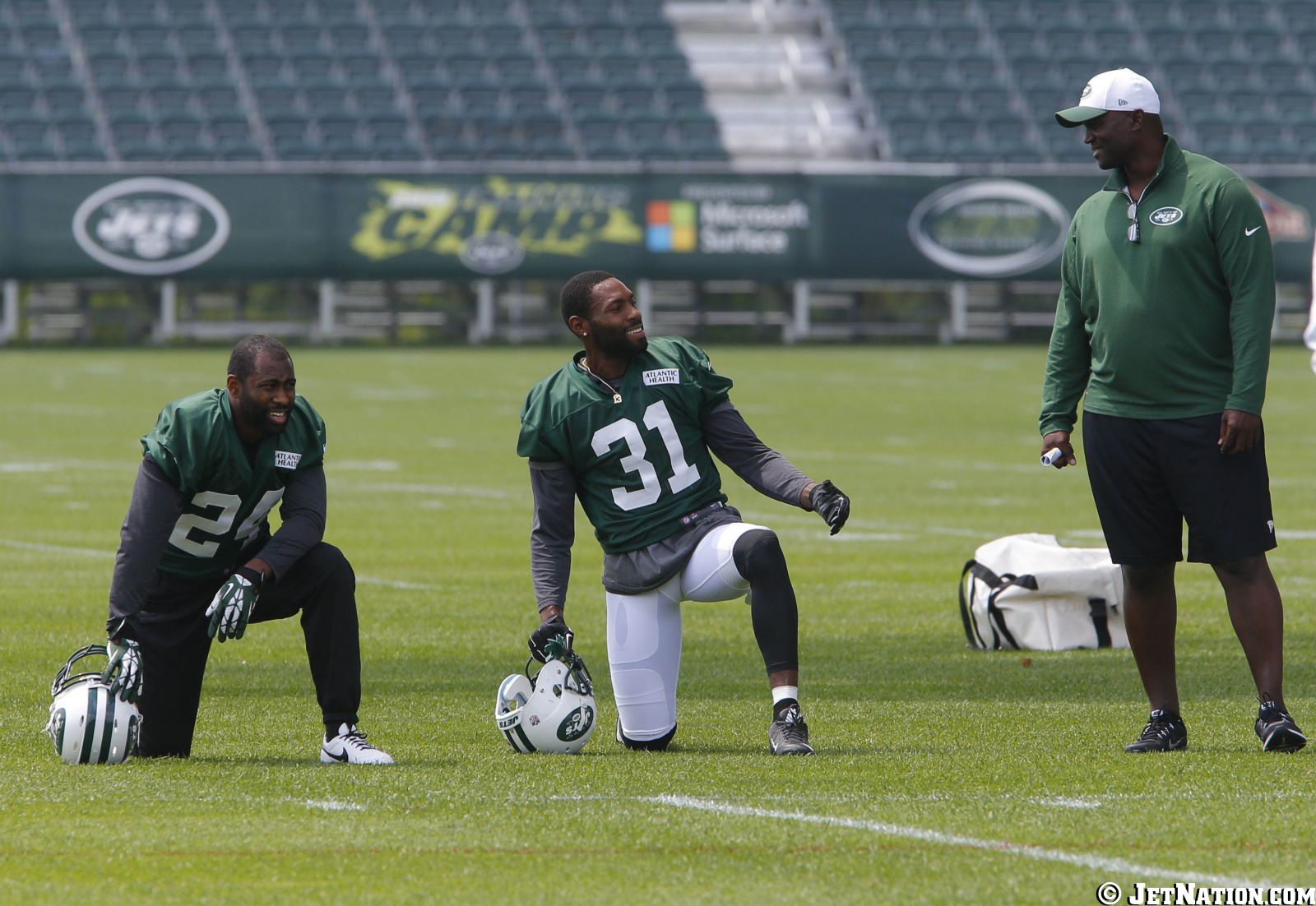 Facility Notes
 – FANTASTIC job by the organization in reshaping the facility for fan viewing! They learned from their time at Hofstra and Cortland and really applied it.  The bleachers are top notch with individual seats that have backs.
– "Jets Fest" has games and activities for kids and of course the souvenir tent is there.  They also have free water areas and cooling stations if you get too hot.
 General Notes
 – Players in shells & shorts.
– Practice ran for 2 hours and 35 minutes.
– Willie Colon, Kevin Vickerson & Stevan Ridley are still out
– It's noticeable that Sheldon Richardson has been demoted and is seeing fewer reps.
– Massive tryout for our punt returner.  Eric Decker, Jeremy Kerley, Walter Powell, Chris Owusu & Devier Posey all took reps.
– No 1 on 1 drills today, where you can really see players strengths and weaknesses.  But Bowles/Gailey do run "mirror" passing drills with 2 QB's throwing the same patterns in tandem.  Allows more reps for more players in less time.
– There's a ton of mixing and matching going on so don't get caught up with who is #1, #2 or #3 right now.  The only unit staying together is the OLine (Brick, Carpenter, Mangold, Breno) with Brian Winters & Brent Qvale splitting time at RG.
– During team drills Gailey showed the tendency to speed up the offensive tempo if the defense is slow to react.  Also based on the way they interact Kevin Patullo (QB coach) is the OC in training.  Patullo does a ton of the detail work while Gailey oversees the operation.  Sometimes Gailey would totally focus on the routes the WR's were running and ignore everything else.  Gailey did take a spill when the defense blitzed and he got knocked to the ground.
– Very even practice, no one ran or did push ups so I'm assuming no one won the competition period.  The defense was excellent in stopping the run while the offense was effective throwing the ball.
Player Notes
– Leonard Williams flashed showing good penetration while splitting time at DE, NT and DT.
– IK Enemkpali had a "sack" of Ryan Fitzpatrick during 11 on 11.
– Quinton Coples had a couple of "tackles for loss" on running plays.
– Dexter McDougle had a nice day.  He should've had a pick of Fitzpatrick but he dropped it and he had a "sack".
– Jace Amaro had a nice day stretching the middle of the field and not dropping anything.
– There was a Shaq Evans sighting he had a solid day.
– Watching Brandon Marshall is a pleasure.  He had one of the highlights of the day making a one handed catch in the corner of the end zone but the ref said he stepped out.  Everything comes so easy to him, easily the best WR we've had since Keyshawn Johnson.
– Gailey was putting Marshall and Eric Decker into some very interesting "stacked slot" formations.  Which made it very hard for CB's to cover them as they ran rub routes.
QB Notes
– Bryce Petty is a PROJECT don't call for him to play this year.  He needs a ton of work, his arm is strong but erratic.  I think the reason why is because at Baylor WR's were running free but in the pros windows are tight.  So sometimes he'll sail a pass or come up short.
– Fitzpatrick had a solid day with a couple of TD's to Eric Decker and Saalim Hakim during red zone drills.  And a nice 30+ yard pass to TJ Graham, but his arm strength outside the numbers is shaky.  Combine that with a gunslinger mentality and I can see why he can turn the ball over.
– Geno Smith was sharp today not because of how many passes he completed but where he went with the ball.  I made it a point to watch the defensive backfield and the coverage when he threw the ball.  And he was spot on, throwing into tight windows and anticipating when a WR was c coming open.  He did have one bad throw (almost INT?) when the defense threw a blitz at him during red zone drills.  His throw to Devin Smith was a highlight of the day, 30+ yards down the sideline over Marcus Williams.
Standouts
– Geno Smith
– Brandon Marshall
– Jace Amaro
– Dexter McDougle
– Quinton Coples
Videos
New York Jets OTA Presser Takeaways, Aaron Rodgers' Impact and Summer Delusion