KRL Camp Notes (8/1/15)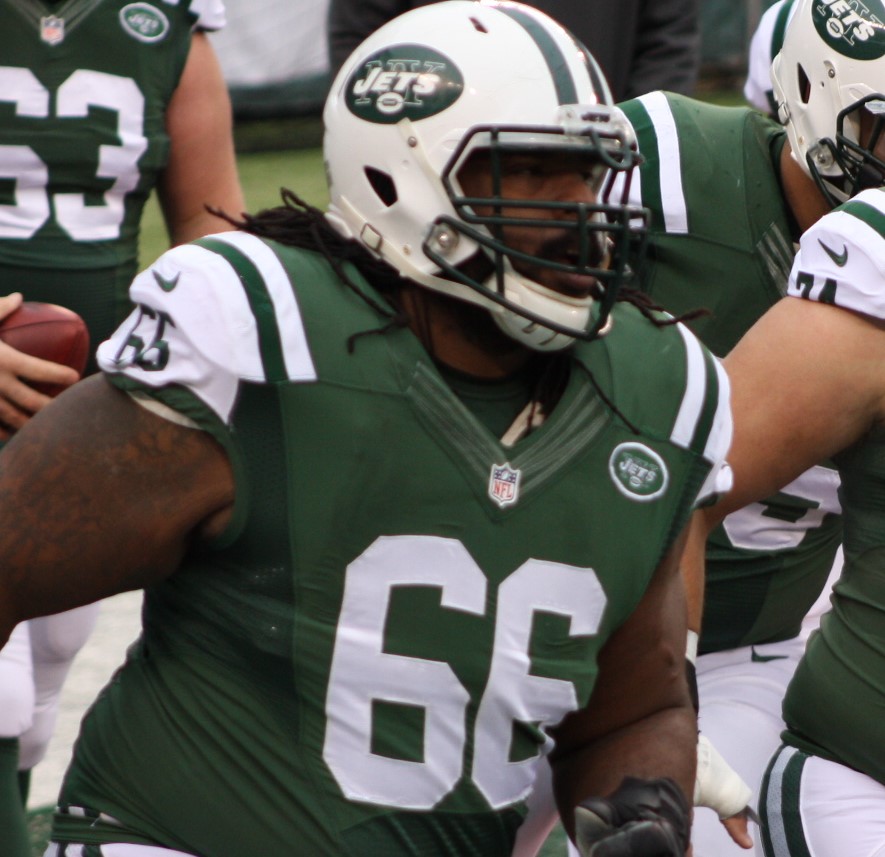 General Notes
 – First day in full pads.
– Practice ran for 2.5 hours.
– Willie Colon was full go and took reps with the #1 OLine at RG.  Kevin Vickerson and Stevan Ridley are still out.
– Jace Amaro "tweaked" his knee in drills against "air".  It looked serious because he spiked the ball in anger but he shook it off and participated in the rest of practice.
– Maccagnan made an appearance with his ever present Starbucks cup.
– Bowles concentrated on the offense particularly when Gailey was going over blitz pickup.
– Offensive emphasis was on the running game today.
– Offense won the competition period today because the defense did pushups at the end of practice.
Player Notes
 – With the pads on 1 on 1 blocking drills made an appearance.
  * Demario Davis, blowing up anyone during his reps
  * Quincy Enunwa
  * Jace Amaro, improved blocker who controls the defender well once he gets his hands on them
  * Jeff Cumberland, not as hideous as years past
  * IK Enemkpali, violent bull rusher
  * Darrelle Revis, delivered blows so hard you thought a LB delivered them
  * Wes Saxton, much better than his scouting report, functional
  * Taiwan Jones, delivered blows like an ILB should
– Good jobs by a couple of UDFA's today Wes Saxton, Taiwan Jones and Julian Howsare.  Saxton's blocking was good and he's caught everything.  Jones was excellent in run defense today.  And Howsare got a "sack" of Ryan Fitzpatrick during 11 on 11's.
– This isn't sexy but there should be a legitimate battle at punter.  Jacob Schum showed good leg strength and if he can be more consistent than Ryan (Sir-Shanksalot) Quigley I would keep him.
– Dee Milliner was full go today and looked good during his reps. His best play was a breakup of a 30+ yard pass from Ryan Fitzpatrick to Walter Powell.
– We started to see the Bowles multiple safety looks from ARZ today. On some dime looks we had 3 CB's and 3 S's (Marcus Gilchrist, Calvin Pryor & Antonio Allen).
– Solid day for Gilchrist supported the run well and decent in coverage.
– Rontez Miles had a couple of big hits during 9 on 7 running drills.
– More interesting formations from Gailey, today he deployed Eric Decker & Brandon Marshall in double slots in a 4 WR set.
– With Devin Smith out Chris Owusu & TJ Graham are getting more reps.  Owusu had a nice 35+ yard catch from Geno Smith over Cro. And Graham had a tough juggling catch over Revis during red zone drills.
– During 11 on 11 drills Bryce Petty hooked up with Quincy Enunwa on a 40+ yard TD over Dexter McDougle.
– Leonard Williams showed his ability to anchor against the run today.  Was able to hold his ground even when double teamed.
 QB Notes
 – Geno Smith continued his good play.  He had multiple TD's during 7 on 7 and red zone drills.  His best play was getting the defense to show their blitz, checking out of the play and hitting Owusu for a 35+ yard catch over Cro that I mentioned before.  His
chemistry/communication with Marshall is excellent.  In one instance when the defense took away an inside route Smith threw a back shoulder throw and Marshall seemed to "expect it".
– Fitzpatrick had his solid moments but for a vet whose been in this offense he was too sloppy.  Twice he fumble snaps from center and once he turned the wrong way on a handoff and the RB wasn't there.
Standouts
– Geno Smith
– Chris Owusu
– Brandon Marshall
– Marcus Gilchrist
– Taiwan Jones
– Leonard Williams
Visit our forums to read more and discuss NY Jets training camp.
Videos
NY Jets Phase 3 OTAs, Expectations and a Minor Calf Tweak with Greg Renoff