Home Slider NY Jets Training Camp
Enunwa Shines for Jets: Other Camp Observations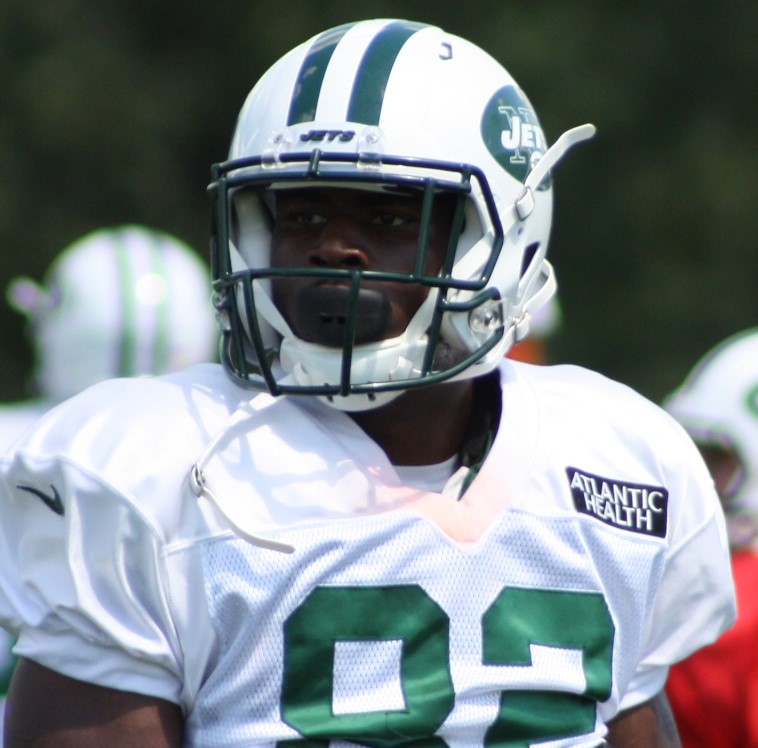 By Glenn Naughton
Jets fans who were so quick to dismiss the possibility of former General Manager John Idzik's draft picks or additions through free agency having an impact may want to tap the brakes just a bit.
Former Idzik draft picks or signings have been earning high praise during OTA's and through the first week of camp as wide receiver Chris Owusu, linebacker IK Enemkpali and cornerback Marcus Williams have been standouts at one time or another.  Yesterday it was Quincy Enunwa's turn.
In an offseason interview with JetNation.com Enunwa talked about how his aggressive mentality, brought about by his large frame, has benefitted him up to this point in his career and that aggressiveness was on full display at Florham Park yesterday.
Enunwa made the play of the day on offense while being covered deep down the field by Antonio Cromartie along the left sideline.  Cromartie, who was flagged on the play for interference, was draped on Enunwa who turned around to locate the ball and made a leaping grab over the pro-bowl cornerback, holding on as the two crashed hard to the turf.
Moments later, Enunwa made a leaping touchdown grab on the back corner of the end zone with Darrelle Revis in coverage.  Not a bad day for the Nebraska product who spent the majority of last season on the practice squad.
Trevor Reilly, another draft selection from last season also flashed while rushing the quarterback and was credited with a couple of "sacks" and applied pressure on a few other occasions.  A converted defensive end, Reilly did a nice job of getting to the quarterback in college where he racked up 20 sacks and 37 tackles for loss in four seasons.  As a former defensive end, Jetnation.com took a look at how Reilly's versatility could help him stick with Todd Bowles' defense.
A few other observations from the last two days of camp:
Offensive coordinator Chan Gailey was fun to watch.  Taking extended time on specific plays to have receivers run routes while explaining fluid responsibilities based on coverages.  Gailey slowed things down at one point to have the receivers run their patterns while taking the time to explain to each player what his route is designed to do to opposing coverages.
Geno Smith had plenty of opportunities to force throws in to tight coverage but instead pulled the ball down and ran, didn't try to force anything, obviously a welcome sight.
Darrin Walls grabbed an interception along the right sideline on what was a nice leaping grab.
Jaiquawn Jarrett is more physical than he gets credit for.  He jarred at least one ball loose during team drills on a big hit over the middle and had one or two decent shots after than that.
Free agent linebacker Jamari Lattimore made a pair of quality plays in coverage with a pick-6 on Wednesday and a pass defended on Thursday as he dove in front of the intended receiver to bat down a Bryce Petty pass.
Wide receivers coach Karl Dorrell didn't hesitate to speak up when mistakes were made, calling out his group during drills early on when several catchable deep balls were falling to the turf.  Dorrell is a welcome addition to the staff following several season's of failing to develop a game-breaking receiver.
Ryan Fitzpatick was never known for having a cannon at quarterback, but a few of his passes yesterday seemed to hang up a lot more than you'd like to see.  There's more to playing quarterback than just arm strength, but if Fitzpatrick is losing some of his velocity, it could limit the Jets playbook, one thing that isn't an issue with Geno Smith.  It's early on though, so we'll see how Fitzpatrick looks in live action.
He may be one of the least likely players to make the roster, but newly signed wide receiver Arthur Williams made a great lunging catch on an errant pass during drills, and plucks every ball that comes his way out of the air with a set of very quick hands.
Brandon Marshall looked to be in great spirits, complimenting Geno Smith following a few of his better throws, and turning around at one point during Wednesday's practice to explain to a group of young campers that he couldn't respond to them screaming his name because he was busy practicing.
Former boxing promoter Teddy Atlas was seen strolling along the sidelines prior to the game and former quarterback and current SNY analyst Ray Lucas also made an appearance.
Underrated and underappreciated RB, Bilal Powell showed some nice moves on several plays in both running and catching the ball.
Surprised to see the offense score three consecutive TD's on the ground during goal-line drills, two by Chris Ivory in which he went in untouched.
TJ Graham looked good on kick return duties and he does have experience in the return game, having returned both punts and kicks at NC State.
He was running with the back-ups, but UDFA Davon Walls, a project at DT, got decent penetration when given the opportunity.
After falling to the ground on a non-contact injury, the Jets will wait to find out the status of safety Antonio Allen who some fear may have a torn ACL.
That's it for the last two days of camp, next up…Green and White game at MetLife Stadium this Saturday.  We hope to see you there.
Videos
New York Jets OTA Presser Takeaways, Aaron Rodgers' Impact and Summer Delusion